---
Spring Pledge Meter: Help Us Reach Our Goal!

Become a member and help support the programming you love.
---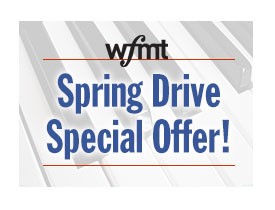 WFMT Spring 2016 Ultimate Favorites Package!
You can help end our Spring 2016 Membership Drive early with a gift of just $125!
Henry Fogel: Erna Sack, soprano
Discovering a Legend: Vera Gornostaeva Vol. IX Special Rachmaninoff Edition
98.7WFMT David Csicsko Mug
Milos Karadaglic: Blackbird – The Beatles Album
100 Best Film Classics 6-CD set
98.7WFMT David Csiscko Tee Shirt
Separately, a gift of $375, you will receive all of these items for just $125 today only!
Be sure to add the size of the tee shirt that you want in the comments box before you check out. (Tee shirt sizes available: Small, Medium, Large, X-Large, XL-Large)
---
Featured Gifts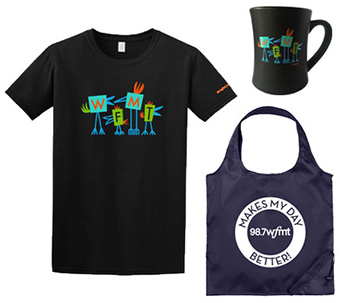 Show your pride for supporting WFMT with apparel and more. Pledge now and choose from the wide variety of WFMT swag.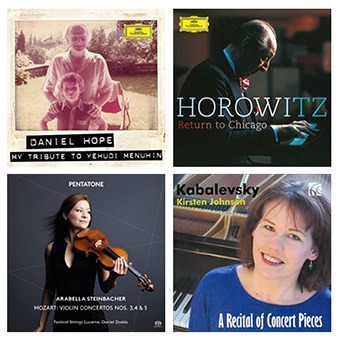 Pledge now and choose from many new releases featuring Arabella Steinbacher, Kirsten Johnson, and Daniel Hope. We are also offering albums by classic artists like Luciano Pavarotti, as well as a 2-CD set from Vladimir Horowitz made for WFMT in 1986.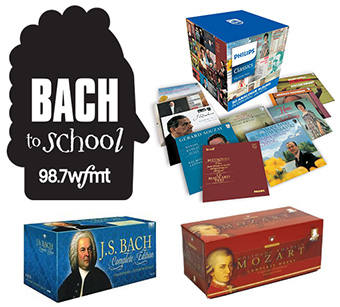 Bach to School is WFMT's Music Donation Program designed to enhance the music libraries of Chicago area schools. Pledge now to send the complete works of Bach, Mozart, or Philips Classics: Stereo Years 50-CD set. Learn more about WFMT's Bach to School Music Donation Program.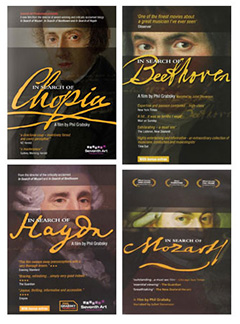 The In Search of documentary series adds a new DVD with In Search of Chopin. Pledge now and discover new insights into Frederic Chopin, the man and his musical genius. We also have the rest of the series, In Search of Beethoven, Mozart, and Haydn available.
---
Membership Drive Sponsors
We'd like to extend a big 'thank you' to the following businesses and restaurants for their support during the drive. Learn more by clicking the links below: