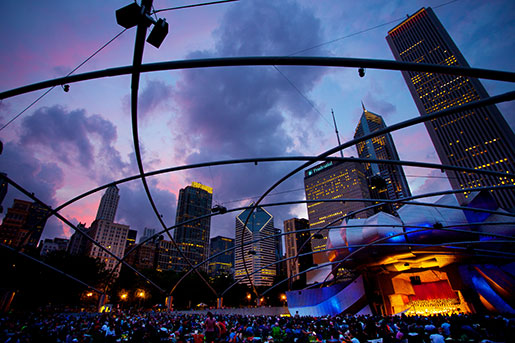 WFMT continues a longstanding summer tradition of bringing you live concerts from the Grant Park Music Festival. Concerts are broadcast from the Pritzker Pavilion in the heart of downtown Chicago and hosted by Dave Schwan.
Under the direction of Principal Conductor Carlos Kalmar and Chorus Director Christopher Bell, the Grant Park Orchestra and Chorus' 2017 Season features a host of renowned guest artists and diverse repertoire.
In summer 2017, WFMT broadcast ten live broadcasts on 98.7WFMT and live streaming at wfmt.com. All starting times are 6:30 pm. Find complete listings below.
---
Opening Night: Tchaikovsky Violin Concerto
Wednesday, June 14, 2017, 6:30 pm – 8:00 pm
Jay Pritzker Pavilion Concert
Grant Park Orchestra; Carlos Kalmar, Conductor; Vadim Gluzman, Violin
Alfvén: Festival Overture
Tchaikovsky: Violin Concerto
Gershwin: Porgy and Bess: A Symphonic Picture
---
Stravinsky Firebird
Friday, June 23, 2017, 6:30 pm – 8:00 pm
Saturday, June 24, 2017, 7:30 pm – 10:00 pm
Jay Pritzker Pavilion
Grant Park Orchestra; Carlos Kalmar, Conductor; Conrad Tao, Piano
Schiff: Infernal
Khachaturian: Piano Concerto
Stravinsky: The Firebird
---
Missa Latina
Wednesday, June 28, 2017, 6:30 pm – 9:00 pm
Jay Pritzker Pavilion
Grant Park Orchestra And Chorus; Miguel Harth-Bedoya, Guest Conductor; Christopher Bell, Chorus Director; Jessica Rivera, Soprano
Sierra: Missa Latina
---
Independence Day Salute*
Tuesday, July 4, 2017, 6:30 pm – 8:00 pm
Jay Pritzker Pavilion
Grant Park Orchestra; Christopher Bell, Conductor
An evening of patriotic favorites, including Stars and Stripes Forever, the 1812 Overture and more
*An encore performance will be held on Wednesday, July 5 at 6:30 PM at the South Shore Cultural Center, 7059 S. South Shore Drive
---
Haydn London Symphony
Wednesday, July 12, 2017, 6:30 pm – 8:00 pm
Jay Pritzker Pavilion
Grant Park Orchestra; Fawzi Haimor, Guest Conductor
Roustom: Ramal
Haydn: Symphony No. 104, "London"
Hindemith: Symphonic Metamorphosis
---
Saint-Saëns Violin Concerto
Wednesday, July 19, 2017, 6:30 pm – 9:00 pm
Jay Pritzker Pavilion
Grant Park Orchestra; Brett Mitchell, Guest Conductor; Angelo Xiang Yu, Violin
Bunch: Supermaximum
Saint-Saëns: Violin Concerto No. 3
Copland: The Red Pony
---
Brahms Piano Concerto No. 1
Wednesday, July 26, 2017, 6:30 pm – 8:00 pm
Jay Pritzker Pavilion
Grant Park Orchestra; Carlos Kalmar, Conductor; Stephen Hough, Piano
Brahms: Piano Concerto No. 1
Kodály: Dances of Galánta
Brahms: Hungarian Dances Nos. 1, 3, 6
---
Haydn Cello Concerto
Wednesday, August 16, 2017, 6:30 pm – 8:00 pm
Jay Pritzker Pavilion
Grant Park Orchestra; Carlos Kalmar, Conductor; Harriet Krijgh, Cello
Resphigi: The Birds
Haydn: Cello Concerto in C Major
Chadwick: Symphonic Sketches
---
Beethoven Symphony No. 9
Friday, August 18, 2017, 6:30 pm – 9:00 pm
Grant Park Orchestra and Chorus; Carlos Kalmar, Conductor; Christopher Bell, Chorus Director; Janai Brugger, Soprano; Allyson McHardy, Mezzo-Soprano; Brendan Tuohy, Tenor; Russell Braun, Bass
Brahms: Schicksalslied
Beethoven: Symphony No. 9