In just a quarter-century of existence, LA Opera has become the United States' fourth largest opera company and "stands out as a newly important force in American opera," according to Mark Swed in the Los Angeles Times. The broadcast series includes commentary from two of opera's biggest names: general director Placido Domingo and music director James Conlon. Join program host Duff Murphy for a season of opera recorded live from Los Angeles's Dorothy Chandler Pavilion.
LA Opera broadcasts begin at 12:00 pm central unless otherwise noted. For more information, visit the LA Opera web site.
2016 Broadcast Schedule
Gianni Schicchi/Pagliacci (July 16)
Puccini-Leoncavallo
Two legendary directors combine forces for a sensational season-opener. First, Plácido Domingo stars as Gianni Schicchi in Woody Allen's riotous staging of Puccini's comic masterpiece, conducted by Grant Gershon. When greedy relatives descend upon their kinsman's deathbed, they enlist Gianni Schicchi to rewrite the will to their benefit. Handed an opportunity too good to resist, the devious Schicchi turns the tables, securing the future happiness of two young lovers in the process.
After the intermission, Plácido Domingo conducts the conclusion of the double bill, Franco Zeffirelli's epic production of Pagliacci starring Marco Berti, Ana María Martínez and George Gagnidze. Filling the stage with hair-raising drama, the action plays out in a breathtaking contemporary urban landscape. When a cuckolded husband takes his revenge, his desperate wife must fight for her life in front of a cheering, oblivious audience.
"One for the record books. Gianni Schicchi is a wonderful romp led by Domingo's physical and vocal presence. Pagliacci is one of the most eye-dazzling theatrical stagings you will ever see." – Los Angeles Daily News
Norma (July 23)
Bellini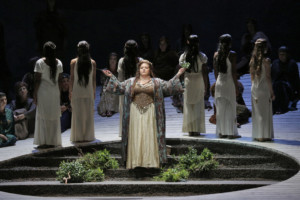 "Stunning… An exceptionally strong cast" – Los Angeles Times
"Angela Meade is astounding… a formidable achievement" –  The New Yorker
"Angela Meade and Jamie Barton
[in
Norma
]… are a duo that every opera lover should hear" –
The New York Times
In the Roman Empire, a clandestine love affair brings two mortal enemies together during a time of war. But when Norma discovers that her beloved now loves another, a fiery new battle begins as betrayal, anguish and fury take the reins.
A superlative quartet of soloists is led by the extraordinary Angela Meade—hailed by Opera News as "a voice to be reckoned with"—in the iconic title role, opposite the Adalgisa of mezzo-soprano Jamie Barton, this year's winner of the prestigious Richard Tucker Award. From the sublime "Casta diva" to the blazing finale, Norma delivers an overwhelming feast of vocal fireworks.
The Two Foscari (July 30)
Verdi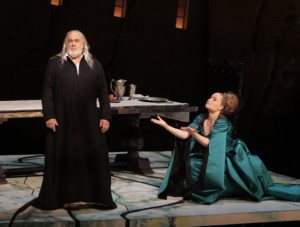 Plácido Domingo and James Conlon join forces in a new production of this Verdi masterpiece. The languid canals and boisterous festivals of 15th-century Venice conceal a deadly web of secret plots and vindictive rivalries. Caught up in forces beyond their control, a father and son struggle to reclaim honor in a city that knows no mercy.
Plácido Domingo stars as a head of state, desperate to protect his son — and himself — from the ruthless enemies that surround them.
Moby Dick (August 6)
Heggie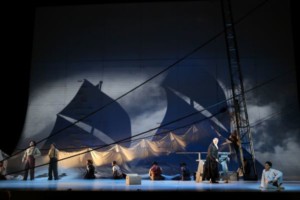 "Call it a success… A whale tale with staying power" – Los Angeles Times
"Theatrically stunning… epic in scale.  A vibrant, compelling piece of musical theater" – San Francisco Chronicle

Epic in every sense of the word, Moby-Dick comes to Los Angeles after a series of sold out triumphs around the world. Returning as Captain Ahab is the sensational Jay Hunter Morris, whose "fiery brilliance in his resplendent upper range captured both Ahab's inner strength and demonic possession" (SanDiego.com). Based on Herman Melville's classic novel, Jake Heggie's sweeping, gorgeously detailed score has already taken its rightful place as a true contemporary masterpiece.
With astonishing visual effects and a magnificent musical score, one of the very greatest of all American novels comes thrillingly to life on the stage. A fanatical sea captain's unrelenting obsession for revenge drives his entire crew into the face of death and destruction as they explore the vast and mysterious oceans in search of a monster.
Falstaff (August 13)
Verdi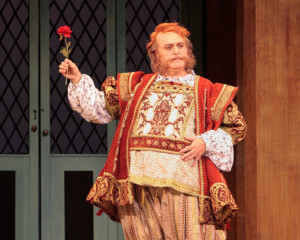 In honor of Verdi's 200th birthday, LA Opera presented a new production of the crowning glory of the composer's magnificent career, his comic masterpiece Falstaff. LA Opera Music Director James Conlon, praised internationally for his mastery of Verdi, conducted this unabashed celebration of Merrie Olde England's lusty days and bawdy nights, starring Italian baritone Roberto Frontali. When Shakespeare's portly knight of Windsor hatches a plot to improve his love life by courting two different married women, he launches a flood of comic chaos and romantic misadventure.
---
WFMT offers a complete opera every Saturday at noon with productions from the following companies: Metropolitan Opera (winter); Lyric Opera of Chicago (May-July); LA Opera on Air (July-August); San Francisco Opera (August-October)