Join WFMT's Lisa Flynn and Lyric Opera of Chicago Dramaturg Roger Pines for broadcasts of the 2016-17 season.
Lyric Opera of Chicago boasts having the most loyal subscribers in North America. Year after year, Chicago's largest opera company presents the finest international singers, directors, and designers. The broadcasts deliver the magic of live performance while taking you backstage to meet the stars.
Lyric Opera of Chicago Broadcasts are generously sponsored by The Hurvis Family Foundation with matching funding provided by The Matthew and Kay Bucksbaum Family, the John and Jackie Bucksbaum Family, and Richard P. and Susan Kiphart.
Please visit lyricoperalive.org for a live web stream of texts and translations during Lyric broadcasts.
---
2016-17 Broadcast Schedule
Stars of Lyric Opera at Millennium Park (September 9, 2016 at 7:15pm)
Enjoy acclaimed Lyric star voices as we celebrate a new season.
Sir Andrew Davis, Lyric's music director, will lead the Lyric Opera Orchestra and Chorus, and an array of outstanding soloists including soprano Ana María Martínez; mezzo-soprano Tanja Ariane Baumgartner; baritone Quinn Kelsey; bass-baritones Eric Owens and Samuel Youn; and basses Tobias Kehrer and Wilhelm Schwinghammer. Also performing will be current members of The Patrick G. and Shirley W. Ryan Opera Center.
The Lyric Opera Chorus will be prepared by chorus master Michael Black.
The program will include excerpts from the upcoming season's repertoire of Carmen, The Magic Flute, Eugene Onegin, and Lucia di Lammermoor, as well as selections from other operas by Gounod, Mozart, Tchaikovsky, Verdi, and Wagner. (Program subject to change.)
---
Lucia di Lammermoor (October 15th, 2016, 7:30 pm)
Gaetano Donizetti
If you cherish the classic tale of star-crossed love in Romeo and Juliet, then Lucia di Lammermoor will sweep you away with its intense romance. The most famous of all bel canto operas, you'll be transfixed by the passion of the heroine and her lover Edgardo (you'll long remember their heavenly love duet) and the vocal fireworks of Lucia's dazzling mad scene, as she breaks your heart while sending spectacular coloratura and high notes soaring. This beautiful period production features a star cast that is not to be missed.
Conductor— Enrique Mazzola; Director—Graham Vick; Lucia—Albina Shagimuratova; Edgardo—Piotr Beczała; Enrico—Quinn Kelsey; Raimondo—Adrian Sâmpetrean
---
Les Troyens* (November 15th, 2016)
Hector Berlioz
The drama of the Trojan War, replete with heroes and tragedy, has captivated audiences from literature to film, and nowhere does it come to life more vividly than in French opera's most astounding work, Les Troyens. Grand and glorious in its musical and dramatic breadth, this operatic retelling of Virgil's Aeneid is rarely performed because of its enormous scale. Experience the tidal wave of sound from Lyric's massive chorus and orchestra and the exciting ballet as this theatrical tour de force unfolds with a powerhouse cast. Sir Andrew Davis conducts this much-anticipated Lyric premiere that will8 draw opera lovers from all over the world!
Conductor—Sir Andrew Davis; Director—Tim Albery; Cassandre— Christine Goerke; Didon— Sophie Koch; Énée— Brandon Jovanovich; Chorèbe— Lucas Meachem; Narbal— Christian Van Horn; Anna— Okka von der Damerau
*This broadcast was recorded live at an earlier date.
---
Don Quichotte (November 19th, 2016, 7:30 pm)
Jules Massenet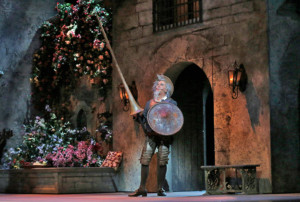 More than half a century before Man of La Mancha, Massenet brought Cervantes's universally beloved dreamer Don Quixote to the operatic stage. Inspired by the greatest of all Spanish novels, Don Quichotte is the story of an eccentric idealist and self-proclaimed knight errant who tilts at windmills and fights for the honor of his lady Dulcinée. The opera combines Massenet's fabulously atmospheric music with his own matchless theatrical flair to conjure a Spain that abounds with energy and spirit, beauty, and hope. Legendary bass Ferruccio Furlanetto bringing this signature role to vivid life with Sir Andrew Davis conducting in a production that is as gorgeous to see as it is to hear.
Conductor—Sir Andrew Davis; Director—Matthew Ozawa; Don Quichotte— Ferruccio Furlanetto; Dulcinée— Clementine Margaine; Sancho— Nicola Alaimo
---
The Magic Flute (December 10th, 2016, 7:30 pm)
Wolfgang Amadeus Mozart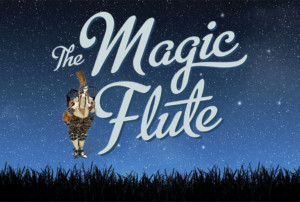 Who can fail to be delighted and moved by the triumph of love and goodness in The Magic Flute? Join us for this operatic fairytale as Prince Tamino strives for the hand of Pamina, accompanied by his lovable sidekick Papageno. You'll meet the evil Queen of the Night — with her stratospheric high notes and show-stopping arias — and the virtuous high priest Sarastro in a story that encompasses both the real and the fantastical. Revel in this combination of heartwarming comedy and true heroism, and the unparalleled genius and beauty of Mozart's music. A wonderful introduction to opera for all ages.
Conductor—Rory Macdonald; Director—Neil Armfield; Tamino (Dec. 10 – Jan 8)— Andrew Staples; Pamina— Christiane Karg; Queen of the Night— Kathryn Lewek; Papageno— Adam Plachetka; Sarastro— Christof Fischesser
---
Norma (January 28th, 2017, 7:30 pm)
 Vincenzo Bellini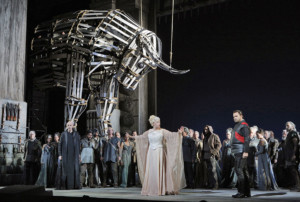 If you're drawn to vocal acrobatics, Bellini's Druid priestess Norma will thrill and astonish you. The absolute pinnacle for any prima donna with the technical prowess, sumptuous voice, and dramatic fire to master its perilous challenges, Norma stands as a crowning jewel of the bel canto repertoire. This timeless story of love betrayed runs the gamut of emotions from loyalty and passion to jealousy, revenge, and redemption. You'll hear melodies ranging from the stunningly serene "Casta diva" to the frenzy of vocal fireworks that pour forth as Norma's rage overflows. Don't miss world-acclaimed soprano Sondra Radvanovsky in this dazzling masterwork!
Conductor— Riccardo Frizza; Director—Kevin Newbury; Norma— Sondra Radvanovsky; Adalgisa— Elizabeth DeShong; Pollione— Russell Thomas; Oroveso— Andrea Silvestrelli
---
Carmen (February 11th, 2017, 7:30 pm)
Georges Bizet
Opera has plenty of femmes fatales, but there's only one Carmen. Her allure proves spellbinding as she seduces a hapless corporal and then a dashing bullfighter. You'll feel the heat as you're captivated by Bizet's bewitching melodies — the smoky Habanera, the playful Seguidilla, the provocative Gypsy Song. Every single melody in this ever-popular opera is a beloved hit, and each is brought to life by a cast of spectacular leading artists. Join us for this production — never before seen in Chicago — and find out why it's the perfect work to see again and again, and the ideal opportunity to introduce new fans to the thrill of opera.
Conductor (Feb. 11 – Mar. 6) — Harry Bicket; Director & Choreographer— Rob Ashford; Carmen (Feb. 11 – Mar. 6)— Ekaterina Gubanova; Don José (Feb. 11 – Mar. 6)— Joseph Calleja; Micaela—Eleonora Buratto; Escamillo—Christian Van Horn
---
Eugene Onegin (February 26th, 2017, 2:00 pm)
Pyotr Ilyich Tchaikovsky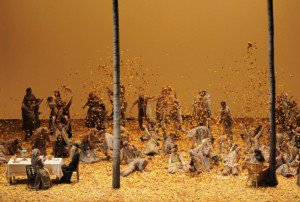 Intensely passionate drama set to some of opera's most sweeping, soulful, and heartstoppingly beautiful music — that is Eugene Onegin. Tatiana is a lovesick country girl, and Onegin is the sophisticated young man who callously spurns her love before realizing, too late, what a mistake he's made. Here is Pushkin's profoundly human, hopelessly romantic, ultimately devastating story, elevated by Tchaikovsky's richly layered and unabashedly expressive music. Find out why Eugene Onegin is beloved by opera audiences the world over.
Conductor—Alejo Perez; Original Director—Robert Carsen; Revival Director—Paula Suozzi; Onegin—Mariusz Kwiecień; Tatiana—Ana María Martínez; Lensky—Charles Castronovo; Gremin—Dmitry Belosselskiy