The second largest opera company in North America, San Francisco Opera has been a leader among international opera companies for nine decades. The radio series brings these world-class performances to the airwaves, along with the occasional historic performance, with hosts Elaine Warner and Dianne Nicolini.
Since its inception, San Francisco Opera has embodied a spirit of innovation by presenting the world premieres of many works including A Streetcar Named Desire (1998), Dead Man Walking (2000), and Doctor Atomic (2005).
San Francisco Opera has presented the American debut performances of numerous artists, including Anna Netrebko, Tito Gobbi, Birgit Nilsson, Leontyne Price, Elisabeth Schwarzkopf, Renata Tebaldi, Valery Gergiev, Sir Georg Solti, and Francis Ford Coppola.
Founded by Gaetano Merola in 1923, the first performance (La bohème) took place on September 26, 1923 in the city's Civic Auditorium. Nine years later, the company moved into its permanent home, inaugurating the newly built War Memorial Opera House with a performance of Tosca on October 15, 1932, with Claudia Muzio, Dino Borgioli, Alfredo Gandolfi, and Merola conducting. Since 2006 the company has been led by general director David Gockley. For more information visit the San Francisco Opera website.
Find the 2016 broadcast schedule below, and check back soon for 2017 listings.  Broadcasts begin at 12:00 pm noon unless otherwise noted.
---
Luisa Miller (August 20)
Giuseppe Verdi
A father's betrayal. A daughter's sacrifice. Longing only for love, a brave young woman sacrifices her own happiness in a desperate attempt to save her father's life. Revered for its masterful depiction of intimate emotions, Verdi's swiftly moving tragedy explores the forbidden passion between a peasant girl and a nobleman and the plotting of two ruthless men determined to tear them apart.
Cast & Creative
Conductor – Nicola Luisotti; Luisa Miller – Leah Crocetto; Rodolfo – Michael Fabiano; Miller – Vitaliy Bilyy; Count Walter – Daniel Sumegi; Federica – Ekaterina Semenchuk; Wurm – Andrea Silvestrelli; Laura – Jacqueline Piccolino
---
Lucia di Lammermoor (August 27)
Gaetano Donizetti
Pressured to marry the wrong man, a young woman suffers an emotional breakdown, culminating in the most astonishing mad scene in all of opera. Witness the arresting vocal and dramatic power of Nadine Sierra and Piotr Beczala in a striking new production by Director Michael Cavanagh and Set Designer Erhard Rom (Susannah, 2014). Music Director Nicola Luisotti conducts the gorgeous, melodic score.
Cast & Creative
Conductor – Nicola Luisotti; Lucia di Lammermoor – Nadine Sierra; Edgardo – Piotr Beczala; Enrico – Brian Mulligan; Raimondo – Nicolas Testé; Alisa – Zanda Švēde; Normanno – AJ Glueckert; Arturo – Chong Wang
---
Die Meistersinger von Nürnberg (September 3)
Richard Wagner
In his comic masterpiece, Wagner set aside gods and goddesses to tell a touchingly human story about the power of art. When an impetuous young singer arrives in a proud German city determined to dazzle the townsfolk and win the love of a beautiful woman, his attempts to prove himself find sympathy in a wise cobbler-poet. Acclaimed Wagnerian Mark Elder conducts a stellar cast headed by noted British baritone James Rutherford as Hans Sachs. San Francisco Opera favorite Brandon Jovanovich returns in a richly detailed and joyful production by David McVicar.
Cast & Creative
Conductor – Sir Mark Elder; Hans Sachs – James Rutherford; Walther von Stolzing – Brandon Jovanovich; Eva – Rachel Willis-Sørensen; Magdalene – Sasha Cooke; David – Alek Shrader; Sixtus Beckmesser – Martin Gantner
---
The Magic Flute (September 10)
Wolfgang Amadeus Mozart
In a fantastical world of ferocious dragons and enchanted musical instruments, a noble prince sets out to rescue a beautiful princess and ensure the triumph of truth and justice. Mozart's final operatic masterpiece returns in a sublime multimedia production sung in English and designed by acclaimed visual artist Jun Kaneko.
Cast & Creative
Conductor – Lawrence Foster; Pamina 1 – Sarah Shafer; Pamina 2 – Nadine Sierra; Tamino -Paul Appleby; Papageno – Efraín Solís; Sarastro – Alfred Reiter; The Queen of the Night – Albina Shagimuratova; Monostatos – Greg Fedderly
---
The Barber of Seville (September 17)
Gioachino Rossini
Cunning, clever, and big-hearted, Figaro is precisely the sort of person you want as a friend. His quick thinking proves invaluable in helping a young woman escape from the grasp of her guardian and into the arms of a noble suitor. Spanish director Emilio Sagi's buoyant and delightfully funny staging returns by popular demand. The cast stars the irresistible Daniela Mack, the ardent René Barbera and the charismatic Lucas Meachem in the title role. With its unfailingly charming and inventive score, this hilarious combination of vocal and visual fireworks is sure to enchant.
Cast & Creative
Conductor – Giuseppe Finzi; Figaro – Lucas Meachem; Rosina -Daniela Mack; Count Almaviva – René Barbera; Doctor Bartolo – Alessandro Corbelli; Don Basilio – Andrea Silvestrelli; Berta – Catherine Cook; Fiorello – Edward Nelson; Ambrogio – Efraín Solís
---
The Fall of the House of Usher (September 24)
Claude Debussy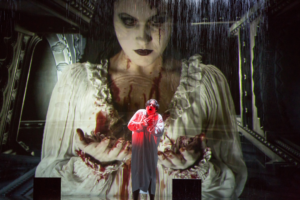 Edgar Allan Poe's Gothic tale about a decaying castle inhabited by a tormented man and his sickly sister comes to life—twice, combining Gordon Getty's Usher House and Debussy's La Chute de la Maison Usher into one thrilling drama.
Featuring imaginative video projections, David Pountney's production evokes the intense atmosphere of Poe's prose. Brian Mulligan stars in this spine-tingling U.S. production premiere under the baton of renowned conductor Lawrence Foster. Enter at your own risk.
Cast & Creative
Conductor – Lawrence Foster; Roderick Usher – Brian Mulligan; Edgar Allan Poe – Jason Bridges; Madeline Usher/Lady Madeline – Jacqueline Piccolino; Madeline Usher (dancer) – Jamielyn Duggan; Doctor Primus – Anthony Reed; Le Médecin – Joel Sorensen; L'Ami – Edward Nelson
---
Dialogues of the Carmelites (October 1)
Francis Poulenc
Cast & Creative
Chevalier – Howard Hensel; Marquis – Eric Halfvarson; Blanche – Carol Vaness; Thierry – Frank Levar; Mme de Croissy – Régine Crespin; Sister Constance – Betsy Norden; Mother Marie – Virginia Zeani; Mme. Lidoine – Leontyne Price; Chaplain – Jonathan Green; Sister Mathilde – Donna Petersen
---
Carmen (October 8)
Georges Bizet
The ultimate femme fatale returns in a provocative staging by acclaimed director Calixto Bieito. His raw take on Carmen heightens the intense emotions pulsing through this tale of love, lust and murder. The result is a powerful account of a free-spirited woman and her obsessive lover. Be swept into Carmen's deadly seduction as never before.
Cast & Creative
Conductor – Carlo Montanaro; Conductor – Jordi Bernàcer; Carmen 1 – Irene Roberts; Carmen 2 –               Ginger Costa-Jackson; Don José 1 – Brian Jagde; Don José 2 – Adam Diegel; Micaëla 1 – Ellie Dehn; Micaëla 2 – Erika Grimaldi; Escamillo – Zachary Nelson; Escamillo 2 – Michael Sumuel; Frasquita – Amina Edris
---
Don Carlos (October 15)
Giuseppe Verdi
At the time of Spain's brutal Inquisition, the king of Spain marries the woman his son loves and sets into motion a tension-filled chain of events. Don't miss this magnificent tale of romantic triangles, political idealism and life-and-death devotion.
Cast & Creative
Conductor – Nicola Luisotti; Don Carlo – Michael Fabiano; Elisabetta – Ana María Martínez; Princess Eboli – Nadia Krasteva; Rodrigo – Mariusz Kwiecien; Philip II – René Pape; Philip II – Ferruccio Furlanetto; The Grand Inquisitor – Andrea Silvestrelli
---
Jenůfa (October 22)
Leoš Janáček
When the righteous sin, can they be forgiven? Karita Mattila returns to portray one of opera's most vivid characters—a domineering stepmother forced to deal with her unwed stepdaughter's pregnancy—who is driven to perform a monstrous act.
Cast & Creative
Conductor – Jiří Bělohlávek; Jenůfa – Malin Byström; Kostelnička – Karita Mattila; Laca Klemeň – William Burden; Steva Buryja – Scott Quinn; Grandmother Buryjovka – Jill Grove
---
WFMT offers a complete opera every Saturday at noon with productions from the following companies: