This Monday, composer and pianist Ramsey Lewis eagerly attended the Chicago Symphony Orchestra's first rehearsals of his Concerto for Jazz Trio and Orchestra, which receives its world premiere on Saturday, August 8 at the Ravinia Festival. "It's only taken 80 years for me to write the piece for them, but it's a good feeling," he said with pride. WFMT spoke with Lewis about his first forays composing large-scale works, his 80-year journey to the CSO, and his new album.
How a prolific composer overcame writer's block
Lewis has earned three Grammy Awards and seven gold records for popular hits like "The In Crowd" by the Ramsey Lewis Trio. But when he received his first large-scale commission, he got a bit of writer's block.
"It wasn't until I had a performance at the Ravinia Festival that I started composing what I call 'long form, something that's going to be an hour or so, rather than 4 or 5 minutes for an LP." Welz Kauffman, President and Chief Executive Officer of Ravinia, asked Lewis to compose a piece for the Joffrey Ballet.
"Because it was the Joffrey and because it is ballet, I couldn't get Tchaikovsky and other ballet composers out of my head." Feeling the anxiety of influence, the deep wells of Lewis's creative genius seemed to run dry.
"It was my wife who heard me and saw me struggling at the piano who said, 'Listen: you compose and you improvise every day, I see you just sit there making stuff up and having fun.'" I told Lewis that I too was surprised to learn about his initial struggles to compose dance music since it's almost impossible for me not to move my body when I listen to his work.
---
---
He exclaimed, "That's just what my wife said! She said, 'You been playin' dance music all your life. Sure enough, she's right. The first band I started playing with when I was 16 years old was a dance band, and back in the day some of the Trio gigs we had were in bars and people would get up and dance. So, Jan said, 'Why don't you turn the tape recorder on and forget about the ballet, and just sit there and improvise as you often do.'"
"And I did that. And God bless her! Because after I turned the tape recorder off, a couple days later, I listened, and low and behold there were melodies there I could pull out and go, 'Ooo, ah, ooo, ah!' And after having the first 15-20 minutes of those bits, once I got started, I didn't have to listen to the tape anymore, the juices started flowing and the confidence for writing for an hour was there. 'I can do this, I can do this!' And it turned out it really well."
Lewis's commission for the Joffrey, "To Know Her….", turned out so well that Kauffman commissioned Lewis to compose another long-form piece, "Proclamation of Hope," to commemorate the 200th anniversary of Abraham Lincoln's birth. Later, the piece was performed at the Kennedy Center to a sold-out house, giving Lewis additional confidence in composing original, long-form works.
Lewis's 80-year journey to the CSO
Based upon the success of Lewis's first two forays into composing large-scale works, Kauffman suggested that Lewis collaborate with the world-renowned Chicago Symphony Orchestra. Since Lewis is one of today's most outstanding keyboard players, Kauffman encouraged him to compose a piano concerto. Lewis, however, expressed concerns that for improvised solo sections, he would need the support of a drummer and bass player.
The solution? A triple concerto for jazz trio and orchestra! Lewis reports that unlike composing for Joffrey, which was difficult for him at first, the ideas for his concerto flowed easily. Lewis kept his manuscript notebooks with sketches for his earlier large-scale works and mined them for ideas.
"I would pick one bar here, three bars there, and running through the books on the piano. Finally, I was inspired and had enough to get me going. I just started writing and I thought something was there."
"I was looking forward with great anticipation to the first rehearsal because I hadn't heard the piece, and ooo what an orchestra," Lewis said with a hearty laugh. "God, did they play that piece! And I thought, 'They're the Chicago Symphony Orchestra, what else do you expect, dummy?'"
"Those musicians are such professionals in every way," he said with admiration. "Everyone in the orchestra is one of the best on their instruments, and yet everyone plays together as one. When you write pianissimo you get pianissimo. When you write a crescendo, oh boy, do you get a crescendo!".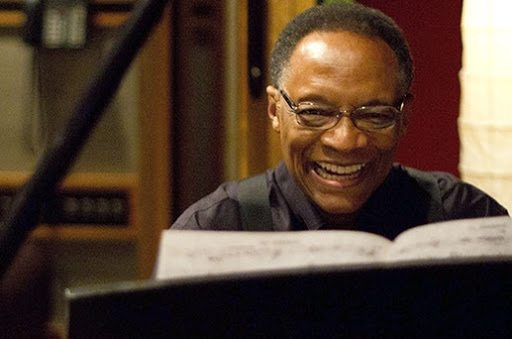 Lewis is glad that the CSO, like other orchestras across the country, are beginning to broaden their programming to include diverse artists. He said, "It's almost as if someone said in the bylaws of the orchestras that, 'You must only play staunchly traditional classical music,' and it was like that for many years."
Lewis hopes that jazz lovers who are new to classical music might react to the experience of hearing a live orchestra for the first time the same way he did. "I remember when I first heard the Chicago Symphony Orchestra when I was in high school. And the beauty, and the power? I'm just like 'WOOOAH!' So we hope there will be people who will walk away from the performance Saturday night not only understanding what my concerto is all about, but that they will come back and hear Beethoven, Brahms, and all the greats at Orchestra Hall."
The second half of Saturday evening's program at Ravinia opens with Lewis and his son playing a few songs. "Bobby, the very youngest, is one of the featured singers in our church choir. Frayne, the next to the youngest, he's a bassist – both upright and electric – and he plays in our church, for the choir and other services. They're the two active musicians in the family, and they'll be performing with me Saturday night."
The program will conclude with selections by the J.W. James A.M.E. Church Choir and an all-out jam session. Lewis said he will invite "guys who have played in my Trio and groups over the years, we just gonna get up on the stage and act a fool."
Lewis's new album and the hit song that almost wasn't
In addition to premiering a major new composition this summer, Lewis has also released a new album, Ramsey – Taking Another Look – Deluxe Edition. Lewis takes "another look" at some of his greatest hits, including "Sun Goddess," which was originally recorded in 1974 with Earth, Wind, & Fire. During our conversation about the new album, Lewis revealed that "Sun Goddess," one of his most well-known tracks of all time, was almost never recorded.
He said in the summer of 1974, he got a call from Maurice White, a former member of the Ramsey Lewis Trio, who said, "I got a track that is gonna be bigger than 'The In Crowd' and I said, 'Come On!'" White had just finished playing with Sly and the Family Stone at Madison Square Garden, and could pass through Chicago on his way back to L.A. to record what later became "Sun Goddess."
At first, Lewis was unsure whether or not the tune would be a success, saying, "I don't have a B section, a C section, I don't even have a bridge. But Maurice said, 'Let's just play the melody and take turns soloing,' which we did. Later we decided to add the vocals, which take it to the next level."
"We thought it was just going to be an album track," Lewis confessed. "Back then, you had your singles and your album tracks. We released one single before the album which didn't do too well. So we were surprised that the record itself started flying off the shelves because people would walk into the record stores and say, "Gimme the album with 'Sun Goddess' on it."
---