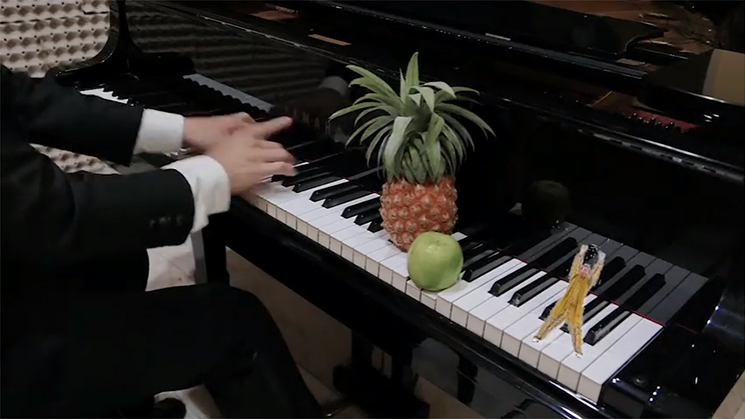 As soon as the song "Pen-Pineapple-Apple-Pen" began to take over the internet, we knew it was only a matter of time before covers would begin to pop up. If you haven't heard "Pen-Pineapple-Apple-Pen," you can listen to the original song here.
The song and accompanying video was uploaded to YouTube on August 25, 2016 by Japanese comedian Kazuhiko Kosaka. He performs the song as his character DJ Piko-Taro. Currently, the video has been viewed over 18 million times on YouTube and over 65 million times on Facebook.
In the video, Kosaka sings, "I have a pen. I have an apple. Apple-pen! I have a pen. I have pineapple. Pineapple-pen! Apple-pen. Pineapple-pen. Pen-Pineapple-Apple-Pen."
If you're having a hard time understanding what the lyrics mean, you're probably over thinking them.
Christopher Janwong McKiggan, a Bangkok-based musician who goes by Chris The Pianist, has given us a classical cover of Kosaka's song. Thankfully, he includes an actual pen, pineapple, and apple in his performance. DJ Piko-Taro also makes an appearance in the video (thanks to the magic of video editing).
His channel also has classical covers of other tunes ranging from hits like Adele's Hello to theme music from movies and video games. You have to admit, his arrangement of the theme from Ghostbusters is pretty catchy.