Late Night at National Sawdust is a program dedicated to highlighting contemporary classical music that may otherwise fall on deaf ears. Relevant Tones and National Sawdust partnered up to bring listeners a quarterly live broadcast of exciting new music from the world premiere of a piece co-composed over Facebook to a work inspired by ancient history. Performances from the original live broadcast which aired on WFMT on January 20th are listed below with a link to the full broadcast at the bottom of the page
Mark Scearce's Squaring the Circle
Squaring the Circle is a duo for clarinet and cello with a scordatura tuning. While the four strings of the cello are typically tuned C, G, D, A, composers might choose to tune certain strings differently. In Squaring the Circle, which is based on ancient Iraqi modes, the cello is tuned differently so that the player can easily evoke traditional Middle Eastern sounds.
Deirdre McKay's Umber Sepia
Many composers have been inspired by the water. The inspiration for Deirdre McKay's Umber Sepia is particularly unique: the graceful and grotesque sound of a cuttlefish's ink squirting into the water and dyeing everything black.
Seth Boustead's String Quartet No. 1
In String Quartet No. 1, the strings drift together peacefully and whisk you away to the pyramids in the ancient city of Teotihuacan located in present-day Mexico. There the composer had an out of body experience that he translated into sound through this quartet. Hear the second movement, Veil, below.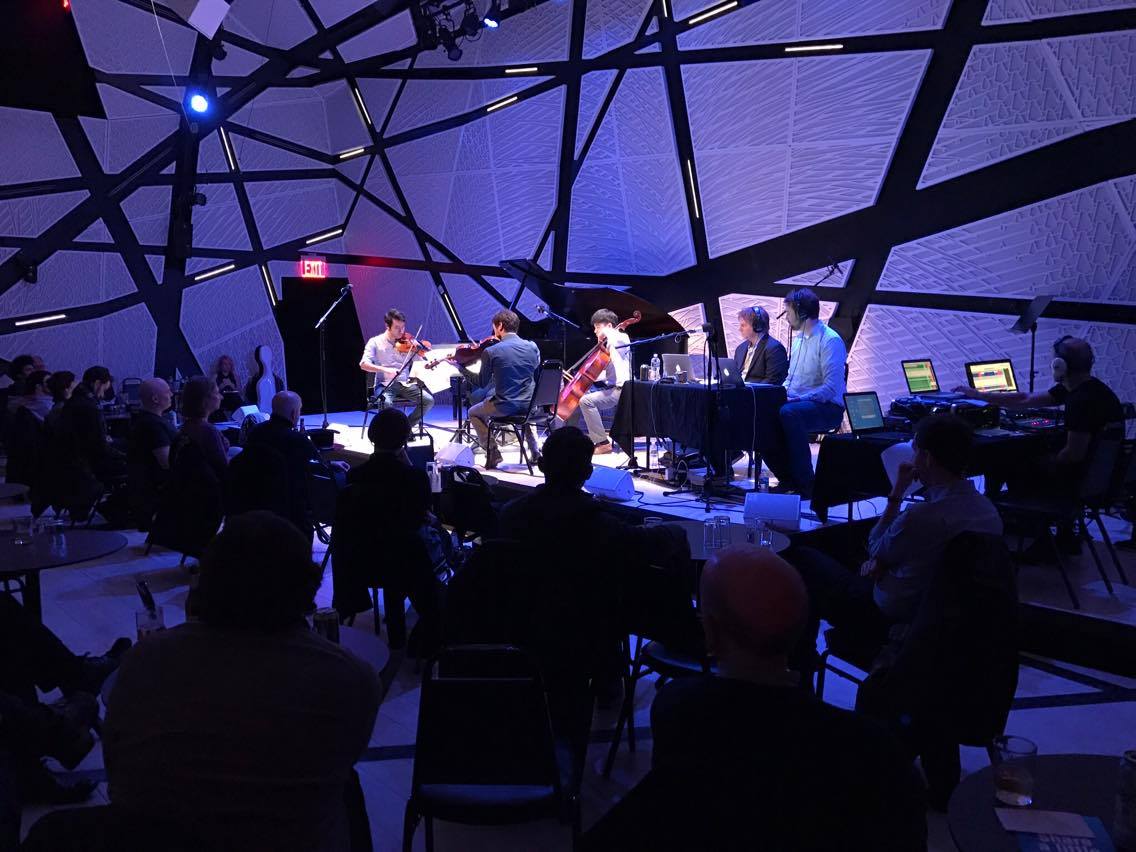 Eric Nathan's Three by Three
Three by Three is composed of three, three-minute movements that composer Eric Nathan originally wrote for pianist Mei Rui. The first movement is a burst of hushed energy.  The final movement is a lively, playful sprint for solo piano. Sandwiched between, the second movement is light and delicate.
Agnieszka Stulgińska's Touching the Fog
In Touching the Fog, Polish composer Agnieszka Stulgi ńska reminisces upon a walk she took while studying in Belgium. At the beginning of the piece the dense sound oscillates between a gentle noise to complete silence. Only at the end do the sounds transform to concrete developing a cloudy sky.
Alan Theisen's Sleep Now O Sleep Now
Sleep Now O Sleep Now was inspired by James Joyce's poem of the same name.  Clarinetist Chris Grymes, who commissioned the piece, described the creative process of working with Theisen as a "fully digital experience."  Since the two never met in person, Grymes contacted Theisen on Facebook. A few private messages later, and the two had co-created Sleep Now O Sleep Now, which had its world premiere during this special live broadcast of Relevant Tones from National Sawdust.