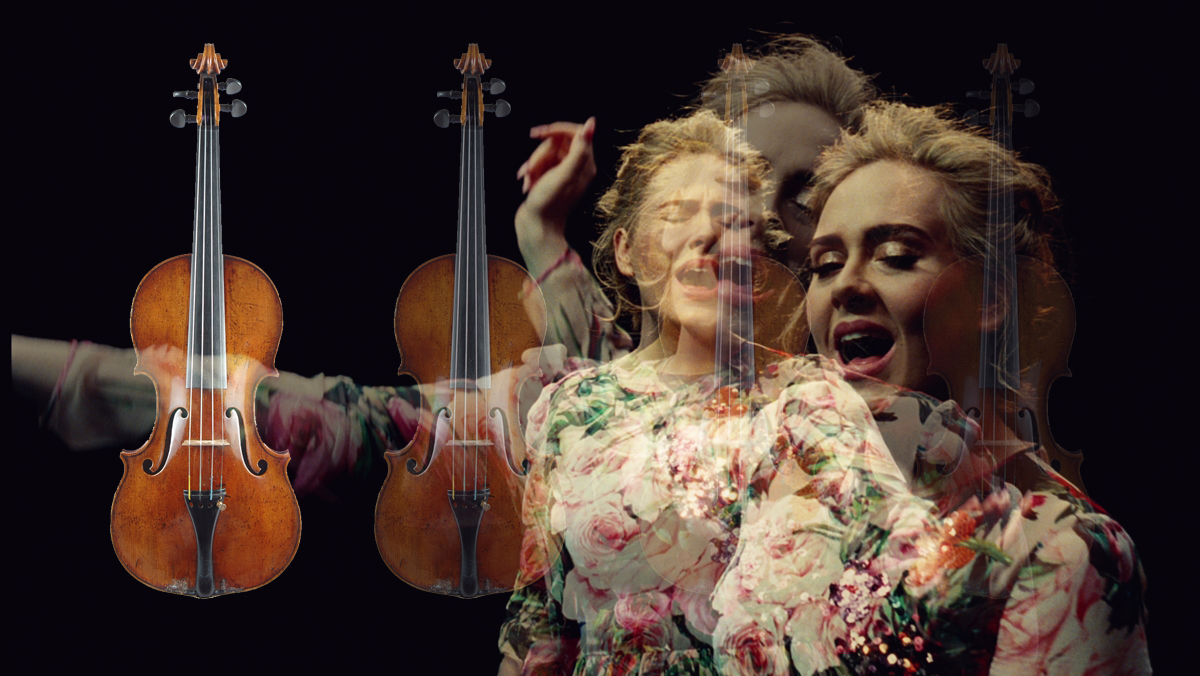 "Wouldn't it be great if you had a string quartet that could play….?" That's the question that started Vitamins String Quartet, which recently released arrangements of some of your favorite Adele songs.
James Curtiss, a project director in charge of artists and repertoire at CMH Records, said, "It's not really a quartet in the traditional sense that we have the same four players. We look at VSQ as a series of string quartet projects, each with its own producer, arranger, and players."
"Sometimes, things transcend the popular and just ascend into the ether," Curtiss said. "Adele has done this at a level that has been unfathomable when you compare her to other people of her generation. She's the only artist in the last decade who has sold on the scale of a group like Fleetwood Mac or the Eagles.
"When we're looking for tracks to arrange for Vitamin String Quartet, we ask, 'What's happening now that's going to live on forever? Yes it's hot now, but it is going to be hot in 3 years, or 6 years?' Adele's music constantly walks that fine line between what's now and what's lasting.
"At the same time, a lot of her material starts to sound the same, especially by her third album, 25. Then I heard 'Send My Love,' it's the most dynamic, it's the most unique compared to the other tracks on that album." He partnered with producer and arranger JimMcMillen to create a new arrangement of "Send My Love," which was released on VSQ Performs the Hits of 2016 Vol. 2, and which you can hear in full below."Send My Love (To Your New Lover)" fromVSQ Performs the Hits of 2016 Vol. 2, Originally Performed by Adele
[powerpress url="https://wfmt-od1.streamguys1.com/wfmt/offmic/SendMyLoveVSQ.mp3″]And, in case you need to remind yourself of what the original track sounds like:
"Before we go into the studio, there's lots of pre-production," Curtiss said. "We take notes on the feel of the song and what we're looking for in the final product. Then we do MIDI mock-ups so that we go back and forth until we feel the arrangement is right. Then we can mix things in the studio later."
Curtiss explained that "nine times out of ten,  a string quartet is set up like a rock band: the melody is in the first violin, the rhythm is driven by the cello, and the second violin and viola can do the rest.
"A lot of Adele's songs are torchy ballads. But 'Send My Love' is far more rhythmic than it is melodic – even the way Adele uses her voice is much more rhythmic. First we wanted to get at the heart the rhythm of the track. We tried to build up from the cello, since that's where we put a lot of the rhythm."
With nearly a hundred albums released today, if there's a pop song you'd love the hear as a string quartet, there's a chance VSQ has recorded an arrangement of it.
"I don't understand the notion of closing yourself off from wonderful and weird and wild music. I don't want to limit myself," Curtiss said."
For more information about Vitamin String Quartet, visit its website.