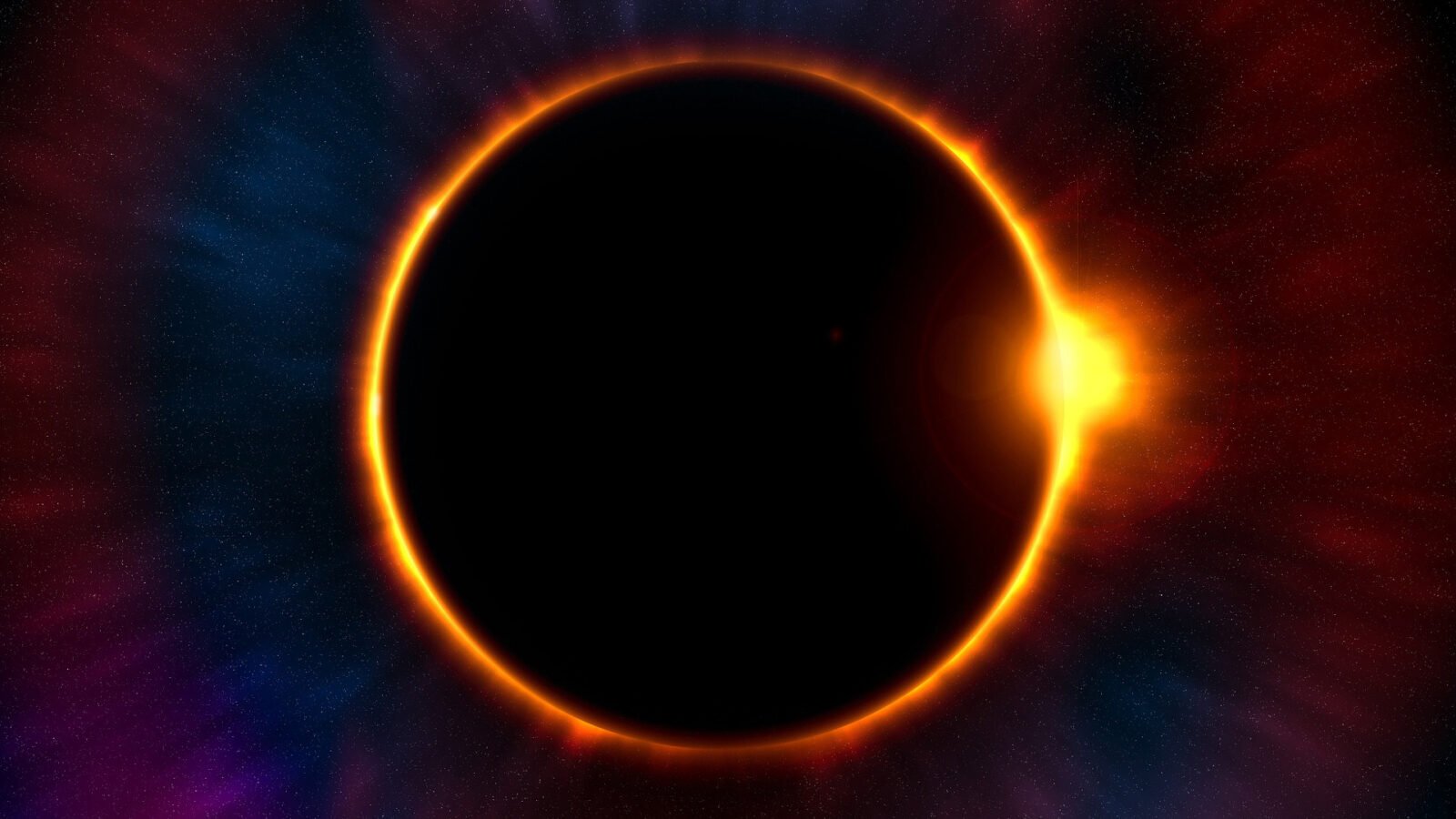 Eclipses occur when one astronomical body passes directly between two others, creating a shadow. In a lunar eclipse, the Earth sits between the sun and moon. When the Earth blocks the sun during a lunar eclipse, the moon appears a reddish color. By contrast, a solar eclipse involves the sun, moon, and Earth lining up such that the moon blocks sunlight. During total eclipses the moon completely obstructs the sun's surface. However you observe an eclipse, be sure never to stare directly at the sun and to play the perfect music. Here are some of our favorite classical works inspired by the moon and night.
"Total eclipse" — George Frideric Handel
---
Two of the most famous arias in Handel's Samson are of quite contrasting moods. "Let the bright seraphim" is bright and ebullient, while "Total eclipse" is expectedly dark and moody. In "Total eclipse," the character isn't describing an astrological event however: it's a poetic description of blindness. (The aria perhaps can also serve as an important reminder never to stare directly at the sun, even during a total eclipse!)
---
La noche de los Mayas — Silvestre Revueltas
---
Composer Silvestre Revueltas once made a cameo appearance in a 1935 film as a piano player that gets caught in the middle of a shootout. Four years later, he composed La noche de los Mayas for a film of the same name.
---
Night on Bald Mountain — Modest Mussorgsky
---
Mussorgsky's music from Night on Bald Mountain existed in many incarnations during the composer's life. Night on Bald Mountain was given second life in an 1886 arrangement by Mussorgsky's friend and colleague, Nikolai Rimsky-Korsakov. A subsequent arrangement by Leopold Stokowski became popular after it was featured in Disney's Fantasia.
---
Masquerade Suite — Aram Khachaturian
---
Khachaturian composed the Masquerade as incidental music for a play of the same name by Mikhail Lermontov that premiered at Moscow's Vakhtangov Theatre. The production was cut short by the German invasion of the USSR, though Khachaturian's music has lived on as a suite. His Nocturne, the suite's second movement, is a colorful depiction of night.
---
Verklärte Nacht — Arnold Schoenberg
---
Verklärte Nacht (Transfigured Night) exemplefies Schoenberg's early compositional style, and was considered the composer's first important work. The romanticism of this string sextet may be surprising to those familiar with Schoenberg's later atonal, twelve-tone style. Schoenberg composed it after meeting his future wife, Mathilde von Zemlinsky, though it was chiefly inspired by Richard Dehmel's poem of the same name.
---
"Moonlight" Sonata — Ludwig van Beethoven
---
One of the most popular compositions for the piano to this day, the first movement of Beethoven's Piano Sonata No. 14 in C-sharp minor, "Quasi una fantasia" is known as the "Moonlight" Sonata. Carl Czerny, one of Beethoven's most accomplished students, said of the movement, "it is a nocturnal scene, in which a mournful ghostly voice sounds from the distance."
---
"Song to the Moon" from Rusalka — Antonín Dvořák
---
The most famous excerpt from Antonín Dvořák's opera Rusalka is the "Song to the Moon" ("Měsíčku na nebi hlubokém"). In the opera, Rusalka, a water nymph, has fallen in love with a human prince whom she saw by her lake while he was hunting. She tells her father that she wants to become human so that she can be with the prince on land. Despite her father's warnings, Rusalka asks a witch, Ježibaba, for help. She sings the famous "Song to the Moon" to express her love for the prince.
---
"Borobudur in Moonlight" — Leopold Godowsky
---
After he encountered gamelan music while visiting Java, Polish-American composer Godowsky composed a curious set of piano pieces, Java Suite (Phonoramas).  His "Borobudur in Moonlight" is one of several picturesque works in the suite. Borobudur is a 9th-century Mahayana Buddhist Temple in Magelang, Central Java, Indonesia, which has been designated as a UNESCO World Heritage Site.
---
"Clair de lune" — Claude Debussy
---
Undoubtedly the most famous piece of Debussy's most famous piano suite, Suite bergamasque, "Clair de lune" is also one of the most famous pieces of moon music. Debussy's picturesque piece for piano was inspired by Paul Verlaine's poem of the same name.
---
"Notte placida e cheta" — George Frideric Handel
---
When Handel spent time in Italy as a young composer, he created a number of small and large vocal works. One special cantata he composed there is "Notte placida e cheta" ("Placid and peaceful night"), which is full of peaceful, pastoral imagery of a placid night. In the first aria, the speaker describes the gentle breezes. The final aria is an up-tempo minuet, though still remains within the galant, pastoral mode that characterizes the opening of the cantata.
---
Listen to the full playlist here!
---
---
Collaborative arts programming is made possible by the Richard and Mary L. Gray Artistic Collaboration Fund.
---