It's a sad fact of human nature that, as we look back on the past, we remember it by what and who was lost. 2017 did not spare the classical music world from the deaths of some of its brightest stars. As we reflect on the past twelve months, WFMT remembers the classical musicians whose art will never be forgotten. We hope you will find some inspiration and comfort  in the words of these great composers, conductors, singers, and instrumentalists who died in 2017.
Barbara Cook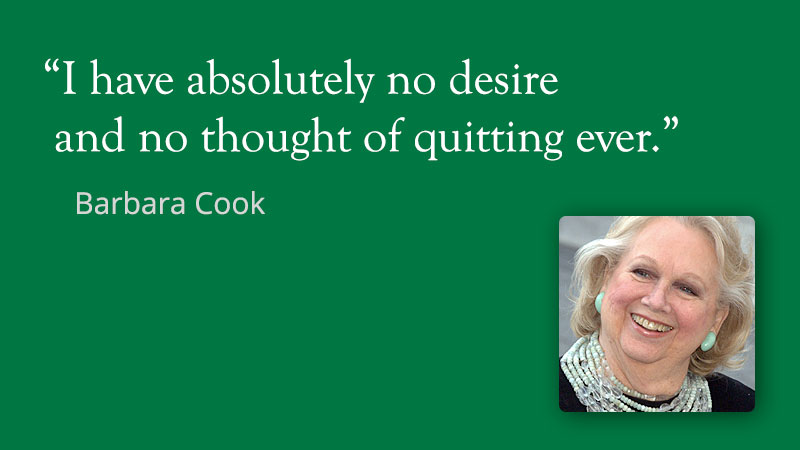 "I have absolutely no desire and no thought of quitting ever." Singer and teacher Barbara Cook, age 90, on her life as a singer.
Robert De Cormier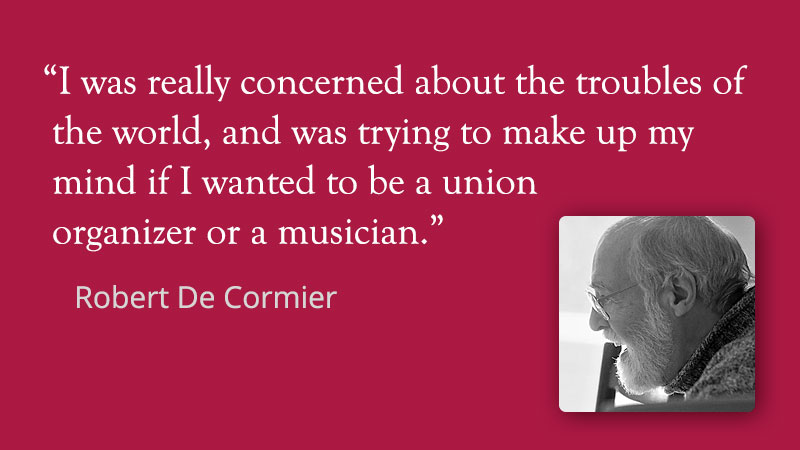 "I was really concerned about the troubles of the world, and was trying to make up my mind if I wanted to be a union organizer or a musician." American choral conductor and composer Robert De Cormier, age 95. 
Nicolai Gedda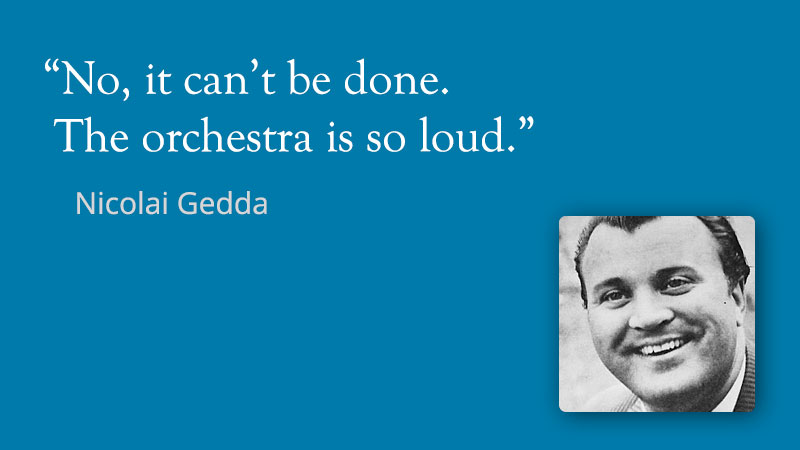 "No, it can't be done. The orchestra is so loud." Swedish tenor Nicolai Gedda, age 91, on the impossibility of following the text of a Wagner opera.
Sir Peter Hall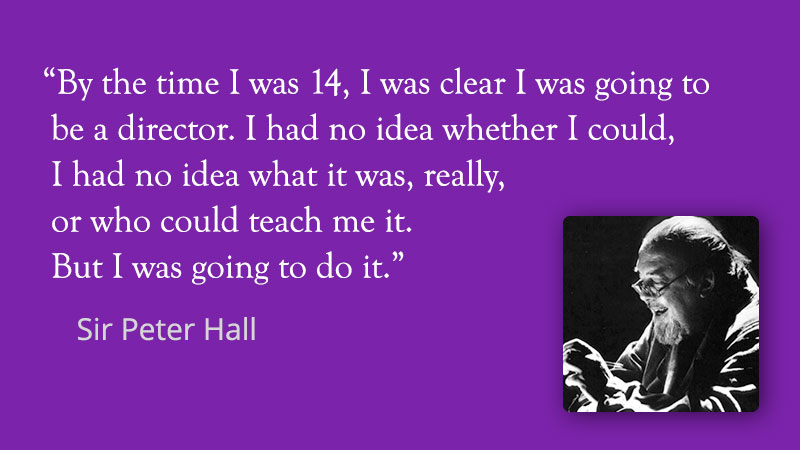 "By the time I was 14 I was clear I was going to be a director. I had no idea whether I could, I had no idea what it was, really, or who could teach me it. But I was going to do it." British theater and opera director Sir Peter Hall, age 86, on how he chose his profession.
Dmitri Hvorostovsky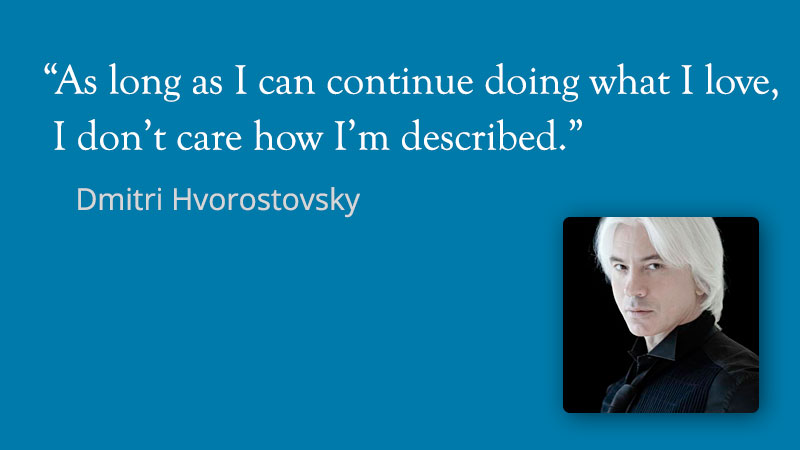 "As long as I can continue doing what I love, I don't care how I'm described." Russian baritone Dmitri Hvorostovsky, age 55, on his public image.
Carol Neblett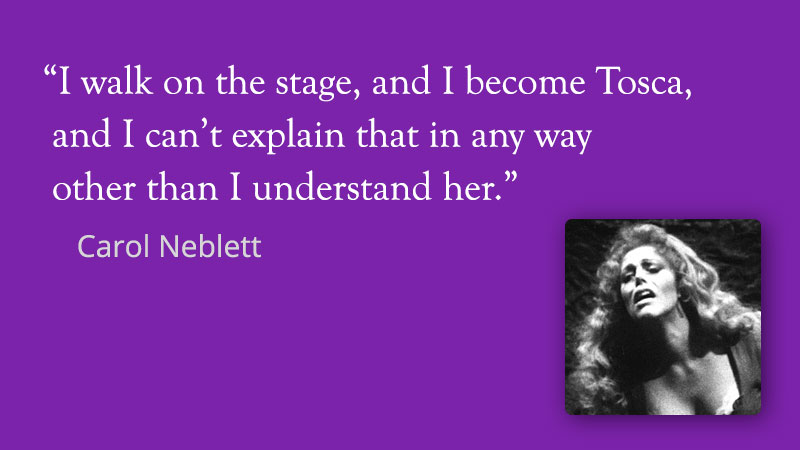 "I walk on the stage, and I become Tosca, and I can't explain that in any way other than I understand her." American soprano Carol Neblett, age 71, on preparing for a role.
Roberta Peters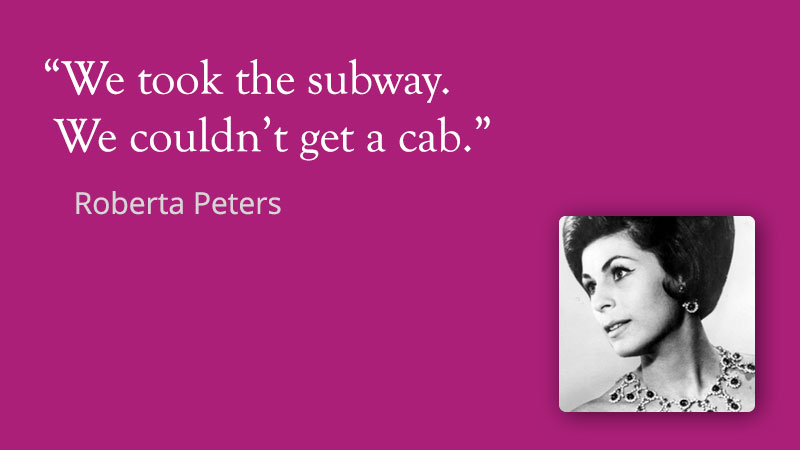 "We took the subway. We couldn't get a cab." American soprano Robert Peters, age 86, on her Metropolitan Opera debut.
Zuzana Růžičková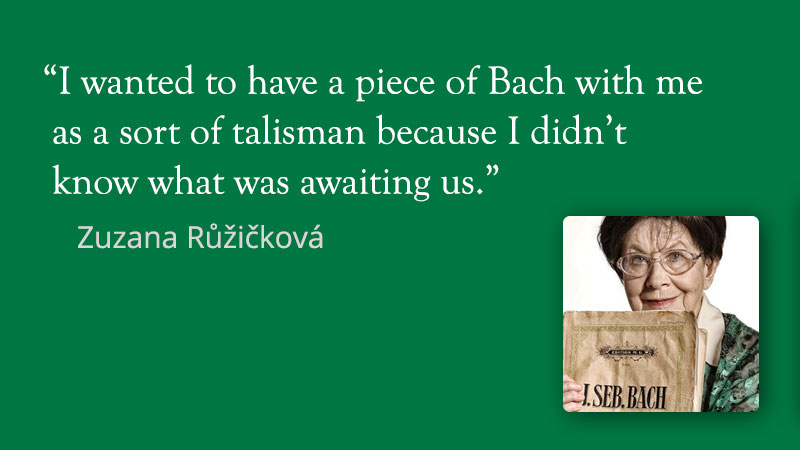 "I wanted to have a piece of Bach with me as a sort of talisman because I didn't know what was awaiting us."  Harpsichordist Zuzana Růžičková, age 90, speaking of a short passage from Bach's "English Suite No 5 in E minor" that she hastily wrote on a piece of paper during her forced evacuation to Auschwitz.
Stanisław Skrowaczewski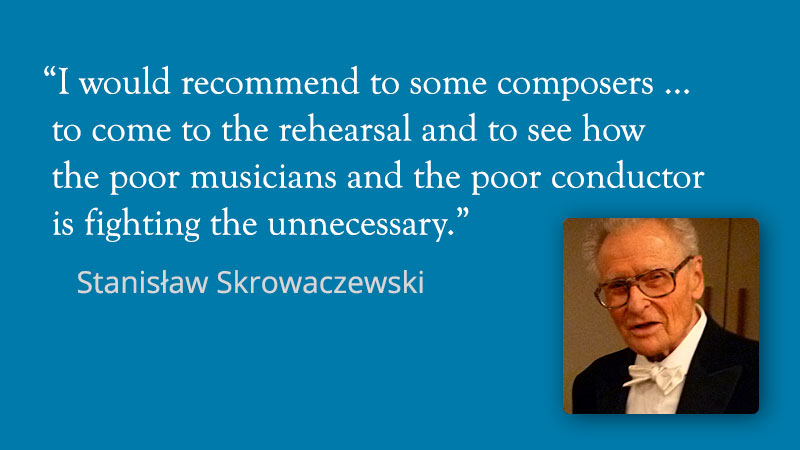 "I would recommend to some composers … to come to the rehearsal and to see how the poor musicians and the poor conductor is fighting the unnecessary." Polish-American conductor and composer Stanisław Skrowaczewski, age 93, offering some advice.
Sir Jeffrey Tate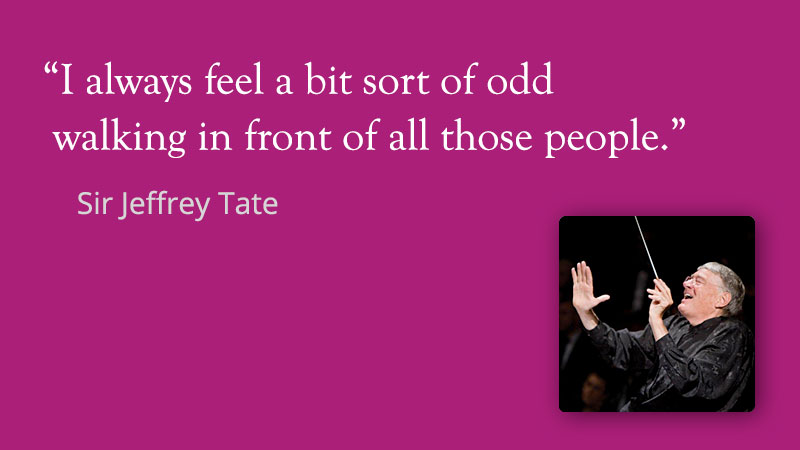 "I always feel a bit sort of odd walking in front of all those people." British conductor Sir Jeffrey Tate, age 74, on taking to the stage.
Other musicians who died in 2017
Jiří Bělohlávek, Czech conductor, 71
Thomas Brandis, German orchestral violinist and past first concertmaster of the Berlin Philharmonic Orchestra, 81
Kathleen Cassello, American soprano, 58
Frank Corsaro, American opera director, 92
Enzo Dara, Italian operatic bass, 78
Gervase de Peyer, British clarinetist, 90
Halim El-Dabh, Egyptian-American composer, 96
Louis Frémaux, French conductor, 95
Keith Harvey, British cellist, member of the Gabrieli Quartet, 79
Kristine Jepson, American mezzo-soprano, 52
Dmitri Kogan, Russian violinist, 38
Péter Komlós, Hungarian violinist, founder of the Bartók String Quartet, 81
Aloys Kontarsky, German pianist, 87
Rainer Kussmaul, German orchestral violinist and past first concertmaster of the Berlin Philharmonic Orchestra, 70
Rosemarie Lang, German mezzo-soprano, 69
Vincent La Selva, American opera impresario and conducting teacher, 88
June LeBell, American classical radio announcer (WQXR), 73
Walter Levin, American violinist and founding member of the LaSalle Quartet, 92
Harvey Lichtenstein, American arts administrator, 87
Kurt Moll, German bass, 78
Eugene Philips, American violinist, pedagogue, and composer, 97
Georges Prêtre, French conductor , 92
Norma Procter, English operatic contralto, 89
Helmut Roehrig, American choral conductor and music professor, 86
Sidney Rothstein, American conductor, 80
Heather Slade-Lipkin, British pianist, harpsichordist and pedagogue, 70
Luigi Ferdinando Tagliavini, Italian harpsichordist, organist, musicologist and composer, 87
Francis Thorne, American composer and music administrator, 94
Alberto Zedda, Italian conductor and musicologist, 89
Paul Zukofsky, American violinist and conductor, 73