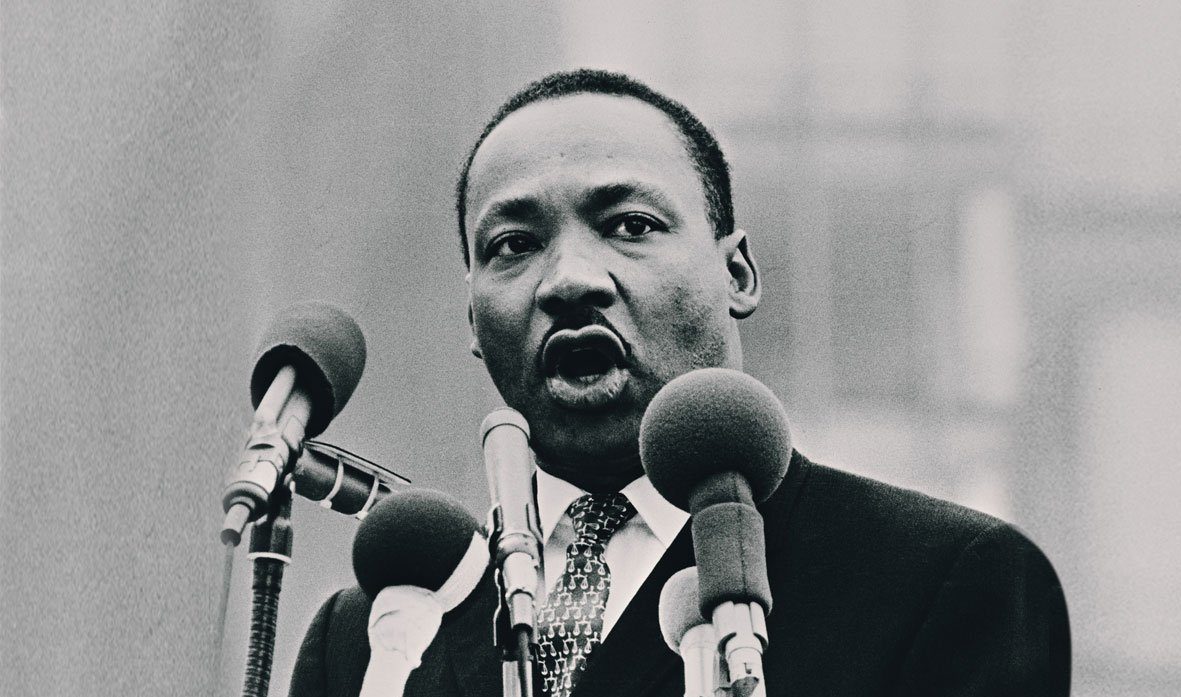 What did Martin Luther King, Jr. think about music? King was a powerful rhetorician in addition to being one of America's most important leaders. But his only words about music come down to us from remarks he offered for the first annual Berlin Jazz Festival in 1964.
King visited Berlin from September 12 to September 14, 1964. On September 13, he visited the Berlin Philharmonic, where he spoke at a memorial service for John F. Kennedy. He attended many other events and preached on both side of the Berlin Wall, as a detailed schedule here shows.
The first Berlin Jazz Festival did not begin until 10 days after King left the city, on September 24. Though King did not speak at the Festival itself, as was once assumed, his remarks about jazz were printed in the Festival program.
And what a Festival it must have been. The lineup included the likes of Miles Davis and his Quintet, Dave Brubeck, and Sister Rosetta Tharpe!
While the outstanding roster of musicians at the Festival would have impressed Berliners, King wanted to impress upon audiences there that jazz has potential as a powerful political tool.
Read his full program note below:
God has wrought many things out of oppression. He has endowed his creatures with the capacity to create—and from this capacity has flowed the sweet songs of sorrow and joy that have allowed man to cope with his environment and many different situations.
Jazz speaks for life. The Blues tell the story of life's difficulties, and if you think for a moment, you will realize that they take the hardest realities of life and put them into music, only to come out with some new hope or sense of triumph.
This is triumphant music.
Modern jazz has continued in this tradition, singing the songs of a more complicated urban existence. When life itself offers no order and meaning, the musician creates an order and meaning from the sounds of the earth which flow through his instrument.
It is no wonder that so much of the search for identity among American Negroes was championed by Jazz musicians. Long before the modern essayists and scholars wrote of racial identity as a problem for a multiracial world, musicians were returning to their roots to affirm that which was stirring within their souls.
Much of the power of our Freedom Movement in the United States has come from this music. It has strengthened us with its sweet rhythms when courage began to fail. It has calmed us with its rich harmonies when spirits were down.
And now, Jazz is exported to the world. For in the particular struggle of the Negro in America there is something akin to the universal struggle of modern man. Everybody has the Blues. Everybody longs for meaning. Everybody needs to love and be loved. Everybody needs to clap hands and be happy. Everybody longs for faith.
In music, especially this broad category called Jazz, there is a stepping stone towards all of these.
— Martin Luther King, Jr.
King notes that jazz was an important part of the "Freedom Movement." Of course, there's a lot of music directly inspired by King and his legacy. One of the most poignant tributes to King is by musician and activist Nina Simone. Her song "Why? (The King of Love is Dead)" appeared on her album "Nuff Said!", much of which was recorded from a live concert that took place on April 7, 1968, just three days after King was assassinated. In "Why?" Simone poses painful questions that perhaps we should continue to ask ourselves: "Will my country fall, stand or fall? Is it too late for us all? And did Martin Luther King just die in vain?"
In contrast with Simone's thoughtful ballad is Steve Wonder's "Happy Birthday." Wonder, who like Simone was both a musician and activist, recorded a new version of "Happy Birthday" dedicated to King in 1981. In fact, one of the reasons we celebrate Martin Luther King, Jr. Day is because of Wonder's musical homage to King. At the time he wrote the song, King did not have a day commemorating his life and legacy.
Stevie Wonder performed the song at the Rally for Peace on January 15, 1981 in on the National Mall in Washington D.C. and said:
"It's fitting that we should gather here, for it was here that Martin Luther King inspired the entire nation and the world with his stirring words, his great vision both challenging and inspiring us with his great dream.
"People have asked, 'Why Stevie Wonder, as an artist?' Why should I be involved in this great cause? I'm Stevie Wonder the artist, yes, but I'm Steveland Morris, a man, a citizen of this country, and a human being.
"As an artist, my purpose is to communicate the message that can better improve the lives of all of us. I'd like to ask all of you just for one moment, if you will, to be silent and just to think and hear in your mind the voice of our Dr Martin Luther King."
---