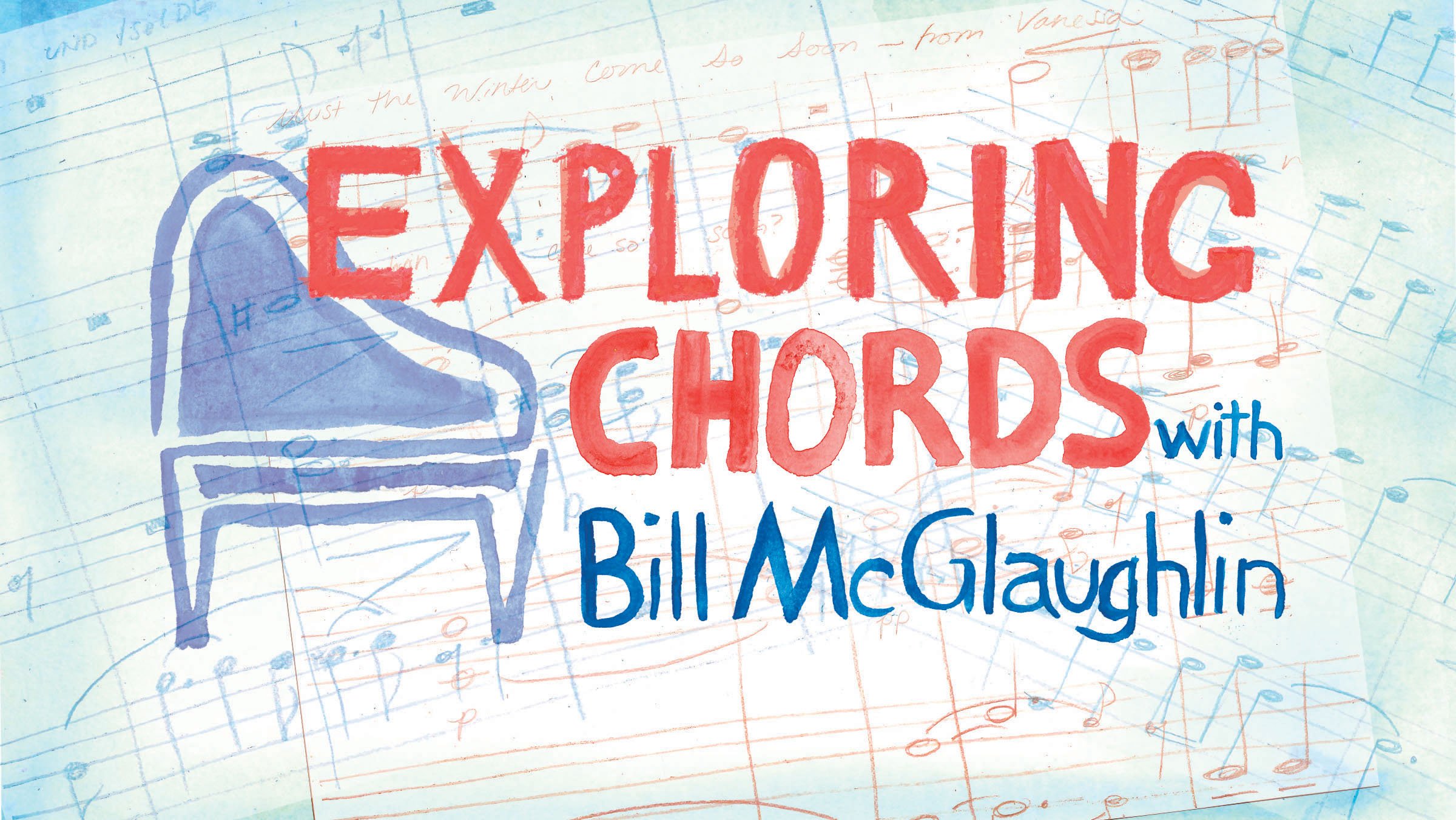 In this series, we focus on Exploring Music moments where Bill McGlaughlin, sitting at his piano, demonstrates chord structures in a composer's work.  Since 2003, Bill has eloquently crafted insights for us to discover music in new ways, and here we have chosen our favorites to include in this series. Bill's knowledge of small solo pieces, orchestral symphonies, and jazz standards will open you to new understanding and appreciation of this music.
The chords Bill describes are a combination of sounds that help characterize a composer's individual voice. They organize the music vertically — interval by interval. And when composers add them together in time, the sounds start bending, moving, and talking to each other, creating storylines with a layer of complexity much like characters in a book.
The way a composer structures chords and how performers play them can bring either harmony — an agreement between sounds — or discord — sounds that clash or have friction.
A chord can be a complete idea by itself, like one word that says it all. "Ta-dah!" and you have a Mendelssohn fanfare. "Boom!" and you have started a Beethoven symphony!
Some create a new sound, and some chords stop you dead in your tracks, and this is in the music even before it's set in motion. Chords can connect us to other cultures, create feelings of longing, start riots, or even bring calm. The heart and power of music can lie within its chords.
When Bill McGlaughlin steps on the podium as a conductor, he can make old compositions new, just by balancing the volume, pitch, voice movement, and sound quality of these rich chords. In Exploring Chords, Bill will show us how chords can conjure up ghosts, cast spells, catch fire, and carry us into fantasy worlds. Hear Bill conduct the the world premiere of Lux Aeterna by Michael McLean in Salt Lake City, Utah on YouTube.
---
Exploring Chords: "Appalachian Spring"

From its premiere more than 75 years ago, this music and ballet continue to speak to the American soul. Dive into the score of

Appalachian Spring

with Bill McGlaughlin.