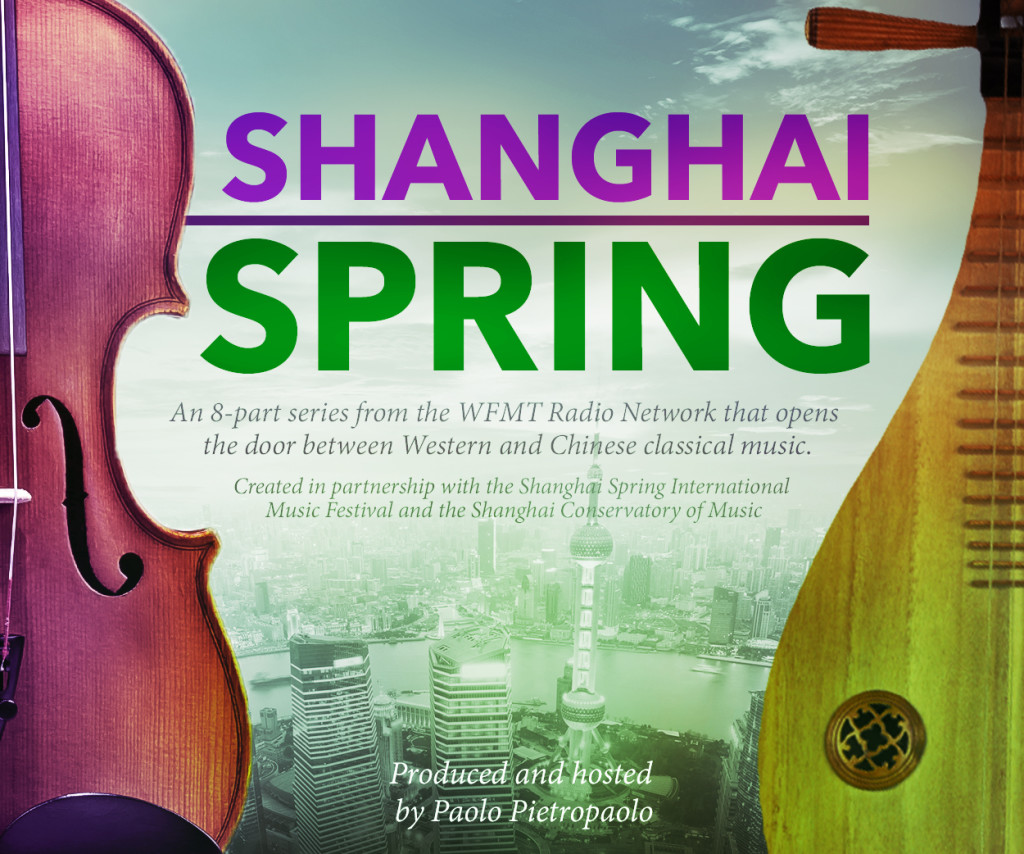 This eight-part series takes us to one of the most vustling and vibrant cities of the world today, and gives us front-row seats at one of the pre-eminent events on its cultural calendar: the Shanghai Spring International Music Festival. This ground-breaking project is a first-ever collaboration between the WFMT Radio Network and the Shanghai Conservatory of Music, throwing open the door between Western and Chinese music.
Broadcaster and music journalist Paolo Pietropaolo will be our guide, leading us along the sun-dappled streets of Shanghai's French Concession, where music comes streaming out of windows as city life unfolds in a riot of color and sound. And we'll meet the performers and composers who are revolutionizing Western classical music in China, creating a new sound and ensuring a global future for the Western classical-music tradition.
Broadcast schedule: January and February 2016
Wednesdays at 8:00 pm
Information about the composers and performers featured in Shanghai Spring
Program Schedule
Wednesday, January 6, 2016 at 8 pm
Shanghai: Center of the Universe
For decades, we've been hearing about how China is the future. But spend some time at the Shanghai Spring International Music Festival, and it quickly becomes clear that the future is already here. There is no place on Earth with Shanghai's 21st-century brand of style, vitality and eye-popping growth. Discover Shanghai: from the sounds of the city, to the voices of its residents, to the great performances that resounded through the ultramodern metropolis during one of Asia's premier music festivals.
Featuring the Sibelius Violin Concerto played by the young superstar Chinese violinist Zhijong Wang and interviews with composer Xu Shuya and Shanghai's hometown hero, internationally acclaimed baritone Liao Changyong. Plus, a solo performance from Liang Wang, principal oboe of the New York Philharmonic.
---
Wednesday, January 13, 2016 at 8 pm
City of Music
One hundred years ago, thanks to its unique political status and its thriving port, Shanghai was perfectly poised to be a cultural crossroads between East and West. That's when pianist and conductor Mario Paci arrived for a recital, but he had to be carried off his boat on a stretcher, near death. He never left, and instead devoted his life to helping Western classical music grow in China. Chinese, Russian and Jewish musicians heeded his call and helped him in his cause. Visit jazzy, swinging 20th-century Shanghai, hear the incredible story of Mario Paci, and learn why Shanghai was the place Western classical music took off in China.
Featuring tenor Han Peng and Trio Prisma – a few of the stand-out artists emerging from the Shanghai Conservatory in recent years. Also, the Shanghai Symphony Orchestra and conductor Long Yu performing Brahms' mighty Symphony No. 1 in C minor – a work that took on special meaning for the ensemble and their earlier leader, Mario Paci, during World War II.
---
Wednesday, January 20, 2016 at 8 pm
The Music of the Middle Kingdom
China (which calls itself the Middle Kingdom) is one of the most ancient cultures on Earth, with a long musical history spanning millennia. Tour the Museum of Musical Instruments in Shanghai and learn the difference between a sheng and a zheng, hear an echo of the Tang Dynasty in new music by Chinese composer Ye Guohui, visit a Chinese instrument factory, and learn how the Chinese orchestra used the Western orchestra for inspiration to create a whole new world of sound with its own lush colors of orchestration.
Hear the Chinese Music Orchestra of Jiangsu Province in works placing distinctly Chinese instruments in the limelight – the guzheng (Chinese zither) and dizi (Chinese flute).
The Shanghai Opera House Orchestra and Liu Xiaojing perform a concerto for solo pipa (Chinese lute) entitled King Chu Doffs His Armour by Pulitzer Prize-winning composer Zhou Long. Also, one of the festival's visiting ensembles – Arts Nova Copenhagen perform the world premiere of Two Selected Poems of Tagore by female Chinese composer, Ding Ying.
---
Wednesday, January 27, 2016 at 8 pm
Western Waves
You may have heard that there are tens of millions of people studying classical music in China – with 35 million studying the piano alone. How – and why – did this happen? Explore the popularity of Western Classical Music in China and how different the concert-going experience is there. Visit with Li Jian, world-renowned pianist and Dean of the Piano Department at the Shanghai Conservatory of Music.
Featuring a solo piano recital by Li Jian including Mussorgsky's Pictures at an Exhibition, and the St. Petersburg Symphony Orchestra performing Tchaikovsky's 6th Symphony.
---
Wednesday, February 3, 2016 at 8 pm
Eastern Bridges
In the 20th century, China was a place of refuge for hundreds of thousands of Russian Jews and other Russian émigrés. Arriving to Shanghai via the northern Chinese city of Harbin, Jewish musicians proved to be a major force in the musical and cultural life of pre-war Shanghai. Later, when communism arose in China, many Chinese musicians and composers received their musical training in Moscow and Leningrad. Today, China and Russia are two of the world's emerging financial powers, building new cultural bridges with each other — including the historic visit by the St. Petersburg Symphony Orchestra to the Shanghai Spring International Music Festival.
Featuring the St Petersburg Symphony Orchestra in the "Leningrad" Symphony by Dmitri Shostakovich and the Shanghai Symphony Orchestra in a historic piece, A Wonder of Naxi, by Soviet-trained Chinese composer Zhu Jian'er. Plus, Sibelius' 5th Symphony performed by European visiting ensemble, the Bamberg Symphony Orchestra, conducted by Jonathan Nott.
---
Wednesday, February 10, 2016 at 8 pm
The Chinese Violin
One of the key moments in the emergence of Western classical music in China happened right here at Shanghai Spring with the world premiere of the Butterfly Lovers' Violin Concerto. Hear the story about how the Western violin swept to popularity in China. You'll also learn how the er'hu — the instrument sometimes called the Chinese violin — emerged as China's most important national instrument, transcending its origins as a lowly folk instrument played by street musicians to become the backbone of the Chinese orchestra.
Featuring Tchaikovsky's Violin Concerto played by Zhang Jinru, a 19-year-old wunderkind, and the Shanghai Conservatory Symphony Orchestra. Also, a chance to hear another orchestra active in the city – the Shanghai Philharmonic Orchestra.
---
Wednesday, February 17, 2016 at 8 pm
The Story of the Shanghai Conservatory
In 1927, the Shanghai Conservatory of Music was founded by two young Chinese musicians with a vision. They engaged Russian Jewish musicians to teach the first generation of Chinese classical musicians. Threatened by war, the school moved multiple times and nearly closed, but it has survived to become a pillar of culture in Shanghai and in China. Visit the hallowed halls of the Shanghai Conservatory and hear music by some of its legendary graduates and up-and-coming stars.
Featuring Chinese tenor Han Peng singing Chinese, Mongolian and Italian songs. The Chinese Orchestra of the Shanghai Conservatory give a performance of Folk Rhyme, showcasing the striking sound of the suona, the Chinese oboe.
---
Wednesday, February 24, 2016 at 8 pm
The Story of the Shanghai Conservatory
Because of the overwhelming numbers of Chinese piano and violin students, many people believe the future of classical music is in China. But what will it sound like? Is there such a thing as a Chinese movement along the lines of the French Impressionists or the Russian Five? Whether there is or not, one thing is clear: there is fertile ground for new music in China, and Shanghai is well-positioned to be to the early 21st century what Paris and New York were to the early 20th. We may be witnessing right now what people will be writing and raving about 100 years from now.
Featuring new music and conversation from two of China's leading composers today, Zhu Shirui and Ye Guohui, including the world premiere of Zhu's new piano concerto, Singing Soul. Plus, chamber music from Austria's Ensemble Zeitfluss and The Phoenix, a lively work by Xu Changjun for accordion and marimba.