Travel with WFMT
For years, WFMT has sponsored travel tours led by our on-air hosts to some of the world's best destinations for classical music. Joining together classical music enthusiasts and incomparable WFMT announcers like Lisa Flynn and Carl Grapentine, these tours are filled with lectures, discussions, and many, many concerts! Interested in a particular location or music festival? Contact WFMT Ad Sales and let us know.
Rhine River Cruise and Tour – Experience historic towns in the heart of Germany and The Netherlands!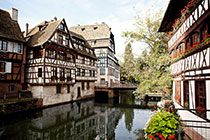 WFMT Program Host: Kerry Frumkin September 13 - 26, 2016
Join Kerry Frumkin and fellow WFMT listeners on YMT Vacations' fourteen-day Rhine River Cruise and Tour next September. Imagine the relaxed pace of River Cruising along the Rhine —exploring some of the most historic and charming towns in the heart of Germany and The Netherlands.
Your journey begins in Munich and its vibrant art scene, attending a special concert in the Residenz Hofkapelle, followed by an authentic Bavarian dinner. Then on to Heidelberg and Bonn before boarding the luxurious A-ROSA VIVA, your home for the next 8 days cruising to Rüdesheim, Cologne and Düsseldorf, as well as Rotterdam, Amsterdam, and Arnhem.
The final shore leg includes a drive on the German Autobahn to Dresden and finally Berlin before departing for home.
Space is limited. Call YMT Vacations at 800-942-1625 or click here to learn more.
Magical Music on the Mediterranean – Spain and Portugal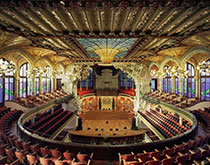 WFMT Program Host: Peter Van de Graaff
September 25 - October 5, 2016
Join Peter van de Graaff on an exclusive 10 day classical music lovers cruise on Oceania Cruises' Marina to Spain and Portugal.
You'll travel in luxury and be captivated by the splendid sights and infectious Spanish culture. Enjoy a private recital by Peter and his wife Kathleen at the Palau de la Musica Catalana in Barcelona, designated a World Heritage Site by UNESCO. Whilst in Cadiz enjoy a concert at the famed Oratorio de la Santa Cueva, the site where Haydn premiered his Seven Last Words of Christ.
From Barcelona, you'll travel to the vistas atop the Rock of Gibraltar, the iconic landmark of the British territory. Other highlights of the trip include a visit to the beautiful island of Palma de Mallorca, the walled city of Cartagena and Malaga. You'll also visit Seville with its magnificent cathedral, spend a day in Casablanca, Morocco and finish the trip in Lisbon, Portugal.
Space is limited. Call Largay Travel at 800-322-9481 or visit largaytravel.com/wfmt to learn more about this amazing itinerary.
New York: Backstage Pass to the Big Apple!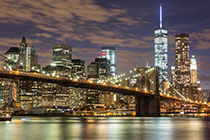 WFMT Program Host: Peter van de Graaff November 8-13, 2016
Join Peter & Kathleen van de Graaff and fellow WFMT music lovers on this exclusive six-day classical excursion to New York City this November!
Enjoy backstage tours of Carnegie Hall and the Met, as well as performances by Vladimir Jurowski and Daniil Trifonov with the New York Philharmonic at Lincoln Center, Guillaume Tell at The Metropolitan Opera and Carnegie Hall's presentation of Berliner Philharmoniker conducted by Sir Simon Rattle. Private museum tours of the Metropolitan Museum of Art and Guggenheim Museum have also been reserved just for WFMT!
World-class classical music, backstage tours, and stunning works of art await your arrival.
For tour details and registration and to learn more about all the experiences that await you in NYC, click here. Visit Earthbound Expeditions for more information.