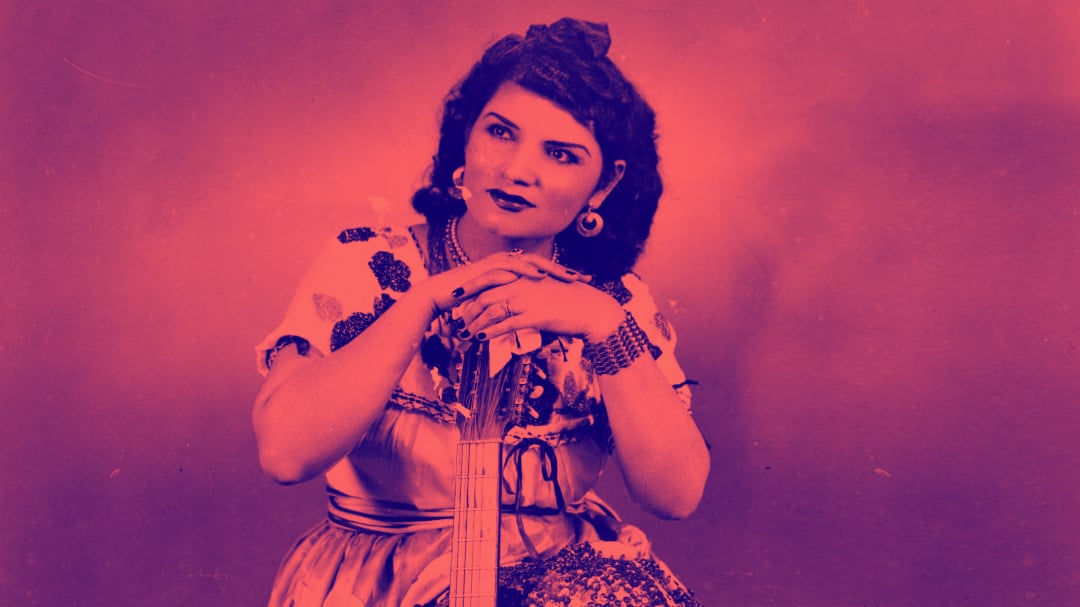 Decades before fans called Selena Quintanilla-Pérez the Queen of Tejano music, singer and 12-string guitarist Lydia Mendoza held the crown as Tejano music's first female icon.
Born in 1916 to parents who migrated to Texas during the Mexican Revolution, Mendoza began her music career in a family band that performed on street corners and in open-air markets to make ends meet. One of her first gigs as a solo artist involved playing live on San Antonio's only Spanish-language daily radio program for $3.50 per week.
"With that three-fifty we felt like millionaires," Mendoza wrote in her autobiography. "Now at least we could be sure of paying the rent. Life was nothing but working in order to live. That is the reason I had so little gaiety in my youth, just bitterness and sadness."
Mendoza recorded her first single, "Mal Hombre," with Bluebird Records, the blues and jazz arm of RCA Victor, in 1934. She learned the lyrics off a bubble gum wrapper. The song, which you can hear below, became an overnight success, reaching audiences on both sides of the border between the United States and Mexico.
Among the several nicknames Mendoza earned over her lifelong career, two stand out: "La Alondra de La Frontera" ("The Lark of The Border") and "La Cancionera de Los Pobres" ("The Singer of The Poor"). They demonstrate how Mendoza's identity is inextricably connected to the history of Tejano music.
American Sabor, a traveling exhibition organized by the Smithsonian Institution, emphasizes that "Tejano does not describe a singular musical style; rather, it refers to a long process of musical hybridity."
This hybridity takes root in two forms of Mexican folksong: the corrido and canción ranchera.
The corrido, a narrative ballad typically performed in either waltz or polka, emerged in 19th-century Mexico as an oral storytelling medium, setting news items and social strife to song. As the Tejano population grew, so, too, did the corrido's popularity on the other side of the border. Below, hear Mendoza sing "El Corrido de Joaquín Murrieta," which chronicles the life of a Californian gold miner and folk hero known as "Mexican Robin Hood."
The canción ranchera, named after its birthplace in Mexico's ranch lands, derives both its musical characteristics and lyrical content from rural life. The style developed in the years leading up to the Mexican Revolution and was an important expression of Mexico's growing national identity. Closely related to mariachi, canciones rancheras typically involve guitar, violin, trumpet, and accordion. Love and patriotism are the two most popular subject matters in ranchera music, which can be played as a polka, waltz, or bolero.
Ranchera songs – specifically those about love – became a hallmark of Mendoza's work. They spoke directly to the lived experiences of Tejanos more than complex, orchestral works did. Below, listen to a 1986 recording of Mendoza playing "Celosa," a canción ranchera about jealousy and heartbreak.
From these musical foundations – which artists like Mendoza helped build – Tejano music continues to draw from new influences as they affect the life and culture of the border's people. For instance, La Onda ("the wave"), an arts movement that grew out the 1960s Chicano Movement, introduced elements of protest and counterculture to Tejano music. Today, traces of polka, blues, country, jazz, rock 'n' roll, and electronic music have found their place in the ever-expanding Tejano repertoire.
Mendoza spent most of her adult life touring and recording until a stroke in 1988 forced her to retire. In 1982, the National Endowment for the Arts would bestow upon Mendoza the National Heritage Fellowship lifetime achievement, making her the first Texan honoree. She also received the National Medal of the Arts in 1999. Mendoza passed away on December 20, 2007, at the age of 91, though we can still appreciate her impact — and recordings — today.