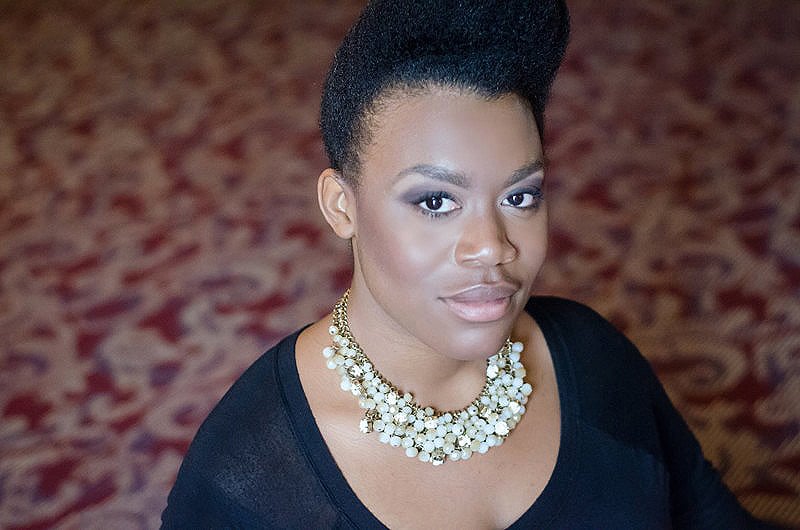 Soprano Whitney Morrison began singing before she could even speak. Through her early years of singing in church, she never thought she would pursue a career in opera. Now, Morrison is one of 12 young artists selected for the 2017/2018 ensemble at Lyric Opera of Chicago's Patrick G. and Shirley W. Ryan Opera Center.
The Ryan Opera Center is one of many Young Artist Programs (YAPs), which are essential to launching the careers of rising professional singers. Today, opera singers rarely transition from being a student to having a full-time career without the aid of professional training and experience that a YAP can provide. Since its inception in 1974, the Ryan Opera Center (ROC) has become one of the world's premier young artist development programs.  The ROC has a roster of distinguished alumni including Quinn Kelsey, René Barbera, Nicole Cabell, Elizabeth DeShong, and Susanna Phillips.
Selected out of approximately 400 applicants, Morrison has the opportunity to nurture and share her voice in her hometown of Chicago on one of the world's largest stages.
Born in Chicago and raised in the south suburb of Matteson, Morrison attended Rich South High School, where she joined 2 choirs. Rich South is also where she began voice lessons and gained exposure to classical music. "I wanted to take voice lessons, but I didn't know what I was signing up for, honestly," she admitted in a recent interview.
"It wasn't until I was supposed to sing the Star-Spangled Banner and I asked my teacher, 'do I sing it high,'" meaning in a more operatic style, "'or do I sing it regular?'" Soon after, Morrison discovered new vocal techniques and that classical music is her calling.
Morrison went on to earn a bachelor of music in vocal performance and pedagogy at Oakwood University. She was also a member of Oakwood's world-renowned concert choir, The Aeolians. Morrison earned a master of music in performance and literature from the Eastman School of Music at the University of Rochester.
After earning her master's degree, Morrison gave herself 2 years to launch her performing career. "People asked me what I was going to do after those 2 years, and I would say, 'I hope I don't have to find out.' I did everything I could. I went to all the auditions I could go to," she said.
During that time, Morrison entered competitions and also worked on her audition repertoire with Julia Faulkner, the director of vocal studies at the Ryan Opera Center (ROC). "I always knew about the Ryan Opera Center as far as I can remember, and it was always on a pedestal," she said. "It's one of the best programs. That was my view of it, on the outside. And so I figured if I could study with someone who is preparing voices there, and get some advice on how to audition, it would be good. It was ideal to be part of the Ryan Opera Center, but I really didn't expect it, especially right away."
Now, as a ROC member, Morrison is immersed in voice lessons and language classes, in addition to performing. Audiences can expect to see her in Lyric Opera's upcoming season as Countess Ceprano in Verdi's Rigoletto, and Gerhilde in Wagner's Die Walküre. She will be the understudy for Liù in Puccini's Turandot and Marguerite in Gounod's Faust.
Morrison hopes to bring her holistic commitment to singing to the ROC and beyond. She explains, "My mom has always said to me, 'You have to talk to the CEO and the janitor the same way.' It's an understanding that people are people are people are people, and you have to give respect, understanding, and kindness to anyone and everyone."
Influenced by her upbringing in the Black church, Morrison believes that being a singer is not just about charismatic singing on stage, but also about humble servitude off stage. "You have to give, sometimes without limit. The synergy of life, spirituality and performance allows for the vulnerability to give something truly meaningful, to all. I think that comes through in my philosophy of singing."
Throughout her career, Morrison continues to be influenced by her faith and her love of gospel. Watch her give a chilling performance of Undine Smith Moore's spiritual "Watch and Pray" below.
Grounded in her faith, Morrison brings this approach to sharing her art. "It's very important to me that no matter what I sing, people who do not know the art form can still leave with a profound experience."