On Saturday's broadcast, we feature 14-year-old cellist Manou Magdalena Chakravorty and the Earl Clemens Wind Quintet of the Elgin Youth Symphony Orchestra.
Manou Magdalena Chakravorty is a freshman at the University of Chicago Laboratory Schools. She started cello at the age of four with Karen Schulz-Harmon and now studies with Richard Hirschl and Oleksa Mycyk. Recently, Manou was a semi-finalist in the 10th International Tchaikovsky Competition for Young Musicians in Astana, Kazakhstan. She has received a Judges' Distinction Award and won First Place in the 2017 American Protégé International Concerto Competition, first place in the Fall 2016 American Protégé International Music Talent Competition and was a winner of the 2016 Chicago Youth Symphony Concert Orchestra Concerto Competition and the 2015 Indiana Summer String Academy Concerto Competition.
As a soloist, Manou has performed at Weill Recital Hall in Carnegie Hall, the Studebaker Theater in Chicago, the opera house in Astana, Kazakhstan and various venues in Austria (Gmunden, Zell an der Pram, Sankt Johann im Saggautal), Italy (Urbino, Brisighella) and Spain (Daroca). She is currently a member of the Chicago Youth Symphony Orchestra and also studies Bharatnatyam, a form of Indian classical dance, with Pranita Nayar.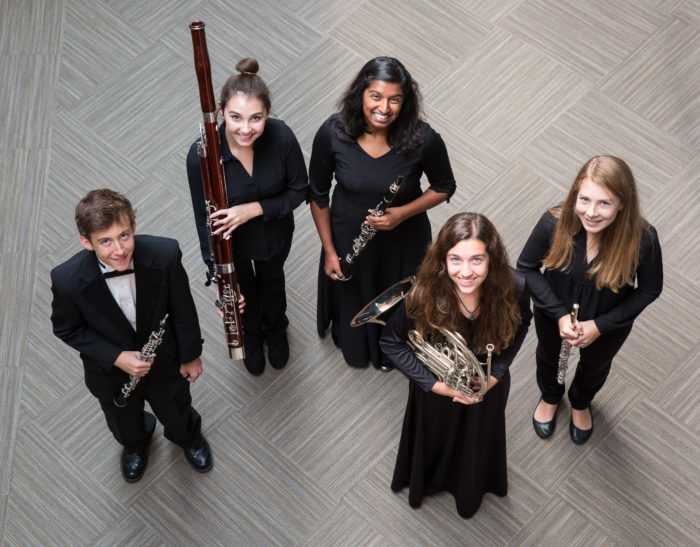 We also feature the Earl Clemens Wind Quintet of the Elgin Youth Symphony Orchestra (EYSO). As a premiere honors ensemble of the EYSO, the Earl Clemens Wind Quintet is coached by clarinetist Kathy Pirtle and maintains an active performing schedule.
Established in 2016, the Earl Clemens Wind Quintet is named after Earl L. Clemens, oboist and professor of music education at Northern Illinois University for 36 years. The quintet is offered tuition free thanks to the generous sponsorship of Drs. Jeffrey and Leslie Hecht.
The members of the quintet include 18-year-old flutist Leilah Petit of Hoffman Estates, 18-year-old oboist Michael Wostmann of Arlington Heights, 17-year-old clarinetist Melanie Prakash of Naperville, 18-year-old horn player Rebekah Green of Huntley, and 16-year-old bassoonist Chloe Robbins of Elgin.