Longtime friends, musician Frank Orrall and chef John Manion have inspired and shared each other's passion for music and cooking.  And one of their favorite subjects to talk about is the relationship between these two art forms. We caught up with them at El Che Bar, John's restaurant in the Fulton Market neighborhood in Chicago (he's also chef and owner of Chicago's La Sirena Clandestina), where we learned how they met, and how cooking encouraged Frank to start writing music again.
Frank and John first met in the mid-nineties, as John Manion recalls, "I was the chef at a place called Savannah's. There was a big room in the back, so Poi Dog Pondering," for which Frank serves as bandleader and lead vocals, "would have band meetings in the back room. And at this time it was probably when you started having meetings it was probably right before the whole Pomegranate thing really blew up." Pomegranate, Poi Dog Pondering's 1995 album, helped put the band in the national spotlight. "We knew each other then and then flash a couple of years and I was the chef at a restaurant called Mas. Then we became best friends. We both had a thirst for tequila. I think that solidified it."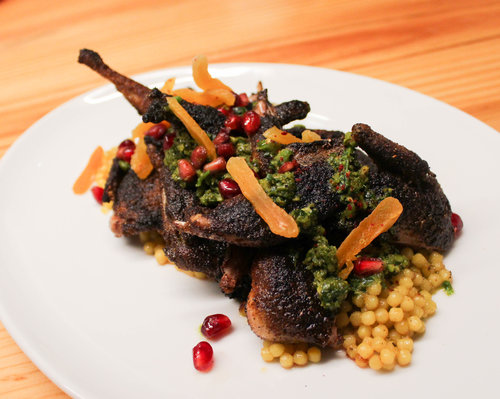 The two friends found plenty of similarities in their positons as executive chef and band leader.  As Frank told us, "Both of us are kind of like at the helm of our own ships. With Poi Dog, I'm the band leader and with the restaurant John's the chef." They enjoyed comparing the similar trials and travails each of them faced in their respective jobs, which both had them directing groups of people to work towards the same goal. "There were a lot of nights where we would wind up at each other's house just playing records," Frank continued. "And that's where for me I just went like this guy's got the heart of a musician. If there's a really good song that's playing there will be a tear in his eye."
Cooking and learning from John was an important part in Frank's compositional process. "I've been through the whole like major label squish wheel," Frank told us, "and everything – like getting your albums critiqued –made me feel like more self-conscious about my creative work and everything to the point where I got kind of quiet. I would write less, and went through some kind of writing dry spell. And oddly enough, through talking about food and us going out and eating, I went into this playground of cooking. I was determined that when I got into cooking that I would not let myself get self-conscious or self-critical about it. And I got very playful with it and then that really inspired my music making in a certain way."
"I actually have a pretty good story about this," John told us, "I asked Frank a question after the success of Pomegranate, it seemed to the outside observer that Frank made a different sounding album after that and kind of torpedoed whatever momentum you had. What people wanted was a followup to that, and what he did is put out a dance record which I think was confounding for a lot of people. And I asked Frank about this one night and he kind of deflected the question. Then the next day he stopped by and he gave me this DVD with lost footage from an Orson Welles film," It's All True, "that was filmed in Brazil but never came out."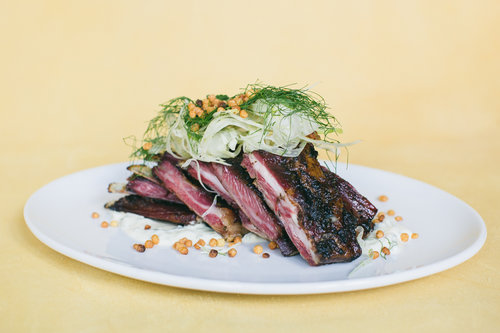 "So there's this beautiful black and white film and it's scored by Frank. And in the middle of it, it stops and there's spliced in this this little snippet from the movie Basquiat where Jeffrey Wright and Benicio Del Toro, who are shooting hoops and Jeffrey Wright asks, 'How long does it take to get famous?' And he responds, 'It's one year to do your work. One year to get famous, and then one year for everybody to hate you.' Is that it?"
"Then it goes right back to the movie. It gave me a huge insight into the soul of this man. You know what I mean, I've never met anyone less motivated by material wealth or just the bullshit has been stripped away I think, for the most part so it's really in terms of having a  friendship or a brotherhood. It's kind of like Frank's a beautiful unicorn of a human being. So you know if you're going to pick a travel partner to go and experience things with, it helps to have a unicorn."
And travel they did.  In 2007 they went to Buenos Aires, Argentina. John went to learn more about the culture and food of the area. It became the inspiration for his restaurant El Che, a Latin American influenced restaurant that cooks only over live fire or coals in their kitchen. As a challenge we asked John to detail to us the 'perfect' meal at El Che and asked Frank how he would score or set music to this dinner.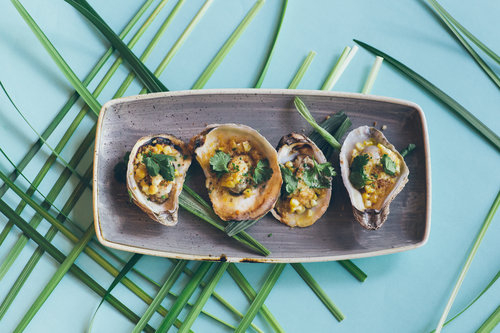 John would start the meal with an apertitif like a Casa Mariol, black vermouth from Spain, followed with some olives. Next, he would serve oysters with aioli and fermented chilies, and then head-on Gulf shrimp cooked on a chopo (griddle) and served with a little mojo de ajo. Next? An arugala salad with grilled asparagus, all dressed in a simple Sherry vinaigrette. John would then serve gnocchi with peas, pea tendrils, and ricotta salata, before moving onto the restaurant's signature asado dishes – cooked on an open fire almost like Argentinian barbecue – including what he calls "the holy trinity" of sausages: morcilla, morrongas, chorizo. And you can't have an Argentinian meal without beef. John suggests a bone-in ribeye medium rare, sea salt, chimichurri, French fried potatoes. For dessert, he would "keep it simple" with a little gelato and some alfajores (dolce de leche cookies), all washed down with a double espresso and a little amaro.
And the soundtrack? "I know him well enough that if I was going to score this there wouldn't be any synthesizers," Frank said with a laugh. "It's gonna be like a bajo sexton, and something high like charango or vihuela, nice and bright strings. I know definitely John's style it's honest and bold. That's like his cooking to me, and the signature flash that you get is honest and bold. So the music would have to be that."
In an upcoming dinner party and musical performance, John and Frank will present "The Story of El Che" which is a celebration of their connection between food, music, and friendship.  Based around their travels to Argentina in 2007 the event will feature food in the style of Sunday Asado and feature music and stories of their travels together.
"What we are doing pays homage to the tradition of a Sunday Asado." John told us they are trying to recreate the magic of joining family and friends to cook over the fire and enjoy live music, which is typical of Sunday Asado gatherings in Argentina. John mused that many cultures around the world enjoy cooking over live fire, even if it's just "in a backyard with Kingsford briquettes. It's a very familiar, comforting scent. But at the same time it's just this universal."
---
For more information about El Che Bar and "The Story of El Che," visit El Che's website.