"When I was growing up, my mom was a huge White Sox fan. She would always have the games on and I would hear her rooting," said Lori Moreland. But did she ever think, as a young fan, that one day she would become the team's official organist? "Not in a million years – but, I'm so glad that my life went in this direction," she said, seated in an organ booth perched above Guaranteed Rate Field, home of the Chicago White Sox.
Moreland grew up in Fort Wayne, where she began playing the organ as a child. "My father brought home an electronic Hammond organ when I was 7 and I loved it. You couldn't tear me away from it. I loved it from the first moment I put my fingers on the keyboard." When she was 12, she began playing organ in church. Two years later, she began teaching.
Later, she moved to Chicago to study organ at the American Conservatory of Music with Robert Lodine, who was also the carillonneur at Rockefeller Memorial Chapel. Some of her favorite composers to play during her conservatory days included Bach, Hindemith, Sowerby, and Messiaen. At the same time, Moreland worked in sales for Baldwin Piano and Organ Co., and got occasional gigs playing cocktail hours.
---
Moreland, who still plays for regular services at Our Lady of Knock in Calumet, IL, said that her diverse experience behind the keyboard gave her "the background and the chops to be able to handle this job. I'm just so honored to even be here."
She stepped up to the plate when longtime, legendary Chicago White Sox organist Nancy Faust decided to retire. "My friend alerted me to the fact that they were going to be auditioning for the position," Moreland said." I thought it would be a once in a lifetime opportunity to actually play in a ballpark. I'd never played in a venue such as that."
Moreland was offered the position after an interview and audition, and started on opening day of baseball season in April 2011. With over thirty-five thousand people listening, the first thing she played was "My Kind of Town," and the experience "was rather surreal – kind of overwhelming. People came in and spoke with me and welcomed me."
Chatting with fans, taking cues through a headset, watching the game closely, and responding with the appropriate music can leave room for chaos to transpire. On her first day, "I had these three fellows come in known as the Green brothers. They were speaking with me and handing me their cards. Then something dropped in the pedal board. So, in the middle of a song – I don't know if it was 'The Star-Spangled Banner' or what – the one gentleman decides to get down on his hands and knees and start crawling across the pedal board to try to find the card. I was like, 'What're you doing down there?!' It was kind of like a, 'Welcome to the White Sox' kind of a moment."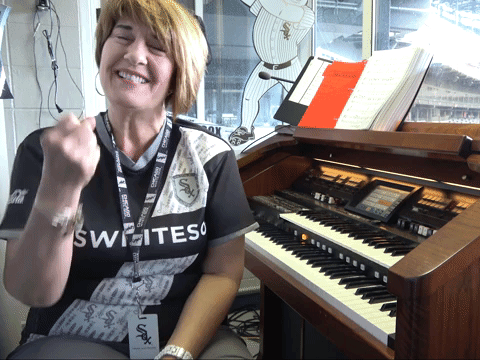 With a large range of repertoire, Lori supplies the organ music that energizes each game including classics like "Let's Go, Go-Go White Sox," and of course, "Take Me Out To The Ballgame." In addition to ballpark standards, she said, "I try to incorporate music that I think would appeal to all ages. I play quite a bit through the game itself: in between innings, the prompts through the game. I'll play, 'Who are You?' by The Who, like when the opposing team is being announced." She relishes playing "Na Na Hey Hey Kiss Him Goodbye," when the pitcher is removed from the opposing team. "It's always fun because the stadium joins. It's one of the rituals here." She also throws in a few real classics, including "the Toccata and Fugue in D Minor by Bach when someone strikes out. If someone does a great catch, I'll play the little snippets of the Hallelujah Chorus by Handel."
The instrument Moreland plays, a Roland Atelier Platinum Edition AT-900 organ, is versatile. It can play "every imaginable instrument, every imaginable sound, and sound effects. I can get whistles. I can get a dog barking. I can get train sounds and wave crashes. It also plays itself as an actual piano with a damper pedal, so that's kind of a cool thing if you want a break into Rhapsody in Blue or something like that. It sounds great out in the stadium. We have great engineers here that maximize what I can do and make it sound even better. I'm really happy and so blessed to have this instrument. It makes my job very easy."
With many stadiums today using on prerecorded music, Moreland feels privileged to keep the tradition of playing the organ alive. "There's just some energy that you can bring to a crowd, and timing wise, that you can't do with pre-recorded synthetic sterile-type music. I play to the crowd. I feel the energy, and it's just wonderful to pump them up and get them chanting. It just can't be recreated with pre-recorded music."
"It's so important, and I think especially here in Chicago. Baseball fans actually owe a world of debt to Nancy Faust, who played here for decades. She's the Chicago institution. She's the one that popularized organ music at baseball parks. If it weren't for her, I doubt that it would actually even exist. I'm so honored that when she retired, they decided to continue this tradition."