---
Monday, September 16 — Chicago Symphony Orchestra: Italian Masterworks
The Chicago Symphony Orchestra's label, CSO Resound, offers a collection of Italian overtures, choruses, and intermezzos drawn from masterworks by Verdi, Puccini, Mascagni, and Boito. Music Director Riccardo Muti has presented these works numerous times over his career, including countless performances during his tenure as music director of the Teatro alla Scala in Milan. The music heard on this album is from Maestro Muti's final concerts of the 2016-17 season.
Music
Intermezzo from Manon Lescaut by Giacomo Puccini
---
Tuesday, September 17 — Escher String Quartet at North Shore Chamber Music Festival
The North Shore Chamber Music Festival was founded in 2010 by violinist Vadim Gluzman and pianist Angela Yoffe in a quest to provide Chicago's North Shore with musical experiences of the same caliber and quality as those found in Metropolitan Chicago and the great halls of the world, but within a very intimate and welcoming environment. The Escher String Quartet performed Beethoven on the opening night of the 2019 Festival.
Music
String Quartet No. 11 in F minor, Op. 95 "Serioso" by Ludwig van Beethoven
---
Wednesday, September 18 — Chicago Duo Piano Festival
The Chicago Duo Piano Festival was founded in 1988 by Music Institute of Chicago faculty members Claire Aebersold and Ralph Neiweem. Its mission is to foster a deeper interest in the repertoire, performance, and teaching of music for piano, four hands and two pianos, in a fun and supportive atmosphere. Mio Isoda and Matthew Hagle performed music of Schubert at the Festival's Faculty Concert on July 19, 2019, at Nichols Concert Hall.
Music
Andantino Varié, D. 823, No. 2 by Franz Schubert
---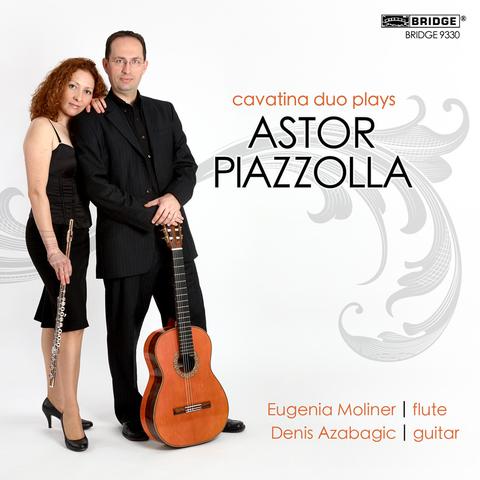 Thursday, September 19 — Cavatina Duo
The Chicago-based Cavatina Duo (flutist Eugenia Moliner and guitarist Denis Azabagic) perform Astor Piazzolla's music with smoldering intensity and rhythmic panache. Disc annotator and arranger Sergio Assad writes: "The exceptional partnership…is the result of their very special natural gifts…their warm exciting renditions of the pieces presented on this CD do justice to the music created by one of the most inventive Latin American composers of all time."
Music
Oblivion; Adios Nonino by Astor Piazzolla
---
Friday, September 20 — Gary Hoffman and Jon Kimura Parker at Ravinia
Cellist Gary Hoffman returned to the Ravinia Festival's Martin Theater on July 24, 2019, for a recital of works by Debussy, Brahms, Fauré, and Rachmaninoff. His musical partner was pianist Jon Kimura Parker.
Music
Cello Sonata by Claude Debussy
---