---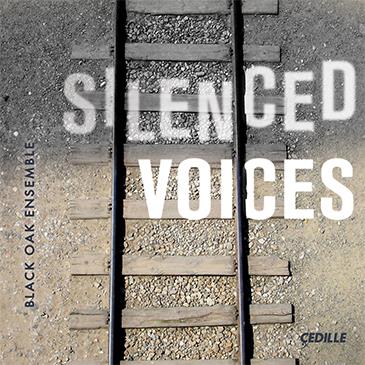 Monday, October 14— Black Oak Ensemble: Silenced Voices
Black Oak Ensemble, a string trio boasting three of Chicago's most enterprising and dynamic chamber musicians, makes its recording debut with Silenced Voices, an album of intriguing works by six early 20th century Jewish composers originally from Austria-Hungary, Czechoslovakia, and the Netherlands. One survived World War II as a member of the Dutch resistance. The others perished in concentration camps and elsewhere in Nazi-occupied Europe.
Desirée Ruhstrat, violin; Aurélien Fort Pederzoli, viola; David Cunliffe, cello
Music
Serenade for String Trio by Sándor Kuti
---
Tuesday, October 15 — North Shore Chamber Music Festival
The North Shore Chamber Music Festival was founded in 2010 by violinist Vadim Gluzman and pianist Angela Yoffe in a quest to provide the North Shore with musical experiences of the same caliber and quality as those found in Chicago and the great halls of the world. The intimate and welcoming venue is Northbrook's Village Presbyterian Church. The 2019 Festival concluded on June 15 with a program titled "Virtuoso Parade," featuring a wide range of works and soloists.
Ilya Shterenberg, clarinet; Janice Carissa, piano
Music
Grand Duo Concertant, Op. 48: Rondo, Allegro by Carl Maria von Weber
---
Wednesday, October 16 —  Merz Trio at Dame Myra Hess Memorial Concert
The Merz Trio has been described as "riveting" with "fresh and surprising interpretations" (Reading Eagle). Formed in 2017 by pianist Lee Dionne, violinist Brigid Coleridge, and cellist Julia Yang, the Trio has quickly emerged as a unique and award-winning ensemble, garnering First Prize at the 2019 Fischoff Competition.
Music
Piano Trio No. 1 in B Major, Op. 8 by Johannes Brahms
Widmung by Robert Schumann, arr. Merz Trio
---
Thursday, October 17 — Camerata Chicago
Founded in 2003 by conductor Drostan Hall, Camerata Chicago is a chamber orchestra equally at home in intimate settings as well as larger venues, performing the rich tapestry of chamber music repertoire. On April 5, 2019, Camerata Chicago presented an all-Mozart program at St. James Cathedral, featuring flutist Susan Saylor and harpist Faye Seeman.
Music
Flute and Harp Concerto in C major, K. 299, II. Andantino by Wolfgang Amadeus Mozart
---
Friday, October 18 — Bella Voce
Bella Voce's recording of Johannes Brahms' A German Requiem marks the culmination of a journey that began with a performance in April 2017. Bella Voce's version is unique in that it presents A German Requiem as Brahms adapted the work – originally composed for chorus and orchestra – for an intimate presentation in a private residence in London in 1871. Brahms adapted the German work into English and arranged the orchestral score for piano four-hands.
Bella Voce / Andrew Lewis; Madeline Slettedahl and Craig Terry, piano
Music
I. Blest are they who are sorrowful from A German Requiem by Johannes Brahms
---
Monday, October 21 — Giantess: Jennie Oh Brown, Carter Pann, and Friends
Flutist Jennie Oh Brown is an active performer throughout Chicago in solo, chamber, contemporary, and orchestral settings. "Giantess" is Brown's second solo album. She says it is a deeply personal project, dedicated to her late grandmothers. Both grew up, raised families, and survived during a time when Korea was ravaged by war, oppression, and poverty. This collection captures their spirits through works by a wide range of contemporary composers.
Jennie Oh Brown, flute; Carter Pann, piano
Music
Melodies for Robert by Carter Pann 
---