---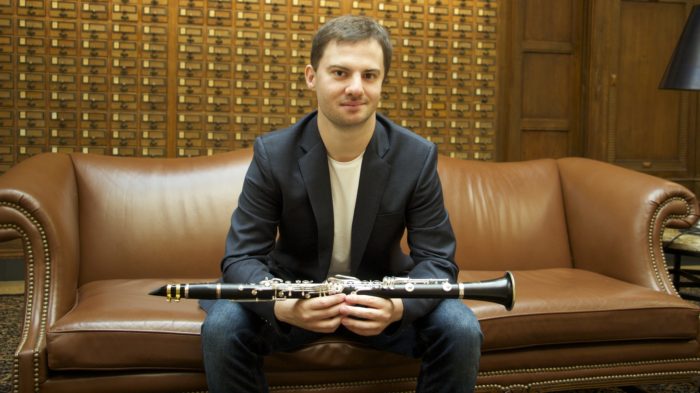 Monday, November 11 — Clarinetist Sam Boutris and Pianist Hilda Huang at Dame Myra Hess Memorial Concert
Clarinetist Sam Boutris' nuanced and genuine performances balance artistic originality with elegant interpretations that engage both audiences and critics alike. He regularly performs as a concerto soloist, recitalist, and chamber musician, collaborating with an eminent array of renowned conductors and colleagues. He was joined by pianist Hilda Huang for a wide-ranging program on October 30th at the Chicago Cultural Center.
Music
Fantasiestücke, Op. 73 by Robert Schumann
---
Tuesday, November 12 — Marc-André Hamelin at Northwestern University
Marc-André Hamelin is recognized the world over for his consummate musicianship and brilliant technique. He has received multiple Grammy nominations, and his three-disc recording of the music of Ferruccio Busoni was honored with the 2014 ECHO Klassik Instrumentalist of the Year award. On May 3, 2019, Hamelin performed in the Skyline Piano Artist Series at Northwestern University's Galvin Recital Hall.
Music
Polonaise-fantaisie in A-flat major, Op. 61 by Frédéric Chopin 
---
Wednesday, November 13 — Pianist Kamil Tokarski at Dame Myra Hess Memorial Concert
Kamil Tokarski is a distinguished pianist with rich musical experiences throughout Europe, the United States, and Asia. A native of Poland, Tokarski currently lives and works in Taiwan where he operates a teaching and recording studio.
Music
Clavier Sonatas by Domenico Scarlatti
Selected Works by Frédéric Chopin
Navarra by Isaac Albéniz
---
Thursday, November 14 — Merit Brass Ensemble at Youth Arts Showcase
WFMT's Introductions presented a special live broadcast from the Jay Pritzker Pavilion in Millennium Park on September 21, 2019. The program was part of the annual Youth Arts Showcase hosted by the Chicago Department of Cultural Affairs and Special Events. The broadcast featured a brass ensemble from Merit School of Music and Latin Grammy-nominated Mariachi Herencia de México.
Music
Bugler's Holiday by Leroy Anderson
---
Friday, November 15 — Kontras Quartet and Kruger Brothers
In a collaboration exploring the intersection of folk and classical music, the Kruger Brothers are joined by Chicago's Kontras Quartet for a work honoring the region, history, and legacy of Tennessee's Roan Mountain.
Music
Roan Mountain Suite: Gather Round by Jens Kruger
---