---
Monday, November 18 — Jorge Federico Osorio
Jorge Federico Osorio has been lauded throughout the world for his superb musicianship, powerful technique, vibrant imagination, and deep passion.  He is the recipient of several international prizes and awards, including the prestigious Medalla Bellas Artes, the highest honor granted by Mexico's National Institute of Fine Arts. On Balada Mexicana, Osorio explores the work of Manuel Ponce, a composer who connected classical music with the traditions of Mexican popular song and folklore.
Music
Rapsodia Cubana No. 1 by Manuel Ponce
---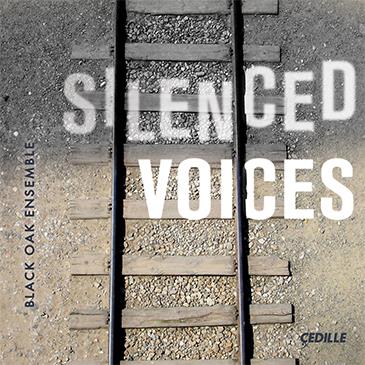 Tuesday, November 19 — Black Oak Ensemble: Silenced Voices
Black Oak Ensemble, a string trio boasting three of Chicago's most enterprising and dynamic chamber musicians, makes its recording debut with Silenced Voices, an album of intriguing works by six early 20th century Jewish composers originally from Austria-Hungary, Czechoslovakia, and the Netherlands. One survived World War II as a member of the Dutch resistance. The others perished in concentration camps and elsewhere in Nazi-occupied Europe.
Desirée Ruhstrat, violin; Aurélien Fort Pederzoli, viola; David Cunliffe, cello
Music
Tánec (Dance) for String Trio by Hans Krása
---
Wednesday, November 20 — Flutist Timothy Hagen and Pianist Ben Corbin at Dame Myra Hess Memorial Concert
Praised for his "technical virtuosity and musical sensitivity" (NewMusicBox), Timothy Hagen is a laureate of multiple national and international competitions. He is currently Principal Flute of the Dubuque Symphony. Ben Corbin maintains an active schedule as a pianist, chamber musician, teacher, and lecturer.
Music
Flute Sonata by Francis Poulenc
Nocturne-Lullaby by Timothy Hagen
Fanmi Imèn by Valerie Coleman
Capriccio in G Major by Georg Philipp Telemann
Carmen Fantasy by Alexander Rosenblatt 
---
Thursday, November 21 — Chicago Duo Piano Festival
The Chicago Duo Piano Festival was founded in 1988 by Music Institute of Chicago faculty members Claire Aebersold and Ralph Neiweem. Its mission is to foster a deeper interest in the repertoire, performance, and teaching of music for piano, four hands and two pianos. At the Gala Opening Concert of the 2019 Festival, Pi Huang and Zhao Zhang played an arrangement of Borodin's famous Polovtsian Dances.
Music
Polovtsian Dances from Prince Igor by Alexander Borodin, arr. Ann Pope
---
 Friday, November 22 —  Cellist and Composer Ian Maksin
Russian-born Chicago-based cellist, composer, and multilingual vocalist Ian Maksin is known for pushing the boundaries of the cello well beyond its known scope and blending many genres together. His new album, Sempre, is a collection of original instrumental music for cello. The album includes nine tracks scored for multiple cellos, some with the addition of percussion.
Music
 Summer Garden; Lachrimae Novae by Ian Maksin
---