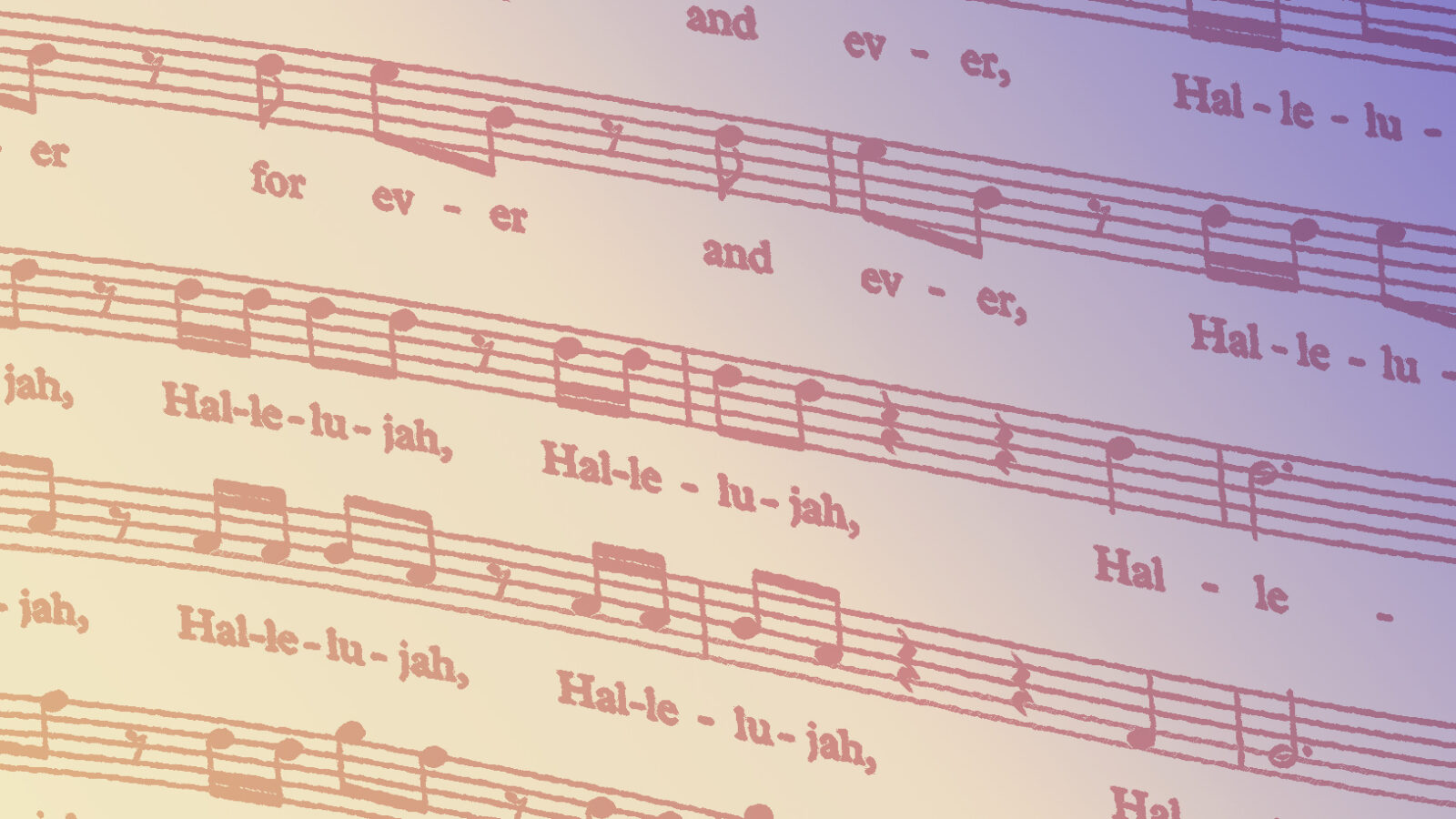 Handel's Messiah is everywhere this time of year. Here in Chicago in the four weeks leading up to Christmas, we'll have large-scale performances of Messiah, period instrument chamber performances of Messiah, Do-It-Yourself Messiahs, sing-along Messiahs, not to mention the jazz/gospel versions of Messiah.
Ever since the first performance of Messiah in Dublin, Ireland, April 13, 1742—on Good Friday, not at Christmas—Handel's oratorio has gained in popularity, becoming one of the best-known works in the entire Classical repertoire.
The performances in Handel's time were given by small orchestras, small choirs, and a handful of soloists. But by the 19th century, tastes favored massive forces—several-hundred voice choirs and full symphony orchestras with soloists of operatic stature.
Several composers and arrangers even "updated" Handel's work, adding many more instruments to the orchestral texture. Mozart did so, adding clarinets and bassoons to the orchestra. And in the late 1950s, the English conductor Sir Thomas Beecham commissioned Sir Eugene Goossens to make an arrangement for a full, modern symphony orchestra, complete with heavy brass and cymbal crashes! (Below, hear Goossens's version.)
---
Today, most performances and recordings strive for a sound that is closer to Handel's original. Conductor Bernard Labadie, who comes to Chicago to conduct performances of Messiah with the Chicago Symphony Orchestra, described how he gives a modern orchestra a period sound.
He said that the Chicago Symphony Orchestra is "a different animal" than a period ensemble that uses original instruments and playing techniques. Labadie typically conducts his own period orchestra and choir, Les Violons du Roy and La Chapelle de Québec.
But in recent years, Labadie explained, "modern orchestras have become more open-minded about playing 18th-century music with a different approach."Labadie said years ago, a typical Messiah performance might include "lots of vibrato, slow tempos, and massive choirs."
When hearing Messiah under Labadie's baton at Symphony Center, audiences will enjoy a "much leaner sounding CSO. We don't go for the big vibrating sound that is typical of such an orchestra." (Below, hear a "much leaner" version of the "Hallelujah" chorus than Goossens's arrangement above.)
---
Conductors in recent decades have tried to determine how historical "performance practice" can help modern musicians play music in ways that are close to how it would have been heard hundreds of years ago. Original instruments, written documents, and even iconography can all give modern musicians clues about how historical music was once performed.
"The performance practice movement came from Europe but the spirit is spreading in the United States," Labadie said. "Younger generations are more opened minded about changing their sound, the specificity of language, and in general are much more interested in the repertoire than they were before."
When conducting a modern orchestra, Labadie said that the "important thing is to get to the spirit of the music. It's perfectly possible to define the essence of a piece within a few days of rehearsal."
"First, I always bring my own music, my own material, to rehearsals with modern orchestras. All of my scores are marked with the articulations I want and the bowings that I want," he said.
"If you start from scratch or use music that is not clearly annotated, the musicians may not read the music the way a specialist might. So with a modern orchestra, there's no choice, you mark everything in the parts very clearly."
Armed with clearly marked scores, Labadie can help the strings, for example, play with "light bowing and specific articulations that make the music sound more transparent. Then all of the rich details of the music come out more clearly
Singers, of course, don't have the luxury of changing their instruments to get a more "period" sound when performing a piece like Messiah. But there are still ways that singers can approach the music so that they honor some of the composer's original intentions, Labadie said.
"In the early days there were a lot of smaller instruments that were attuned to the intricacies of language, but we have moved away from that," Labadie explained. "We use singers that have slightly bigger instruments. We have to keep in mind, especially in America, that we're performing in larger spaces – often that seat over 2,000 people – and with larger orchestras than might be ideal. So you need bigger voices that can deal with the idiom but can still be heard."
Labadie is thrilled that large orchestras are "reclaiming this repertoire, which for years was ignored completely." By performing more of this music, the musicians become more accustomed to the techniques they need to realize it properly.
He is particularly glad to conduct the CSO, which he previously led in performances of Handel's Water Music and Bach's St. John Passion. "Over the years the musicians have grown more and more accustomed to the repertoire and usually I have no problem getting the kind of sound I want."
---
This story was first published December 8, 2015