---
Monday, December 16 — Northside Brass: Christmas Carols for Brass
Founded in 2011, Northside Brass is comprised of freelance musicians in Chicago who regularly perform with a variety of groups. The ensemble's new holiday recording is an homage to the popular Festival of Carols album released by the Philadelphia Brass Ensemble in the 1960s.
Music
Angels We Have Heard on High
Coventry Carol
Hark! The Herald Angels Sing
I Heard the Bells on Christmas Day
---
Tuesday, December 17— Chanticleer
Chanticleer is one of the country's foremost vocal ensembles. Each year, the ensemble presents a varied and festive holiday program of music ranging from Gregorian chants to traditional carols and spirituals. WFMT recorded Chanticleer at Fourth Presbyterian Church before their December 2019 concerts there.
Music
A un niño llorando by Francisco Guerrero
I sing the birth by Charles Parry
In dulci jubilo by Michael Praetorius
Touro-louro-louro by Nicholas Saboly
---
Wednesday, December 18 — Violinist Véronique Mathieu and Pianist Jasmin Arakawa at the Dame Myra Hess Memorial Concert
Canadian violinist Véronique Mathieu enjoys an exciting career as a soloist, chamber musician, and music educator. An avid contemporary music performer, Mathieu has commissioned and premiered many works by American and Canadian composers. Jasmin Arakawa has performed widely in North America, Central and South America, Europe, and Asia.
Music
Music by Lili Boulanger, Claude Debussy, and Francis Poulenc
---
Thursday, December 19 — Chicago Symphony Chorus: Merry, Merry Chicago!
Every December, Symphony Center rings in the holidays with Merry, Merry Chicago!, featuring musicians from the Chicago Symphony Orchestra, the Chicago Symphony Chorus, and special guests performing festive favorites. Members of the Chorus visited the WFMT studios to perform highlights from the 2019 program.
Music
Deck the Halls
Have Yourself a Merry Little Christmas Medley
It's the Most Wonderful Time of the Year
---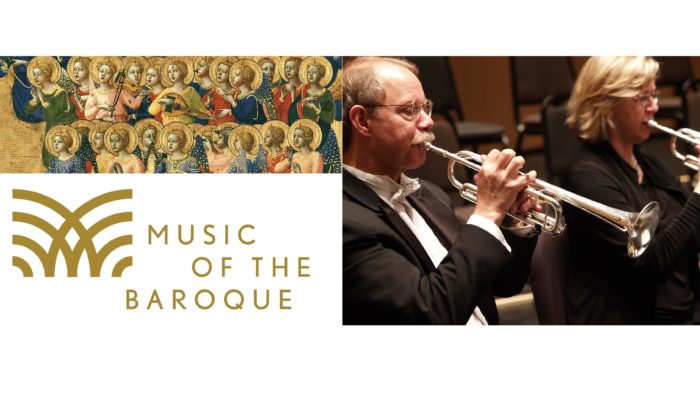 Friday, December 20 — Live WFMT Impromptu with Music of the Baroque
Guest conductor Patrick Dupré Quigley, founder and artistic director of the vocal ensemble Seraphic Fire, leads singers from Music of the Baroque in music for the Christmas season. The broadcast will include highlight's from MOB's popular Holiday Brass and Choral Concerts.
Music
 To be announced
---
Monday, December 23 — St. Charles Singers: Candlelight Carols
The St. Charles Singers is a group of 40 professional musicians under the direction of Jeff Hunt. Recognized for their sublime interpretation of choral classics, the singers present an annual Candlelight Carols program, a Yuletide tradition since the choir's founding in 1984. The 2019 concerts featured songs expressing mystery, hope, wonder, and joy.
Music
O Mary Theotokos by John Taverner
Lully, Lulla, Thou Little Tiny Child by Kenneth Leighton
Angels' Carol by John Rutter
Tomorrow Shall Be My Dancing Day by John Gardner
---