---
Monday, July 13 — KAIA String Quartet
From the tango of the Rio de la Plata to the string quartets of Silvestre Revueltas, the KAIA String Quartet is an ensemble devoted to promoting the rich and colorful music of Latin America. In 2018, the four musicians presented a program titled "Cuarteto" featuring works by José Bragato and Astor Piazzolla at St. James Cathedral's Rush Hour Concert Series.
Music
Tres Movimientos Porteños by José Bragato
---
Tuesday, July 14 — Sophie Webber: Bach to Choir
British cellist Sophie Webber is an internationally accomplished soloist, chamber musician, and educator. She also creates many arrangements as well as writing original compositions. "Bach to Choir" offers an interpretation of the Cello Suites which highlights the implied harmonies and rhythmic characteristics with choral accompaniment. Webber is joined by the choir of Chicago's Church of the Ascension.
Music
Cello Suite No. 1 in G major, BWV 1007, I. Prelude by Johann Sebastian Bach
Cello Suite No. 3 in C major, BWV 1009, V. Bourrée I/II by Johann Sebastian Bach
---
Wednesday, July 15 — Dame Myra Hess Memorial Concert: From the Archives
Pianist Kimberly Han is from Lake Forest, Illinois. She was recently awarded the revered "Young Steinway Artist" title by Steinway & Sons. Han is also a 2016-2018 Lang Lang Young Scholar, and a three-year full scholarship recipient of the Chopin Foundation of the United States. This is a rebroadcast of her performance from August 2019 at the Chicago Cultural Center.
Music
Music of Bach, Haydn, and Chopin
---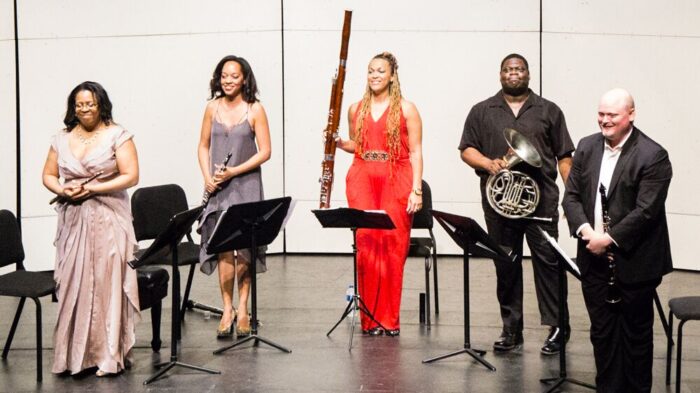 Thursday, July 16 — Imani Winds
Celebrating 20 years of music making, the Grammy-nominated Imani Winds has led both a revolution and the evolution of the wind quintet through their dynamic playing, adventurous programming, imaginative collaborations, and outreach endeavors that have inspired audiences of all ages and backgrounds. The ensemble visited the University of Chicago's Logan Center in 2017.
Music
Go Tell It on the Mountain, Traditional
Titilayo by Jeff Scott
---
Friday, July 17 – Impromptu Encore: Danish String Quartet
Among today's exceptional chamber music groups, the Grammy-nominated Danish String Quartet continuously asserts its preeminence in music ranging from Haydn to Shostakovich to contemporary scores. Violinists Frederik Øland and Rune Tonsgaard Sørensen, violist Asbjørn Nørgaard, and cellist Fredrik Schøyen Sjölin made their debut on WFMT's Impromptu series in 2014.
Music
Music of Haydn, Nielsen, and Traditional Scandinavian selections
---