WFMT is excited to welcome two new voices to our host roster! Allow us to introduce you to Kristina Lynn and LaRob K. Rafael, who join as fill-in hosts.
---
"I've listened to WFMT for as long as I can remember," Kristina Lynn recalls. Growing up listening to WFMT with her family in the Chicago suburbs, she was moved to pick up the trumpet herself. As a performer with the Elgin Youth Symphony Orchestra, she got to share the stage with violin superstar Midori as well as WFMT host and bass-baritone Peter van de Graaff.
Kristina says she was inspired to speak to the WFMT veteran host. "I remember reaching out to him, asking if he had any thoughts for someone wanting to get into radio. And he was very open and gave me great advice… It was life-changing…" she shares, "and it steered me on this path to audition for music school."
She received a Bachelor in Music specializing in Trumpet Performance from DePaul University, and has worked in radio production at WQXR as well as WFMT, where she will continue to work as a production assistant as well as a fill-in host.
Kristina expresses an interest in making classical music more accessible and expanding what we hear on the air, whether that's by tapping into musical theater or casting light on lesser-known composers. "I don't have a lot of classical musicians in my family, especially my extended family, so I'd like to make it more accessible and welcoming to more listeners."
---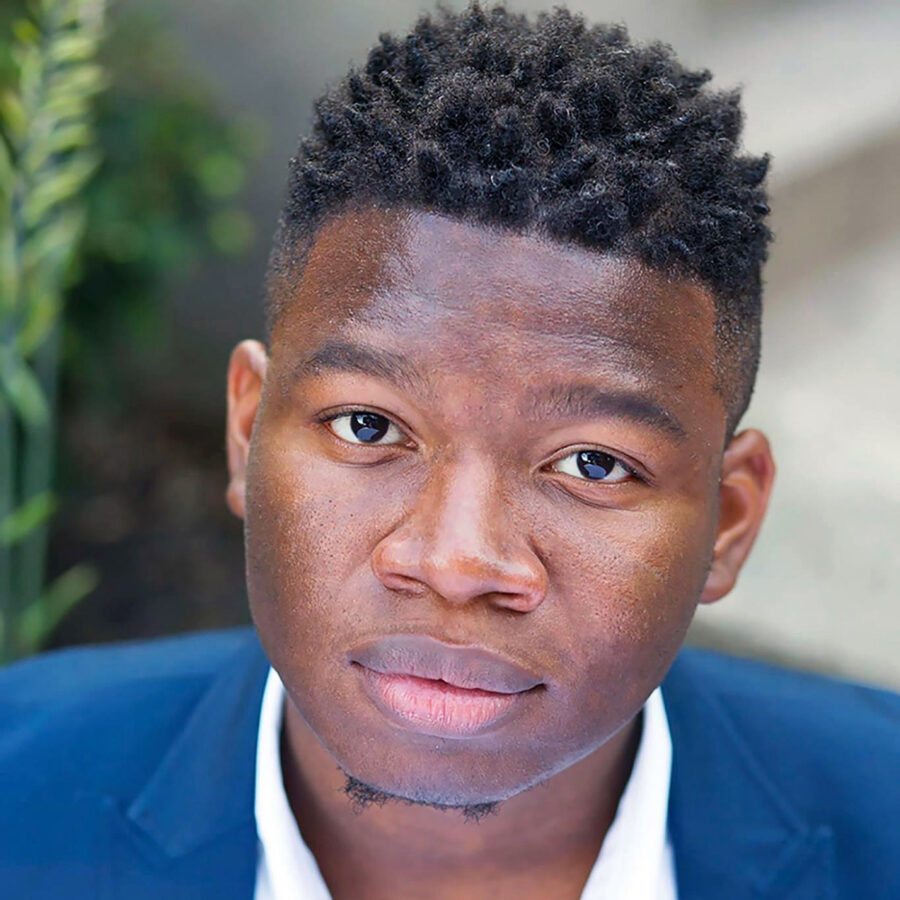 Bass-baritone LaRob K. Rafael grew up singing gospel, R&B, and soul music in Maryland. It wasn't until high school that he became interested in classical music: with a smile, he says, "somebody came up to me and said, 'You could sing classical music.' And I said, 'What are you talking about? Bugs Bunny does classical music.'" But the initial unfamiliarity soon became excitement, in particular about the possibility of mastering new languages and traveling to new countries through a vocal performance career.
In high school, a second pivotal moment came in LaRob's music career. His school was majority Black, but in the performing arts program, the teaching staff was predominantly white. He learned the standard repertoire: "the 24 Italian songs, Schubert, Mozart." LaRob says he loved this music, but it it wasn't until pianist Awadagin Pratt visited his school for a master class that he really connected to the music, realizing "Oh, Black people do this, too…" To see Pratt, a Black pianist who ably traverses different types of music and composition, "it just felt so familiar and comforting," LaRob recalls.
While studying in the vocal music program at DePaul University, LaRob tried to go beyond the fixtures of academic vocal music and perform music that he felt spoke directly to him as a Black singer. "That's the whole reason why I got into singing… the ability to share my story… I started to find ways of including composers like Charles Brown, Howard Swanson, Dorothy Rudd Moore."
These performances sparked a passion that has gone on to guide his career. In 2017, LaRob founded Hearing in Color, a Chicago organization dedicated to performing overlooked and underrepresented music. He also works at Lyric Unlimited, which engages with communities not traditionally represented in opera. These organizations share a common goal with his work at WFMT, to "change the narrative that white male European classical music is the standard. Because there's a plethora of other artists, of other composers, of other styles of classical music that we can be introducing to audiences… We can engage with communities in a different way."