---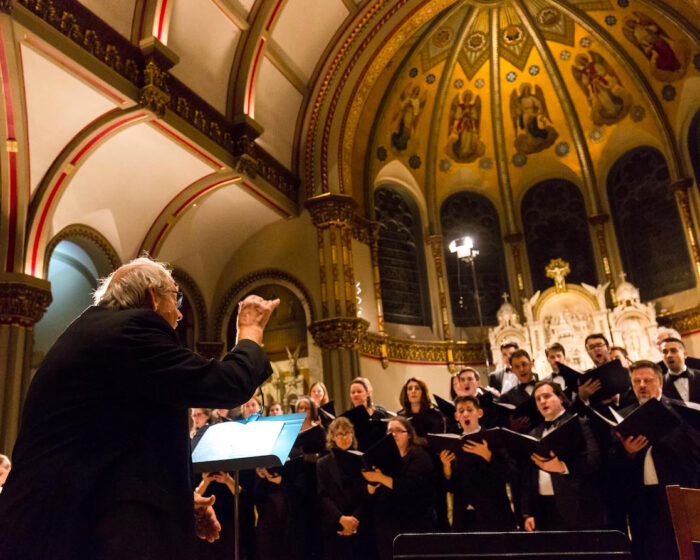 Monday, March 8 — Chicago Chorale
Chicago Chorale is a professional-level ensemble of singers who cultivate their craft out of genuine love and dedication, giving freely of their time and talent. The ensemble gives sensitive and thought-provoking performances of a diverse choral repertoire, from well-loved works to overlooked masterpieces to newly commissioned pieces.
Music
Agnus Dei by Samuel Barber
---
Tuesday, March 9 —  KAIA String Quartet
The members of the KAIA String Quartet are passionate advocates of the rich music of Latin America. On the album Sureño, the quartet explores music from Buenos Aires, featuring Astor Piazzolla's beloved Estaciones Porteñas. They also bring to light the music of Piazzolla's cellist, José Bragato, a fantastic musician and composer in his own right.
Music
Tres Movimientos Porteños by José Bragato
---
Wednesday, March 10 — Dame Myra Hess Memorial Concert: Sonia Mantell and Victor Santiago Asunción
Cellist Sonia Mantell studied at the New England Conservatory and DePaul School of Music. She is an active performer with many music organizations in the Chicago area. Hailed by the Washington Post for his "poised and imaginative playing," pianist Victor Santiago Asunción has appeared in concert halls around the world.
Music
Music of Kevin Day, Claude Debussy, and Laura Netzel 
---
Thursday, March 11 — Gaudete Brass
Gaudete Brass, a Chicago-based quintet devoted to presenting serious brass chamber music and commissioning new works, brings a fresh perspective to music of John Corigliano with an inventive album of brass works by the prolific American composer and his protégés.
Music
Still by David Sampson
Overture from Gazebo Dances by John Corigliano
---
Friday, March 12 – Impromptu Encore: Philippe Quint and Marta Aznavoorian 
Pianist Marta Aznavoorian has performed on WFMT many times with a great variety of colleagues. In 2016, she was joined by violinist Philippe Quint for a wide-ranging program in the Impromptu recital series.
Music of Astor Piazzolla, J.S. Bach, Igor Stravinsky, and Claude Debussy
---