---
Monday, March 22 — Northwestern University Symphonic Wind Ensemble
From the works of a pivotal composer of the 19th century (Richard Wagner) to the melodic and heart-felt rhythmic compositions of 20th-century composers, the Northwestern University Symphonic Wind Ensemble, conducted by Mallory Thompson, presents an album dedicated to the legendary bandleader John P. Paynter.
Music
Elsa's Procession to the Cathedral from Lohengrin by Richard Wagner
---
Tuesday, March 23 —  Daniel Schlosberg
Daniel Schlosberg is a pianist, piano teacher, and vocal coach based in Chicago. He has been on the faculty at the University of Notre Dame since 2005. Schlosberg explores the theme of children and play in the music of Schumann, Pärt, Lachenmann, and Debussy.
Music
Children's Corner Suite by Claude Debussy
---
Wednesday, March 24 — Dame Myra Hess Memorial Concert: Beatrice Chen and Kuang-Hao Huang
Beatrice Chen has won first prize in various competitions. For five years, she was principal violist of the Chicago Youth Symphony Orchestras. Chicagoan Kuang-Hao Huang is a highly sought-after collaborative pianist whose performances have taken him throughout North America, Europe, and Asia.
Music
Music of Paul Hindemith and Rebecca Clarke
---
Thursday, March 25 — Introductions: Women Composers
18-year-old Bella Kim of Buffalo Grove is a senior at Adlai E. Stevenson High School in Lincolnshire and currently studies viola with Desirée Ruhstrat. Pianist Noah Kim, 14, is a freshman at Vernon Hills High School. He is a merit scholar at the Music Institute of Chicago and currently studies with Marta Aznavoorian.
Music
Incantation by Augusta Read Thomas
Phantom of Arirang by Misook Kim
---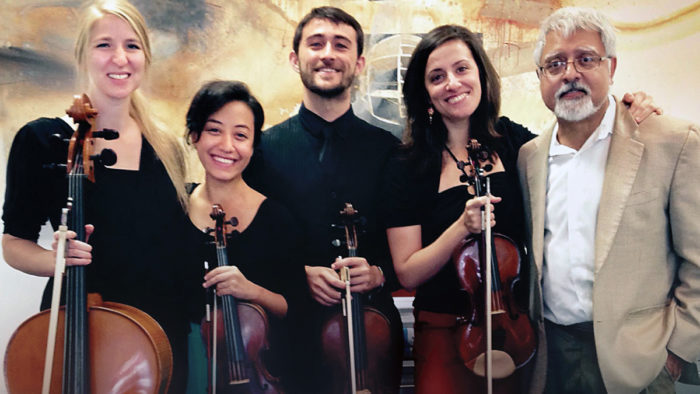 Friday, March 26 – Impromptu Encore: KAIA String Quartet and Fareed Haque
The members of the KAIA String Quartet devote their artistry to promoting the rich and colorful music of Latin America. In 2018, they joined forces with guitar virtuoso Fareed Haque to perform pieces by Latin American masters.
Music of Edwardo Angulo and Leo Brouwer
---