---
Monday, May 17 — Chicago Gargoyle Brass and Organ Ensemble
The Chicago Gargoyle Brass and Organ Ensemble follows the development of the hymn Ein' feste Burg ist under Gott through the music of Heinrich Schütz, Johann Sebastian Bach, Otto Nicolai, Felix Mendelssohn, and into the 21st century with James Curnow. An additional seven hymns by Martin Luther set by these great composers round out the album.
Music
Ecclesiastical Festival Overture on A Mighty Fortress by Otto Nicolai
---
Tuesday, May 18 —  James Stephenson
Liquid Melancholy, featuring virtuoso clarinetist John Bruce Yeh of the Chicago Symphony Orchestra, exudes a kaleidoscope of colors and moods while showering listeners with attractive melodies in a program of music by Chicagoan James M. Stephenson, one of today's most popular and prolific composers.
Music
Fantasie by James Stephenson
---
Wednesday, May 19 — Dame Myra Hess Memorial Concert: Colere Quartet
Founded in 2017 at the University of Iowa, the Colere Quartet is an Iowa-City based ensemble comprised of saxophonists John Cummins, Elissa Kana, Greg Rife, and Dennis Kwok. Colere presents engaging programs consisting of a wide range of classical as well as contemporary repertoire.
Music
Music of Johann Sebastian Bach, Guillermo Lago, and Russell Peck 
---
Thursday, May 20 — Camerata Chicago
Founded in 2003, Camerata Chicago is a chamber orchestra equally at home in intimate settings as well as in larger venues, performing the rich tapestry of diverse chamber orchestral repertoire that includes newly commissioned works. Their album from 2007 featured music of the 18th-century composers Johann and Carl Stamitz.
Music
Symphony in A major by Johann Wenzel Stamitz
---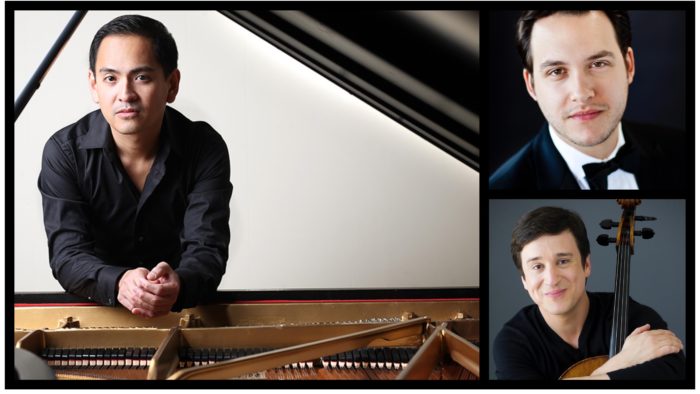 Friday, May 21 – Impromptu Encore: Victor Santiago Asunción, Giora Schmidt, and Leonardo Altino
In 2018, the engaging Filipino-American pianist Victor Santiago Asunción returned to WFMT's Levin Studio. For this Impromptu performance, he brought some wonderfully talented friends, violinist Giora Schmidt and cellist Leonardo Altino.
Music
Music of Ludwig van Beethoven and Felix Mendelssohn
---