---
Monday, July 19 — Bella Voce
Bella Voce explores some of the many ravishing Renaissance works based on a surprising source: the French secular song L'homme armé (The Armed Man). Almost fifty masses, dated between 1450 and 1700, have used the melody. Despite its fame, no one really knows the origin of the tune. Works by Josquin, Morales, Ockeghem, and Busnoys are featured on this album by Bella Voce under Artistic Director Andrew Lewis.
Music
Kyrie from Missa L'homme armé by Josquin des Prez
---
Tuesday, July 20 —  Rush Hour Concert
Alex Klein is one of the world's most acclaimed oboists, having served as principal of the Chicago Symphony Orchestra for nine years. Lillia Woolschlager is a pianist and oboist in the Chicago area. She studied at DePaul University with Klein. They performed together on July 6 in the Rush Hour Concert Series at St. James Cathedral.
Music
Incantation and Dance by William Grant Still
---
Wednesday, July 21 — Dame Myra Hess Memorial Concert: SooBeen Lee and Elliot Wuu
Violinist SooBeen Lee, First Prize Winner of the 2014 Young Concert Artists International Auditions, has been praised by the Washington Post for her "poised presence and luxurious sound." First Prize winner in the 2015 Hilton Head International Piano Competition, Elliot Wuu has captured audiences with colorful tones, sensitive musicality, and emotional depth in his music.
Music of Claude Debussy, Samuel Coleridge-Taylor, and Igor Frolov
---
Thursday, July 22 — David Schrader
Versatile keyboard virtuoso David Schrader performs attractive 20th- and 21st-century solo organ works by Frank Ferko (b. 1950) and Leo Sowerby (1895–1968), prolific composers known for their organ mastery and closely associated with the city of Chicago.
Music
III. St. Anne (Toccata and Fugue) from Music for Elizabeth Chapel by Frank Ferko
---
Friday, July 23 – Impromptu Encore: Catalyst Quartet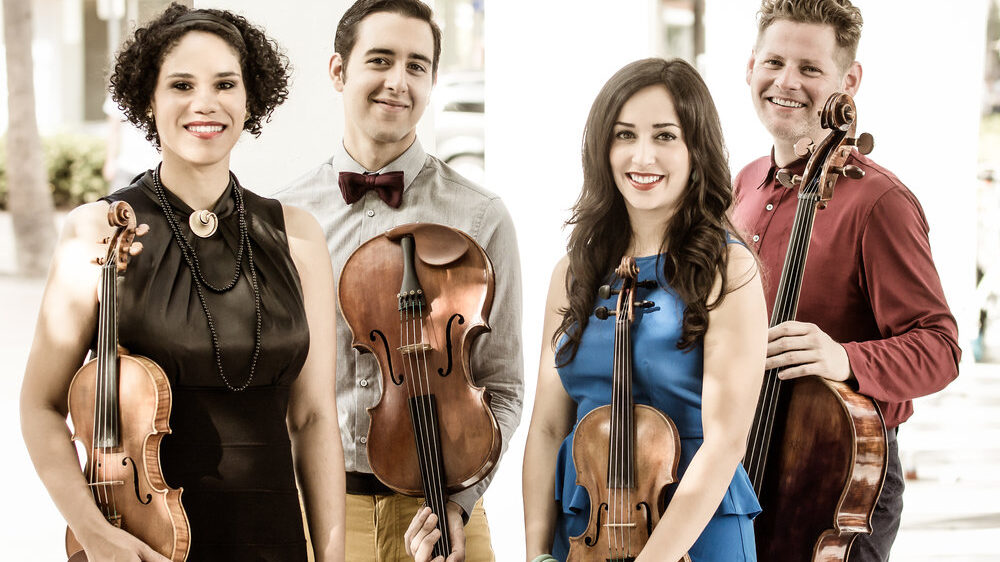 In September 2013, the Catalyst Quartet, a Sphinx ensemble, performed live on Impromptu.  The group played a piece by ensemble member, violinist Jessie Mongomery. In April 2021, she was appointed Mead composer-in-residence of the Chicago Symphony Orchestra.
Music of Jessie Montgomery and others
---