Composer Mason Bates is one of the premier voices in classical music today, and if his new project goes to plan, he may help foster the next generation of musicmakers.
Bates follows up on his blockbuster, award-winning opera about Steve Jobs, with another work focused on the influence of another, different kind of technology. Compared to an iPhone, an orchestra might not seem an obvious example of technology, but in a behind-the-scenes video, Bates argues that it constitutes "one of the best examples of interactive technology we have."
Philharmonia Fantastique revels in this "interactive technology," the tension and harmony of orchestral families that take shape to create something great. A CSO co-commission, the work is a 25-minute concerto for orchestra and film that explores and visualizes the unique creative power of an orchestra.
Bates, who previously served as the CSO's Mead Composer-in-Residence, returns to Chicago with this composition and film, which seeks to inspire audiences — not least young viewers — by the orchestra's creative breadth, and testifies to the power of coming together.
---
WFMT: Can you describe this piece and say what inspired it?
Mason Bates: Philharmonia Fantastique is a concerto for orchestra and animated film. It's a new guide to the orchestra in the vein of Prokofiev's Peter and the Wolf or Britten's Young Person's Guide to the Orchestra with the added twists that it's exploring the instruments as examples of creative technology. So, we go inside these instruments with the magical Sprite on screen to see how they work from the inside out.
The inspiration was this new format that's emerged of live-to-film. And even though I don't know if that format necessarily is bringing in tons of new listeners into subscription concerts, it is bringing in revenue for orchestras and allowing more people to hear orchestras. It's a new medium, one that I thought would be exciting to write for. I feel like we haven't really had a new version of a guide to the orchestra for many years, and it was time to do one that had a multimedia component.
WFMT: Do you think it's important to have that video and multimedia component, particularly for younger audiences?
One of the great things about the orchestra is that it is always evolving, and this live-to-film format is an example of how orchestras are integrating technology into this centuries-old media. Because orchestras know how to do films, it makes it an option if you want to present a new guide for the orchestra. I absolutely think that just a normal symphonic acoustic concert will rock any child's world, but because we have this medium available to us, why not take advantage of it to show kids both the visuals of the orchestra while they're hearing it?
WFMT: Talk about your collaborative on this project.
Bates: The first time I worked with Gary Rydstrom was when I was writing a piece for the CSO called Alternative Energy, and I literally just rang him out of the blue, having read an article in the New York Times about Steven Spielberg's seven-time Oscar-winning sound designer. I said, "Hey, I'm writing a piece that has particle accelerator samples; can you help me spin them?" Gary said, "I grew up going to the Chicago Symphony. If Beethoven had had a sound designer, I want to be that guy!"
So, we started working together, and he became a kind of mentor in sound design. Meanwhile, I discovered that in addition to making the sounds of the dinosaurs in Jurassic Park or the bullets in Saving Private Ryan, Gary also directs animation films like Strange Magic for Lucasfilm. I came to Gary with the idea for the film and asked if we could bring in some of his animator collaborators. He brought in Jim Capobianco, who got an Oscar nomination for the story for Ratatouille when he worked at Pixar. Now he has his own animation shop.
---
---
We had an incredible two years of scriptwriting, then I wrote the music, storyboarding, adjusting the music, and then we finally started animating and filming to put on top of it!
WFMT: Can you talk about how the educational component of the piece?
The film is a piece of art that is meant to be a gateway, meaning it's not designed to be overly pedagogical. We wanted, for example, to teach many things about the instruments without any words. So, you just see the Sprite going into the valves of the brass or jumping on a violin string like a trampoline to present the concept of the harmonic series. These ideas can be expanded upon in the classroom later; we're building an education program, a little ecosystem of materials around this film.
As a dad with young kids, I have seen that they respond well to something that's exciting, that's maybe moving a little fast, and has lots of things to be picked up later. When you go into a classroom after this and you talk about the harmonic series and how a string divides into a half, or thirds, or quarters, they'll immediately remember what they saw in the film, and that will allow for them to process that piece of scientific information in a more visceral way. So, the approach here is to lead with art, with excitement, and to leave lots of trap doors in the actual film that can be explored in the classroom later.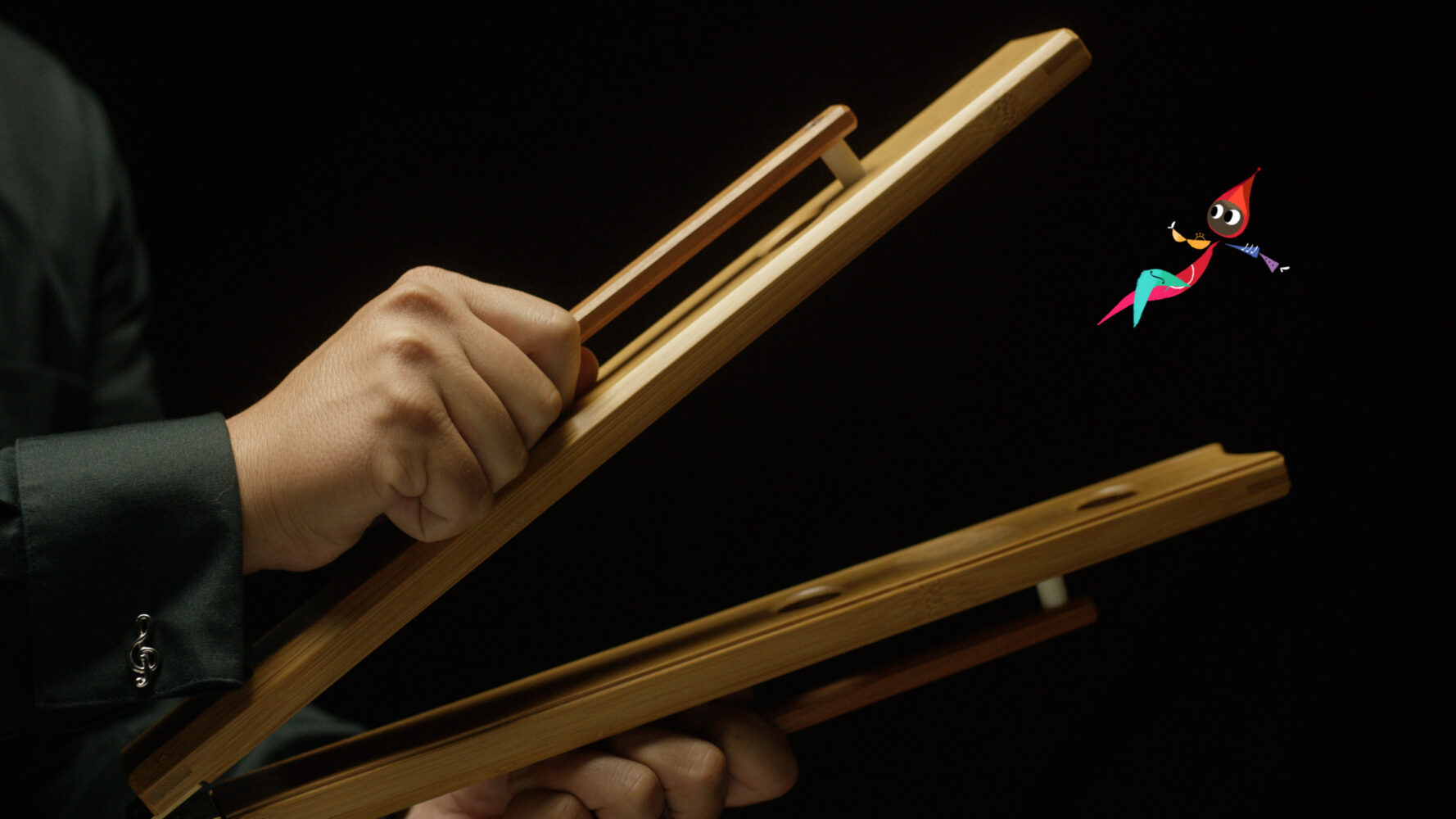 WFMT: Were any instruments harmed in the making of this piece?
Bates: There was a cello that got a hole drilled into it. Note that it was a cello bought from Walmart for like $45. It barely even functioned as a cello; the bridge didn't work, and the strings didn't stay on. We drilled into it to see what the Sprite sees on the inside of a cello.
WFMT: What do you hope the audience will take away from this piece?
Bates: I hope for people to be re-inspired about what an orchestra can do. About what an orchestra says about unifying different kinds of technologies and people. While there's a technical element with this film, to see how the harmonic series works or to see how a valve works, the big takeaway should be, look at these different instruments — they are as different as races on earth — from brass to strings to woodwinds to percussion. To come together as an orchestra, they need to unify. I think the orchestra is one of the great human creations, and it's a great example of overcoming differences and synthesizing as one.
---
The Chicago Symphony Orchestra, which co-commissioned the work, presents Philharmonia Fantastique on Saturday, May 14 under the baton of Edwin Outwater. This interview has been lightly edited for length and clarity.