If you're not familiar with these 9 composers, we've got 2 things to say:
1. You're missing out on a lot of great music.
2. Now's your chance to catch up!
June is African-American Music Appreciation Month, and while you shouldn't limit your appreciation of music by African-American composers to the month of June, it's a nice excuse to explore their important contributions. You're likely familiar with popular pieces by Scott Joplin or Miles Davis. But, if names like Daniel Bernard Roumain or George Lewis are new to you, read on, and happy listening!
---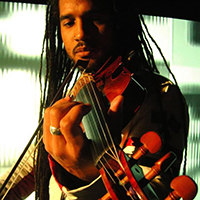 Daniel Bernard Roumain
The composer, violinist, and band leader is known for his unique blend of funk, rock, hip-hop and classical music. Also known as DBR, the composer has collaborated with everyone from Philip Glass to Lady Gaga. He made his Carnegie Hall debut in 2000 with his Harlem Essay for Orchestra, performed by the American Composers Orchestra. From 2007-2011, he was an Artist-in-Residence with the Brooklyn Academy of Music's Next Wave Festival, one of the world's premiere festivals for contemporary performance. He has received commissions from other leading arts presenters including Opera Philadelphia, and holds his doctorate from the University of Michigan.
---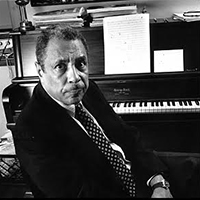 T. J. Anderson
Anderson began studying piano at age 5, and formed his own jazz ensemble at the age of 13. His love of jazz has stayed with him, and his compositions explore a range of styles from tonal to avant-garde jazz, and other African American musical traditions. He orchestrated the score of Scott Joplin's opera Treemonisha, and composed a one-act opera of his own, Walker, which explores the life of the abolitionist David Walker. Everyone from Yo-Yo Ma to Robert Shaw have commissioned works from Anderson. The composer holds 6 honorary doctorates, has taught at 12 universities, and authored countless books and articles on a range of topics. He has received some of the most competitive awards and fellowships from the Rockefeller Foundation, the John Simon Guggenheim Foundation, and the Mellon Foundation.
---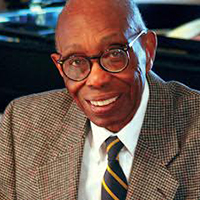 George Walker
Walker is the first African American to win the Pulitzer Prize for Music, which he received for his work Lilacs in 1996. He is the first African American to appear as an instrumentalist with the Philadelphia Orchestra, playing Rachmoninoff's 3rd Piano Concerto. He is the first African American to receive a doctorate from the Eastman School of Music, from which he also received an Artist Diploma in piano. His many distinguished teachers include the likes of Nadia Boulanger. He has composed over 90 works for orchestra, chamber orchestra, solo instruments, and chorus, which have been performed by most of the major orchestras around the world.
---
Anthony Davis
This composers and pianist is perhaps best known for his stage works. His opera X, The Life and Times of Malcolm X, was premiered by the New York City Opera in 1986. His opera Amistad was premiered with the Lyric Opera of Chicago in 1997. He also wrote the incidental music for the Broadway version of Tony Kushner's Angels in America. As a lover of gamelan music, Davis includes some elements of Indonesia music into his compositional style, along with elements of jazz, R&B, blues, gospel, and classical music. As band leader and sideman, Davis appears on dozens of jazz albums along with other leading instrumentalists.
---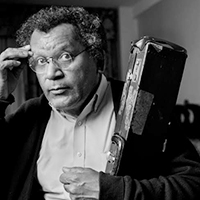 Anthony Braxton
The music by this Chicago native defies genre. The composer prefers to refer to his works as "creative music," and often has claimed in interviews that he is not a jazz musician. Critic Chris Kelsey said, "He was never really accepted by the jazz establishment, due to his manifest infatuation with the practices of such non-jazz artists as John Cage and Karlheinz Stockhausen. Many of the mainstream's most popular musicians (Wynton Marsalis among them) insisted that Braxton's music was not jazz at all. Whatever one calls it, however, there is no questioning the originality of his vision; Anthony Braxton created music of enormous sophistication and passion that was unlike anything else that had come before it." Still, Braxton has collaborated with some of the leading jazz musicians of all time, including Chick Corea and Dave Holland, and was active with the Association for the Advancement of Creative Musicians. He has recorded over 100 albums, and has received almost as many awards, including a MacArthur Foundation "genius grant."
---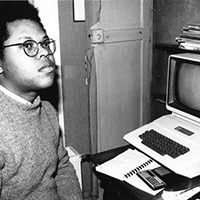 George Lewis
Another Chicago native, George Lewis is a composer, performer, and scholar who has made important contributions to jazz and to electronic music. For over 40 years, he has been a member of the Association for the Advancement of Creative Musicians (AACM). His book A Power Stronger Than Itself: The AACM and American Experimental Music received the 2009 American Book Award. A MacArthur Fellow, he has collaborated with a range of composers and musicians from Laurie Anderson to John Zorn.
---
Olly Wilson
Wilson established the degree program in electronic music at the Oberlin Conservatory, Technology in Music and Related Arts. He received his Ph.D. from the University of Iowa in 1964, and a Guggenheim Fellowship in 1971, which allowed him to study African music and language. Since, he has created commissions for Chicago Symphony Orchestra and New York Philharmonic. He was elected to the American Academy of Arts and Letters in 1995, and in 2008 won a Rome Prize. He is an emeritus professor at the University of California, Berkeley, where he taught for 32 years.
---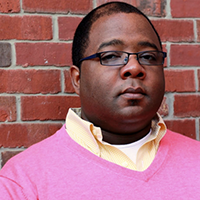 Jonathan Bailey Holland
Holland has received commissions from numerous orchestras, including the Baltimore Symphony Orchestra, the Detroit Symphony Orchestra, the Minnesota Orchestra, the National Symphony Orchestra, and the Philadelphia Orchestra. He holds degrees from the Curtis Institute of Music and Harvard University, and currently teaches at the Berklee College of Music and the Boston Conservatory. As a teacher, he is particularly committed to creating works for young musicians, and has created a number of works for the Civic Orchestra of Chicago, the Cincinnati Symphony Youth Orchestra, and the Greater Twin Cities Youth Orchestras. His works appear on several recordings including Ellington and the Modern Masters, which features his works alongside those of Duke Ellington, Anthony Davis, Olly Wilson, and Alvin Singleton.
---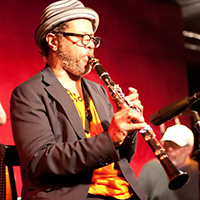 Don Byron
This composer and multi-instrumentalist plays clarinet, bass clarinet, and saxophone. Born in the Bronx, he was heavily influenced by jazz and classical music, though he also incorporates elements of klezmer, metal, and rap. In 2009, he won the Rome Prize and was a finalist for the Pulitzer Prize in music for his Seven Etudes for solo piano. He was nominated for a Grammy Award for the bass clarinet solo in the track "I Want to Be Happy" from his album Ivey-Divey.