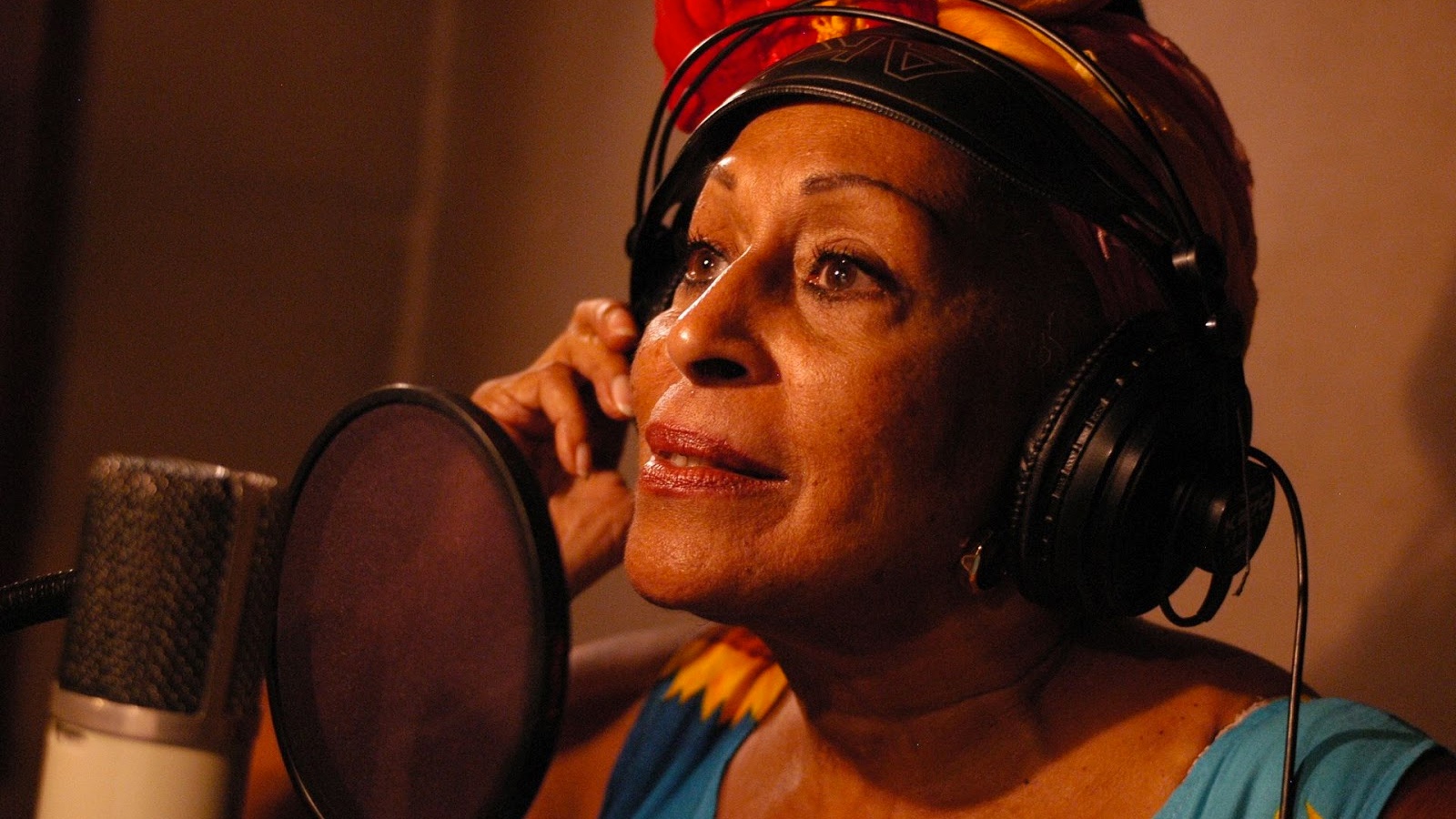 The living legend Omara Portuondo, who currently is singing on tour with the internationally renowned Buena Vista Social Club, spoke with Elbio Barilari, the host of Fiesta!
The music of the Buena Vista Social Club became an international sensation upon the release of the Academy Award-nominated documentary, Buena Vista Social Club. The film's subsequent soundtrack went platinum, was #1 on the Billboard charts, and earned a Grammy Award.
Señora Portuondo, one of the greatest singers of our time, spoke with Barilari about Buena Vista's goodbye tour, relations between the U.S. and Cuba, and the power music has to bring people together. The interview was translated by Ximena Conde.
---
Elbio Barilari: So, the first question that everyone must ask: How do you feel about what is the goodbye tour?
Omara Portuondo: Well really…we may go, but our music will remain. And that's very good because this group is a magnificent group, and it has been before the public, all the public. All the audiences where we present, they know Buena Vista.
And we don't want it to be a "goodbye" because even though the Buena Vista Social Club tour ends, we're going to continue independently, each one doing their own work. In my case, I continue with my work I had before this group and I continue keeping it (and it's all Cuban music). So we feel some heartache but, that's life.
Barilari: And this goodbye show that you guys are doing tonight, here, for an audience in Chicago, could you tell us about what people should expect tonight?
Portuondo: Well, tonight's show is the same that we're performing in all the spaces we're presenting – and we've been in Europe, in England, in various places. Buena Vista Social Club started a good while back, so of the principal musicians who are no longer with us like Rubén González, Ibrahim Ferrer…we maintain all their pieces.
When we talk about Compay Segundo we think of Eliades Ochoa, who is a musician for all times and who was there from the beginning. So his pieces, the ones they already know by him, not only because of Compay Segundo but the fact that Eliades continues them-they're recognized by the public… Eliades and Compay Segundo.
On the stage, we project pictures of Compay Segundo, of Ibrahim Ferrer, of many musicians on large screens. They are the ones who started with the group but who are no longer here. They were the principal exponents of our music. We all were a part, but they were the main, main ones. And we were the happiest because they were extraordinary people musically, and they're symbolic in our music and in our musical culture.
---
---
Barilari: It's good to know that there will be music from Omara Portuondo for some time to come- that this isn't the farewell for you!
Portuondo: It won't be because you know me from before my time with Buena Vista.
Barilari: Of course! You have had a very long career, and you have worked with super important people. You worked with Ignacio Piñeiro, for example.
Portuondo: Yes, him too.
Barilari: And you worked with Aragón, you even recorded with Nat King Cole. The Van Vans, Juan Formel, Bebo Valdés…
Portuondo: With all of them – because I started as a little girl.
Barilari: What are some of your favorite moments or that you are most proud of in your career?
Portuondo: I have always been proud of my career because our music is really part of our culture. We have music, we have art, we have excellent Cuban music…
Indians occupied our territory when the Spanish came, that's how our country was formed. There were Indians that lived on the island, then the Spaniards moved the Indians, and brought slaves from Africa. Our mix is Spanish and African. So then come us Cubans who were born there. We are children of Spaniards and Africans, maybe other countries, but fundamentally, that's what we are.
Barilari: What, in your opinion, makes the sound of Cuban music so unique?
Portuondo: Well, let's think that every country has its culture and have their primordial substantial things of their culture. For example, let's think, Argentina has tango and what does Uruguay have?
Barilari: Tango, also and candombe…
Portuondo: Well that's what happens. Each country has its original culture – music and art… in all those things that belong to what makes that culture special. And we Cubans have music that is important, very important. Just like art has been, like other things as well – orators, journalists, politicians, etc, etc.
---
---
Barilari: I have seen in some of the international press, some call you the Cuban Édith Piaf. How do you feel about that comparison?
Portuondo: Édith Piaf? I had the honor of meeting her, I can't remember whether it was in Cuba or in France. But I had the honor of working with her in a group of dancers and all those things. I had the honor of witnessing that woman on a stage. She didn't need to warm up or anything. She came out and sang excellently. I wish they had known our predecessors, like a woman named Rita Montaner, though…
Barilari: Of course!
Portuondo: She was the one who sang "El Manicero" which is one of the main things that were successful in Cuba. But maybe, Rita Montaner has yet to reach other parts of the world…
Edith Piaf? I am satisfied, very satisfied to be compared to her. But I'm sure that if they also knew Rita Montaner and other geniuses that we've had in Cuba, they would have also been able to compare me to them – great talents in music and our culture. They should be just as recognized as musicians like Edith Piaf.
Barilari: You were 10 years old when the embargo started, right? How do you feel, now that the governments are trying to better the relations between the US and Cuba?
Portuondo: Our island is small but it's our island. I am Cuban. And so well, why do we have to have those differences? If you respect me, I respect you…we could have a coexistence. That's the only reality of human beings.
Barilari: What things would you like those in the United States to know about today's Cuba?
Portuondo: They can think what they want. Health is what I want.
Barilari: No…I'm referring to what you wish they knew. Is there a message you would like to transmit?
Portuondo: That question is very broad but what I'm saying is that if they maintain interest in knowing about us, they should know that everyone has a place in the world. We're all human beings. One person takes their coffee that way, another person takes their coffee another way, and the other loves coconut water – everyone has their tastes. But if everyone has respect between the countries, things will be better because we're all human beings.
Barilari: How can we use music in today's complex world to unite people? If you think we could do that?
Portuondo: There this national poet, his name is José Martí, who fought for the independence; he said that, "Music is the soul of the pueblos." And that hasn't stopped being true. It's true because you can prove it with the fact that when one goes to all parts of the world and you sing, people accept you. The public goes – be they Cubans, be they Uruguayans, be they Argentinians. We go to Argentina and the Argentinians like our music. We go to Uruguay and we like tango, we also like Uruguayan music. We like North America. We also have had, the honor of using music to improve relations between North America and Cuba because we have had North American musicians that have gone to Cuba and that have taken, for example, the Cuban percussion. North American musicians went and talked with musicians and were integrated in their orchestras, their jazz bands, and Cuban percussion.
Barilari: Of course
Portuondo: Those are details that are of music, that is feeling and sensibility. That means that everyone can get together, so long, as they respect each other. And there was respect.
Barilari: Well Chano Pozo…
Portuondo: Exactly!
Barilari: Mario Rivera…
Portuondo: Chano Pozo…
Barilari: Mario Bauzá…
Portuondo: He lived in North America. I've known all those musicians.
---
---
Barilari: There's a new documentary about Buena Vista that comes out in the upcoming year. Can you tell us something about that new film?
Portuondo: Ahhh, you know even I don't know that? What is this? Tell me so I can know and find out?
Barilari: They tell me that they're doing a new documentary about Buena Vista so I was wondering if you could comment, give us a preview?
Portuondo: Of that, I can't tell. I'm not informed. They keep filming and filming, and filming… but I never know what for…
Barilari: Could be that it's the sequal they're filming and you just don't know!
Portuondo: I can't tell you anything about that. I imagine that just like the first one they did, which was fantastic, I saw it. It was fabulous. That disc sold, movie and everything, and one doesn't know anything about that. I knew they were doing that but it didn't come all the way to us. For example, for me it never came, the fact that, it went fabulously, they made the movie, then the economy, it never came to me…
Barilari: Oh… no?
Portuondo: Some of us.
Barilari: Did you realize the effect of the film and CD later?
Portuondo: No, we knew they were selling, but our interest was that our culture extended to the whole world because Cuban music has always… I don't want to brag… has always had a place and a space, in all parts of the world – honestly.
The money came and everything. We were so happy that there was a movie out there in the world. But we didn't know that we had that kind of recognition. It's good that it was that way, and that it was famous because that's what we wanted. It was nice that the world was taking part in our culture. And they still do today (even though we don't get all the money, but what can you do…). And we enjoy it too.
Barilari: What other things can you tell us?
Portuondo: Well I can tell you that it makes me very happy that you do these interviews, that surely shows that our music is being recognized. Not only, us, physically, but these films and everything else. In any case, we are happy that it is so. And for my part, other than working in Buena Vista, which I did precisely to bring something from our culture to the Unites States, my main work is solitary. So I am reunited with this collective and that's very nice. In any case, if they say that Buena Vista is going to end, I will start to continue working solo, which also has to do with Cuban culture.
Barilari: And we will be attentively waiting to follow that work! And one can't stop, even if one doesn't play or sing, they still keep being musicians.
Portuondo: … And so the poet keeps writing, and the painter keeps painting. Because it's your nature – that's just how it is.
---
For more information about Señora Portuondo, visit her website. For more information about the Buena Vista Social Club, visit their website.