We asked you to vote on your favorite piano concertos, which we have been counting down for two weeks along with works that might be new to you. Here are your top 10 favorite piano concertos revealed!
---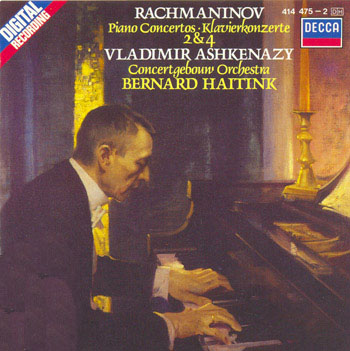 1. Rachmaninoff: Piano Concerto No. 2 in C minor, Op 18
Vladimir Ashkenazy, piano; Amsterdam Concertgebouw Orchestra: Bernard Haitink, conductor — Decca 414475-2
Rachmaninoff's Second Piano Concerto was the work that restored his self-confidence as a composer. It followed the disastrous premiere of his First Symphony, which left Rachmaninoff unable to write for three years. Ever since its first performance in 1901, the concerto's brooding romanticism has remained a favorite with audiences.
---
2. Beethoven: Piano Concerto No. 4 in G major, Op 58
Leon Fleisher, piano; Cleveland Orchestra: George Szell, conductor — CBS M3K-42445
Of Beethoven's five concertos for the piano, the Fourth has been called the most poetic. It is also, in many ways, the most innovative. There is no orchestral introduction, with the piano speaking the first words alone. What follows is a true partnership between piano and orchestra and one of Beethoven's masterpieces.
---
3. Beethoven: Piano Concerto No. 5 in E-flat major, Op 73, "Emperor"
Maurizio Pollini, piano; Berlin Philharmonic: Claudio Abbado, conductor — Deutsche Grammophon 477 7244
The Emperor Concerto is Beethoven at his most heroic. It was written during a trying time in Vienna when Napoleon's armies attacked and briefly occupied the city. Yet, there is little indication of turmoil in the work, which was dedicated to Beethoven's friend and student, Archduke Rudolph.
---
4. Tchaikovsky: Piano Concerto No. 1 in B-flat Minor, Op 23
Lang Lang, piano; Chicago Symphony Orchestra: Daniel Barenboim, conductor — Deutsche Grammophon B0000666-02
Tchaikovsky wrote his first piano concerto for his colleague Nikolai Rubinstein, who dismissed the piece as badly written and demanded major changes. Tchaikovsky stood his ground and found another pianist to give the first performance. As they say, the rest is history. The concerto has remained among the most popular in the repertoire ever since.
---
5. Grieg: Piano Concerto in A Minor, Op 16
Stephen Hough, piano; Bergen Philharmonic: Andrew Litton, conductor — Hyperion CDA-67824
Throughout his career, Grieg was known as a master of the miniature – from his Lyric Pieces for piano to the incidental music for Ibsen's play Peer Gynt. But as a young pianist, he felt the need to show his skill as a writer of longer forms. His only piano concerto is steeped in the Romantic style with a distinctive Norwegian feel that is all his own.
---
6. Brahms: Piano Concerto No. 2 in B-flat Major, Op 83
Rudolf Serkin, piano; Philadelphia Orchestra: Eugene Ormandy, conductor — Sony SM3K-47269
Brahms wrote his second piano concerto 22 years after his first. While many concertos of the time had three movements, Brahms added a fourth: an Allegro appassionato he described as a "tiny wisp of a scherzo." Though there's nothing tiny about it: it sounds more like a gale-force wind.
---
7. Rachmaninoff: Piano Concerto No. 3 in D Minor, Op 30
Yuja Wang, piano; Simón Bolívar Symphony Orchestra: Gustavo Dudamel, conductor — Deutsche Grammophon B0019102-02
This concerto, considered one of the most technically challenging in the repertoire, premiered in New York City in 1909 with the composer as the soloist. None other than Gustav Mahler conducted the second performance. Rachmaninoff said that during rehearsals, the maestro felt "every detail of the score was important – an attitude too rare amongst conductors."
---
8. Ravel: Piano Concerto in G Major
Martha Argerich, piano; Berlin Philharmonic: Claudio Abbado, conductor — Deutsche Grammophon 9349
Ravel composed his Piano Concerto in G just after visiting the United States, where jazz made an indelible impression upon him. Unsurprisingly we hear echoes of Rhapsody in Blue, which Gershwin performed for Ravel during his visit, in this concerto. The percussion section is particularly colorful, and is composed of timpani, triangle, snare drum, cymbals, bass drum, tam-tam, woodblock, and even a whip!
---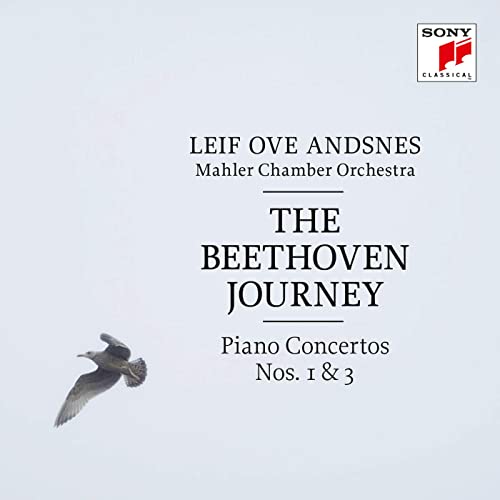 9. Beethoven: Piano Concerto No. 3 in C minor, Op 37
Leif Ove Andsnes, piano; Mahler Chamber Orchestra — Sony 88725420582
Beethoven was the soloist when this work premiered in 1803. His page-turner, Ignaz von Seyfried, said that during the first performance, "I saw almost nothing but empty pages; at the most, on one page or another a few Egyptian hieroglyphs wholly unintelligible to me were scribbled down to serve as clues for him; for he played nearly all the solo part from memory since, as was so often the case, he had not had time to set it all down on paper."
---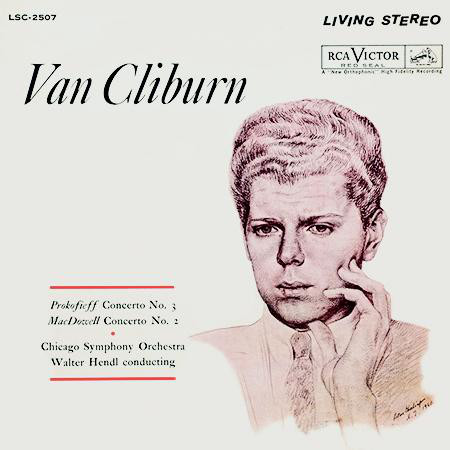 10. Prokofiev: Piano Concerto No. 3 in C major, Op 26
Van Cliburn, piano; Chicago Symphony Orchestra: Walter Hendl, conductor — RCA 67894-2
This concerto had its world premiere in Chicago with the Chicago Symphony Orchestra. The composer began sketching ideas for the work in 1913, but the concerto did not premiere in its final form until 1921. The virtuosic concerto culminates in what the composer called an "argument" between the piano and orchestra in the final movement. It has been widely performed and recorded by the great pianists of the 20th century, including by Prokofiev himself.