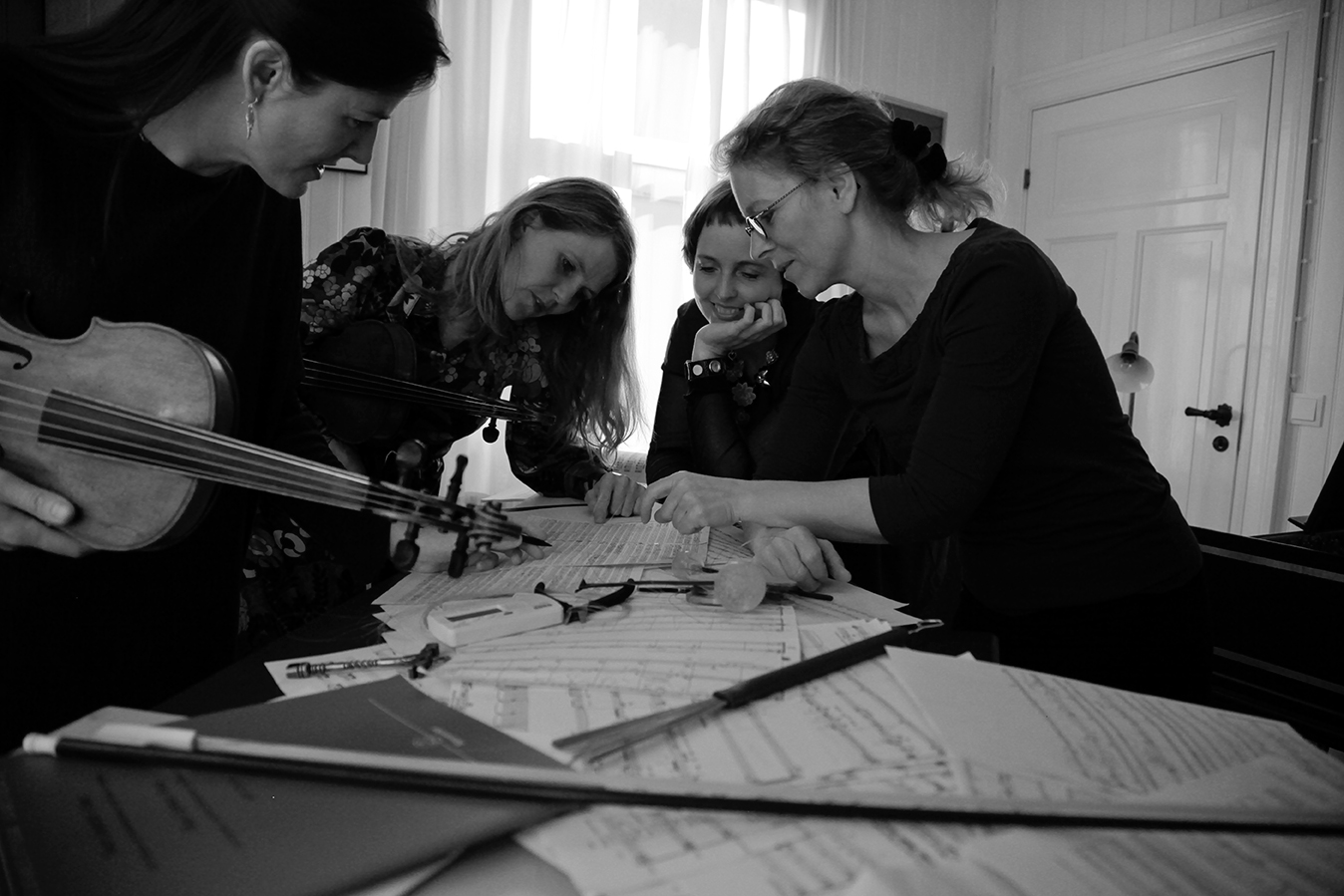 Pianist and WFMT host Dennis Moore first met Icelandic violinist Halla Steinunn Stefánsdóttir in her home country. During a trip to Iceland in 2015, Sara Su Jones, a violinist who is his partner in music and life, presented a private concert at the Residence of the U.S. Ambassador to Iceland in Reykjavik. Halla happened to be in attendance. Almost two years later, Halla came to Chicago with Nordic Affect to perform at Constellation. Dennis spoke with Halla and two other members of the ensemble about their music and what makes the music of Iceland some of the coolest stuff on earth.
---
You're the only group that's performed with both Björk and The English Concert. How would you describe what you do to someone encountering Nordic Affect for the very first time?
Halla: We have, since the beginning, performed both so-called "old" and "new" music – we play baroque music and also new electronic music pieces being created today. It's always been on our mind that music is the art form of the "now" – it doesn't live unless it's performed. These pieces would gather dust unless we performed them.
How have these various musical genres found their way into your sound?
Guðrún Hrund: It's a landmark of being a musician in Iceland – we have to. The scene is small, so we grow up doing a lot of different things, jump in, and do whatever needs to be played, you know?
Halla: But the same time, everyone in the group has completed an education in early music.
Guðrún Hrund: While I was doing my studies, for example, in Cologne, I was asked to play with Björk. Then the Icelandic String Quartet was founded. It was funny, to be in both of these worlds. I was a student in this really classical environment, where the teachers were kind of annoyed that I was playing pop music, but at the same time I experienced lots of great music and great moments with Björk, getting to know her better as an artist.
Halla: Another example – we worked with composer María Huld Markan Sigfúsdóttir, who has some beautiful music on our Clockworking album. She plays in an indie band, but she studied in the same studio as me on the classical violin. This is very common in Iceland. Musicians can compose works for a symphony orchestra one day and then play in an indie band the next day. We are not genre-free, but we jump around.
You've opened up the creative possibilities of what you can do on these instruments – violin, viola, cello, harpsichord – which are so closely associated with baroque-period music. Do you just experiment and say, "Hey, this works," and then work it out from there?
Halla: I think it's very much what people do. For example, when the violin was emerging, you can see in the music that performers were trying things out. They were like, "What kind of instrument is this? What can I do with it?" And that, for me, is something one should always bring. It doesn't matter in what century – you should have this curiosity and this hunger to search for sounds and experiment.
In other words, you harness the sound that your instrument is capable of making to go off in whatever direction you wish to take?
Hanna: I think also a lot of composers find it interesting to experiment with old instruments, baroque instruments, because for them it's also a new sound, a new world to them, and those instruments have some qualities that so-called "modern" instruments don't have.
Guðrún Hrund: Maybe these composers never thought of writing for old instruments, but they saw possibilities in what we are doing, got curious, and it developed from there. It's wonderful to have this space and this playground actually.

What is it about contemporary Icelandic music that distinguishes it as having a unique voice for people hearing it from other parts of the world?
Halla: In Iceland, I don't know if there's a specific sound. I think maybe it's that people are allowed to create their own sound, maybe that's what's special about it.
Hanna: And that relates to this idea that the Icelandic music tradition is so young that people aren't bound to a specific genre.