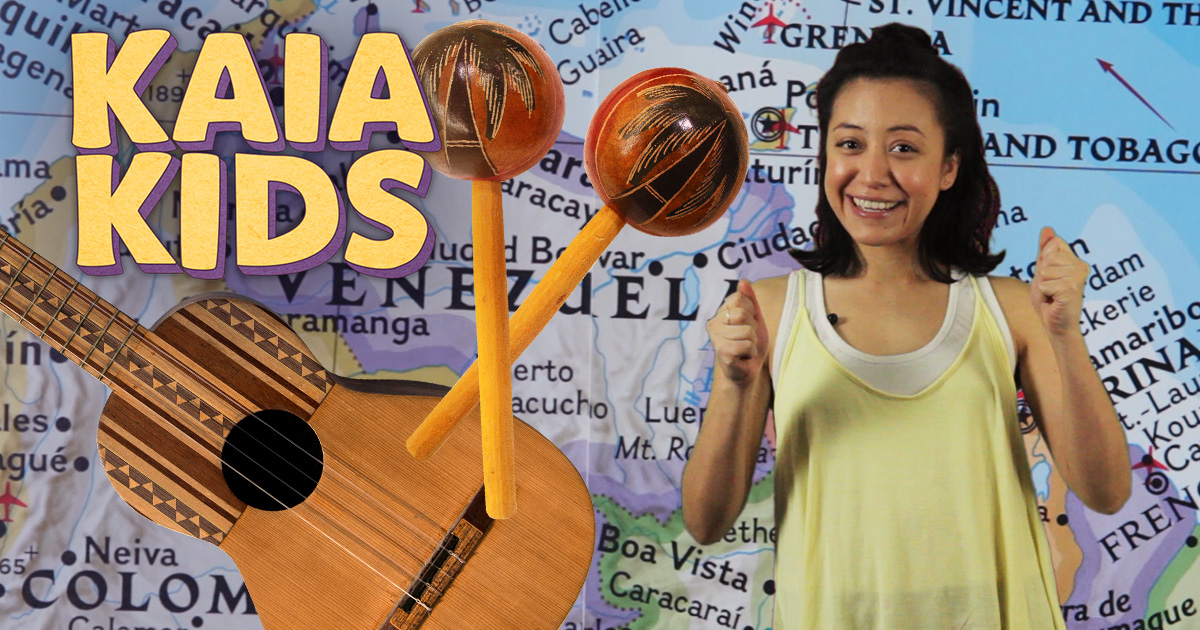 WFMT is proud to present KAIA Kids Around the World, a new web series that explores music from across the globe. As WFMT's first ensemble in residence, KAIA String Quartet is taking WFMT fans on musical adventures throughout Latin America from May – July 2017. With nine different stops throughout Latin America, KAIA is exploring the music of Venezuela May 15 – 19 on the air and online. The cultural traditions of Venezuela are as rich as its biodiversity. In the KAIA Kids adventure to Venezuela, learn about a special style of Venezuelan music and dance called joropo.
Originally, the word joropo referred to festive events in a region called Los Llanos, which are grassy plains that extend from present-day Venezuela to Colombia. The term joropo was first used in the middle of the 18th century, and could refer to either a large feast, which might involve music and dancing, or a performance, according to the Bloomsbury Encyclopedia of Popular Music of the World.
Today, joropo is Venezuela's national dance, and two musical styles tend to accompany the joropo: pasaje and golpe. The golpe is a style that uses a simple form: a short melody is repeated, though in some regions, performers add a refrain. The pasaje, also known as the revuelta, is a style that varies by region as well, though in north-central Venezuela, it can have four sections: the revuelta, yaguaso, guabina, and marisela.
While musical styles that accompany joropo can differ somewhat, the musical instruments played tend to remain the same. Special kinds of harps, the arpa llanera, or the slightly wider arpa tuyera, are essential to the sound. Guitars or cuatros – a small, four-string member of the guitar family – might also provide chordal support. Maracas can be played by a singer or separate percussion player, a maraquero.
A talented maraquero can play multiple rhythms at the same time. A complex rhythm that consists of two or more different rhythms is called polyrhythm. Though playing polyrhythms might seem difficult, the KAIA String Quartet teaches you some simple ways to play polyrhythms in their musical adventure to Venezuela in the video below.
Pianist and composer Gabriela Montero, who was born in Caracas, Venezuela, said, "the joropo is really our dance. Though I have to say that when instrumentalists play it – I'm guilty of this, too – we play it way too fast. You can't dance to it at that speed."
Montero said that when dancing the joropo, "women wear these huge, colorful skirts, and have their hair tied up in a bun with ribbons. The men wear very elegant suits. The choreography involves a lot of stomping, and it's absolutely delightful to watch."
"Joropo" by Venezuelan pianist and composer Moisés Moleiro is "a piece that I think every Venezuelan pianist plays," Montero said. "It's a simple piece, it's a very effective piece, but every audience – whether you play it in Japan or Austin, Texas – they love it." (Hear Montero play Moleiro's piece on YouTube here.)
The joropo has inspired composers outside of Venezuela, too. In the video below, listen to KAIA perform a lively joropo called "Flower of the Cayenne" by Cuban-born composer and saxophonist Paquito D'Rivera.