Sheet music, recordings of concerts and interviews, photographs, correspondence, and even the clothes that Alicia de Larrocha wore throughout her life make up part of the personal archive of the great Spanish pianist. Alicia Torra de Larrocha, the pianist's daughter, and two archivists have spent the last six years cataloguing some 10,000 items. Soon, anyone — scholars, students, and fans — will be able to find a portion of that material by visiting the archive's website dedicated to the pianist.
Alicia de Larrocha was born May 23, 1923 in Barcelona. She was just three years old when Frank Marshall, a pupil of Enrique Granados, heard her play and became her teacher. She performed in public for the first time at age 5. She was 6 years old when in December of 1929, she gave a small recital at the Barcelona's International Exposition (Exposició Internacional de Barcelona de 1929). She was nine years old when she made her first recording. Her orchestral debut came at the ripe old age of 11. That was the beginning of a career that included more than 200 recordings and over 4,000 concerts at the world's most prestigious concert halls and with some of the most celebrated orchestras and conductors of the 20th century.
De Larrocha's personal archive contains more than 10,000 documents and other items: musical scores, interviews, photographs, a trove of family correspondence, and even the gowns she wore for her recitals and other clothes that she wore throughout her life. The archive finds its home in the very apartment in Barcelona's Sarrià neighborhood where she lived from 1976. It's now the residence of Alicia Torra, who has made it her life's work to preserve and share her mother's legacy.
Six years ago, Torra started working with two researchers, classifying and organizing all of the materials in the archive. Researchers Elena Elía and Maria Ferré recently were interviewed about the project by BTV (Barcelona Television). "Everything was already very well ordered," says Elena Elía. To give a sense of the diversity and completeness of the archive, researcher Maria Ferré noted that it has, in addition to a photo of Alicia de Larrocha at the piano from her first concert, the very dress that the young Alicia wore at that concert, held in the Marshall Academy in 1929. Other ephemera include the sheet music she used to study, pencil markings still visible. It's Elena and Maria's job to catalogue and digitize every single article in the archive. Elía adds that the material was very well preserved and organized, due to the fact that de Larrocha's husband saved everything. Frank Marshall's family had also saved personal items of the young Alicia de Larrocha.
About one-fifth of the entire archive soon will be available to view online. "It's my duty to preserve her memory," says Torra in an interview from BTV, Barcelona. She defines her mother as "a humble person dedicated to music. She could be on the other side of the world, but there were always phone calls. She was a very loving mother."
The de Larrocha archive will allow access to her most personal belongings, and will be available for all those who wish to study her work or simply get a glimpse into her life.
Journalist, author, and radio host Mònica Pagès Santacana worked closely with the archive and Alicia Torra for Alicia de Larrocha: Notas para un genio (Alicia de Larrocha: Notes for a genius), published in 2016 in Spanish by Alba. An English translation is expected soon. This first biography of the pianist also includes a CD of previously unreleased recordings. No translation needed for that!
---
---
Also availing itself of archival materials is a recent documentary, Las manos de Alicia (Alicia's hands.) It's a portrait of a life devoted to musical study and the pursuit of musical purity and perfection. Internationally renowned artists such as André Previn, Maria João Pires, Martha Argerich, and her very close friend, Joaquín Achúcarro, speak of her technique and passion, and explain why Alicia de Larrocha is considered one of the 20th century's great pianists.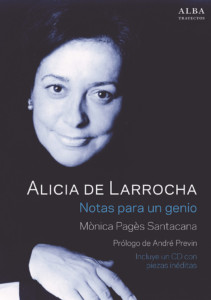 In the words of André Previn, Alicia de Larrocha was renowned for her "…beautiful sound, amazing technique and her truly immaculate rhythm. She had it all. Listening to her was always like taking a lesson from a master," he wrote in a letter read at her 2010 memorial service in New York.
Whether simply to browse or engage in research, the Alicia de Larrocha Archive (Arxiu Alicia de Larrocha), the recent biography, and the documentary make it possible for all to gain an appreciation for her artistry, to understand her commitment to art, and perhaps most importantly, to share her joy in making music.