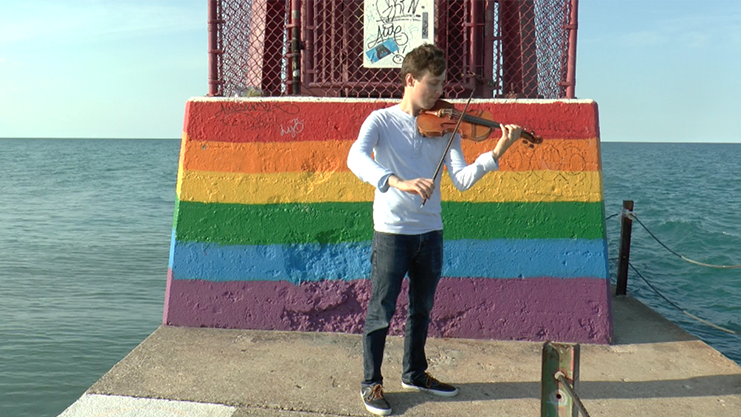 At the age of 16, violinist Artem Kolesov left his native Russia to pursue his dream of becoming a professional violinist. After playing the violin since the age of 6, he received a full scholarship to continue his musical studies in Canada. But leaving his home country didn't just offer the opportunity for professional advancement, it was also a chance to escape a life of constant fear and persecution.
In early 2017, Kolesov came out as gay in a powerful video published on Facebook just days after his 23rd birthday. Titled "Why coming out is so hard in Russia," the video offers a tearful confessional of his personal journey coming to the United States via Canada, and his journey learning to love himself. Since, the video has received over 75,000 views and was also shared by BuzzFeed and NPR.
He was honored at the 2017 Logo TV Trailblazer Awards for courageously sharing his story with the world, and for his commitment to helping others secure safety and citizenship.
Kolesov shared one of his favorite works for solo violin, the Largo from Bach's Violin Sonata No. 3 in C major (BWV 1005), and more about his story with WFMT which you can watch in the video below.
Kolesov performs a benefit concert in Chicago along with violinist Rachel Barton Pine and the YAS Quartet, of which Kolesov is a member, at the Center on Halsted, August 26, 2017. Proceeds will help him and other LGBTQ refugees fleeing persecution.