Chicago Tribune film critic Michael Phillips presents The Film Score: Music for Oscar Week 2018, his third year of celebrating Oscar week on WFMT. Phillips features music from each of the five composers nominated in the Best Score category: Jonny Greenwood (Phantom Thread), Hans Zimmer (Dunkirk), Carter Burwell (Three Billboards Outside Ebbing, Missouri), Alexandre Desplat (The Shape of Water), and John Williams (Star Wars: The Last Jedi).
Tune in to WFMT to hear segments of The Film Score at 9:05 am and 6:00 pm weekdays during Oscar week 2018. After the 90th Academy Awards ceremony on Sunday, March 4, tune in to hear an hour-long special with Phillips at 10:00 pm on Monday, March 5. You can also listen to each segment below.
---
---
1. Phantom Thread (Jonny Greenwood)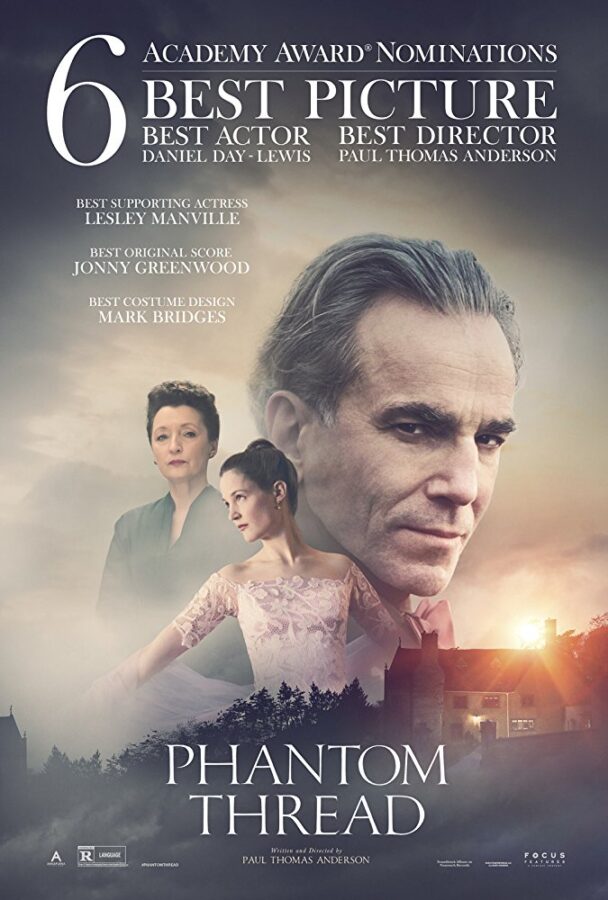 We begin with Michael Phillips's favorite nominee and score, Jonny Greenwood's music from Phantom Thread. Known as the lead guitarist for the band Radiohead, Greenwood has also become a popular film composer, most notably for his Oscar-nominated music for Paul Thomas Anderson's There Will Be Blood in 2007. Phantom Thread—supposedly Daniel Day-Lewis's last motion picture appearance—takes place in 1950s London and tells the story of a dress designer, Reynolds Woodcock (played by Day-Lewis), who falls in love with a woman who becomes his muse, Alma, played by Vicky Krieps. Greenwood's score makes use of a wide range of classical and popular standards, from Debussy's String Quartet No. 2 in G minor to the Kurt Weill and Ira Gershwin song "My Ship" from the musical Lady in the Dark.
Greenwood takes these preexisting melodies and intertwines them with his own compositional flair. The track "House of Woodcock" demonstrates the achingly lush sound world that Greenwood has created. Even though the score is brand new, it has the mysterious shimmer of something that has been around for decades.
---
2. Dunkirk (Hans Zimmer)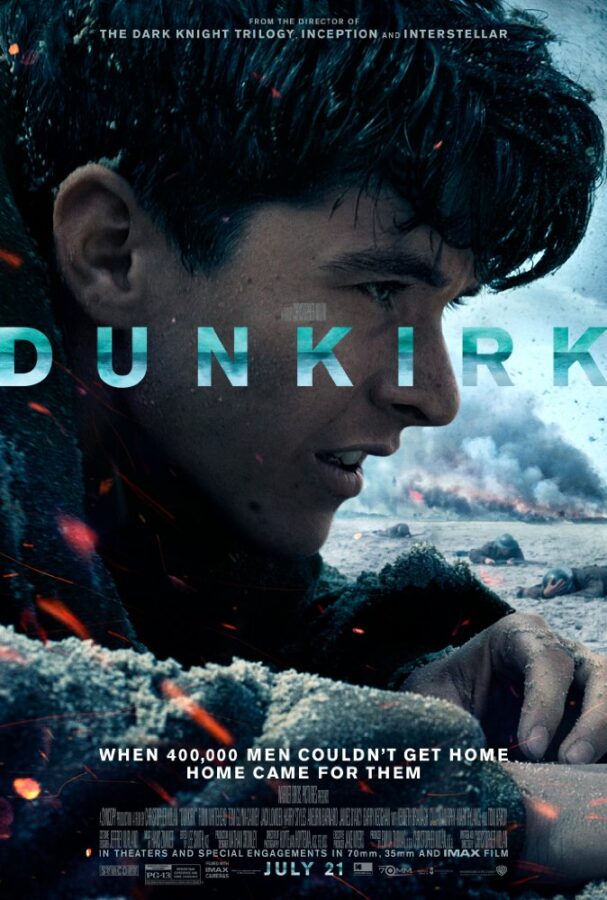 Before Hans Zimmer was known as a film composer, he was knocking around London with a band called The Buggles. You might recall their hit "Video Killed the Radio Star" (the first music video aired on MTV in 1981 – yes, we provide a sound clip for historical context). Zimmer is best known for his epic scores for such films as Gladiator and the Pirates of the Caribbean franchise. In his sixth collaboration with director Christopher Nolan, Zimmer creates the sound of wartime survival in Dunkirk. Specifically, Zimmer uses what he calls a "grid of tension" with an auditory illusion called Shepard tones. As the bass tone comes in, the treble tone fades in and out continuously, giving the impression that the music is ascending. Zimmer slowly unravels this sensation in order to create a constant loop of anxiety.
Zimmer also had assistance from 2 composers on the score for Dunkirk, and one of them, Benjamin Wallfisch, arranged Sir Edward Elgar's "Nimrod" from the famous Variations on an Original Theme, Op. 36, known more popularly as the "Enigma Variations." Elgar had 14 variations in his masterpiece, and Wallfisch titled the work "Variation 15." "Nimrod" has been heard at many solemn British occasions, and in this orchestration, Wallfisch expands the theme in an even grander fashion, paying homage to the troops of Dunkirk.
---
3. Three Billboards Outside Ebbing, Missouri (Carter Burwell)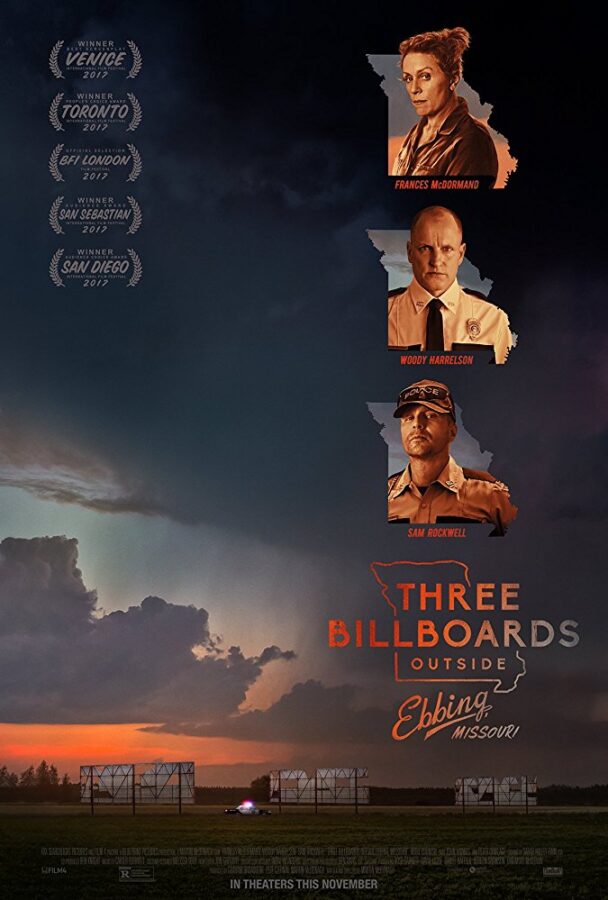 In Martin McDonagh's Three Billboards Outside Ebbing, Missouri, Mildred Hayes, played by Frances McDormand, is at war with the small town police. The police have essentially given up on finding the rapist and murderer of Mildred's daughter, but she has not. Carter Burwell is used to scoring music in the realm of dark comedy (think of the Coen brothers' film Fargo), and his music for Three Billboards is no different. The film also alludes to the Western genre, and in the track titled "Mildred Goes to War," Burwell uses guitar, mandolin, foot stomps, and hand claps to create an image of a woman seeking revenge in her own brand of frontier justice.
We also feature Burwell's music for a lesser known Coen brothers film, A Serious Man, an ode to rotten luck that takes place in 1967 Minneapolis. The last piece of music in the segment comes from Charlie Kaufman's animated feature Anomalisa, about a motivational speaker's quest for love in a Cincinnati hotel. In all of these selections, Burwell's music is contemplative and yearning.
---
4. The Shape of Water (Alexandre Desplat)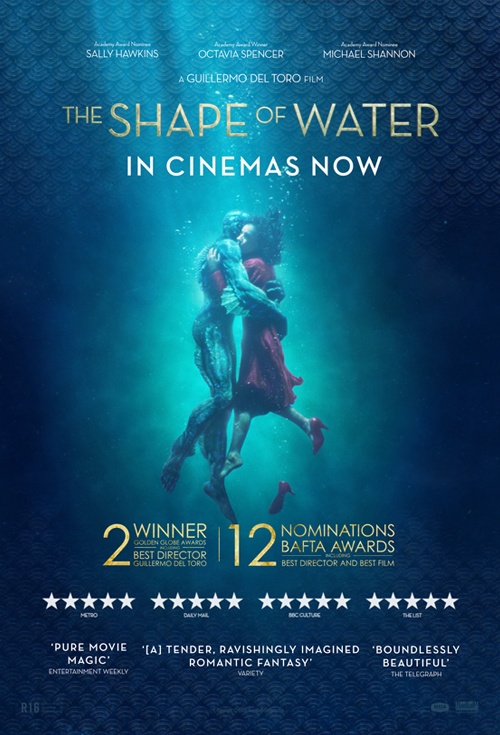 Set in 1962 Baltimore, The Shape of Water is Guillermo del Toro's combination of Beauty and the Beast and Creature from the Black Lagoon. Though in this version, the creature is the good guy. But how does a composer create the sound of the shape of water? Alexandre Desplat tried to create "the sound of water, or the feeling of water more importantly" with a theme that "plays arpeggios like waves." Desplat, who won an Academy Award for his music to The Grand Budapest Hotel, is known for his light touch and adventurous spirit. For The Shape of Water, he composed a waltz titled "Elisa's Theme" that floats freely like water itself.
We also feature some of Desplat's jaunty music from the animated film Fantastic Mr. Fox. In a lesser known film and score, Desplat's music for The Painted Veil, like The Shape of Water, captures a languid, fluid sound world in the midst of romance.
---
5. Star Wars: The Last Jedi (John Williams)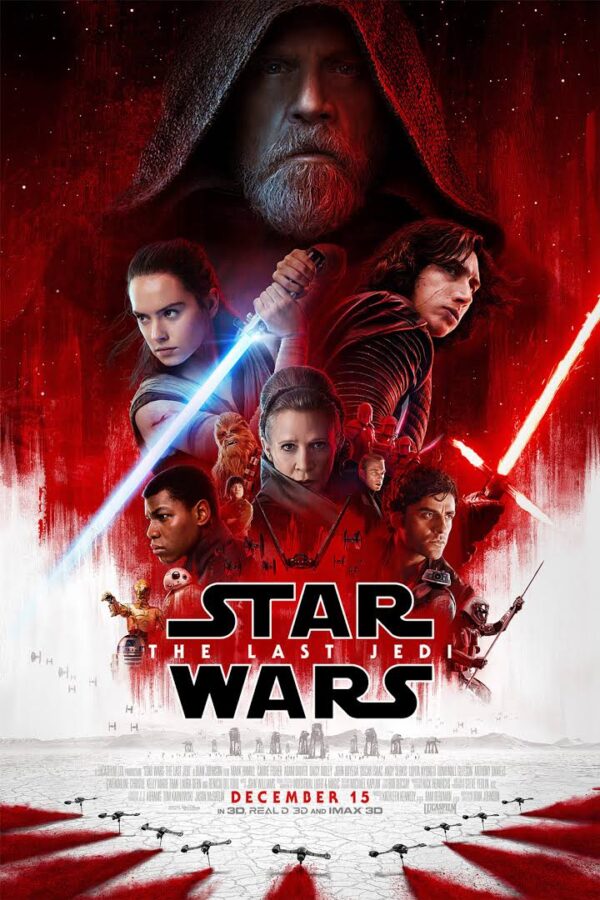 In our final segment of The Film Score, we feature the second most nominated person in Oscar history: John Williams. Williams received his fifty-first Academy Award nomination for Star Wars: The Last Jedi. We feature a piece of music titled "The Rebellion is Reborn," which uses some familiar Star Wars themes but in a new compositional light. Williams began composing for the movies in the 1960s (when he was going by "Johnny Williams"), and his film debut was for a picture called Daddy-O. We feature a Williams bossa nova from the notorious 1967 film Valley of the Dolls.
 Williams is credited with so many memorable themes from across the decades, and it is impossible to fit them into one segment. We conclude with a track from Steven Spielberg's Minority Report called "Everybody Runs!" because it is a reminder of how musically agile Williams can be when the action (in this case, Tom Cruise sprinting for his life) calls for it.
---