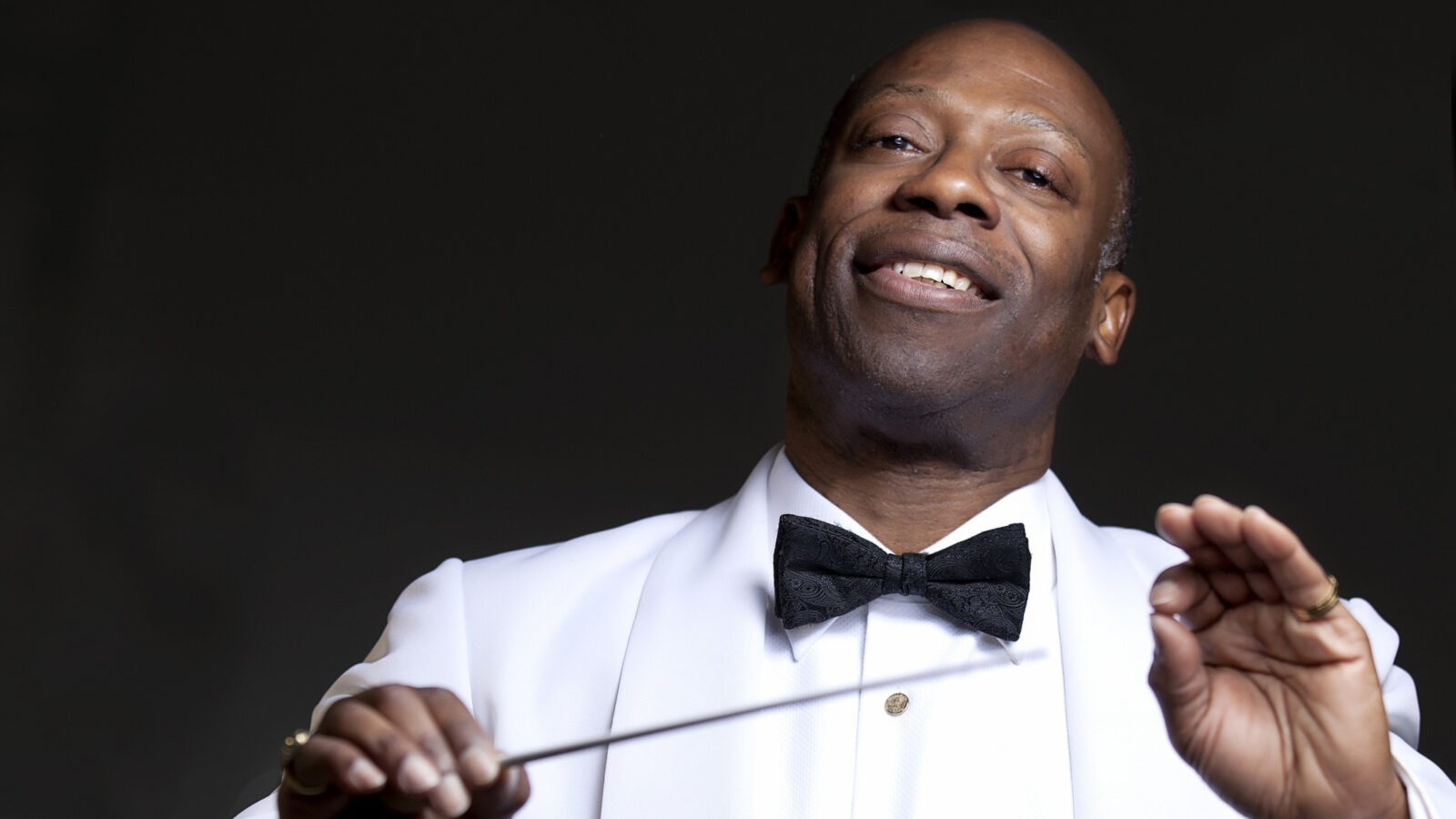 Dr. Leslie Dunner, the newly-appointed conductor of the Interlochen Arts Academy Orchestra and the music director of the South Shore Opera Company of Chicago, never expected to be a conductor or a music educator. He never even planned to have a career in music.
His first foray into music occurred by chance. In his elementary school days, his school administered aptitude tests, and Dunner did well in music, art, and science. He opted to pursue the clarinet, but not for the reasons you might expect.
Dunner recalls being curious about the clarinet when groups would come to perform at his elementary school. "It had nothing to do with the sound or the desire to be a musician. I was just told I had this aptitude and wanted to find out what this person called a clarinetist was doing."
Though he enjoyed the clarinet, Dunner didn't consider pursuing music professionally. After high school, he matriculated to the University of Rochester on an engineering scholarship. He eventually realized engineering was not for him — Dunner knew he wanted to do something else, but he wasn't sure what.
His mother encouraged him to choose another major in a field that interested and excited him, so he returned to music, and took up the clarinet again for the first time since high school and attended a music summer program in Nice. After a formative experience at the program, Dunner remembers, "I didn't know what I was going to do for a living, but I knew was going to be a musician."
He completed his degree in clarinet performance at the Eastman School of Music and went on to receive advanced degrees in music theory and musicology before landing a conducting position at the Detroit Symphony Orchestra. It was only after a few years conducting at DSO that he realized his music career would be in conducting, not in clarinet. He later received a doctorate in orchestral conducting from the University of Cincinnati, and he went on to be the music director at the Joffrey Ballet and guest conduct the New York Philharmonic.
Another unexpected career discovery came out of a private lesson with Dunner's nephew, a drummer. Ten minutes into their lesson, Dunner's nephew asked why he wasn't a teacher. Dunner recalls the conversation — "My nephew said, 'I see you light up in a way I haven't seen in years. I hear the excitement in your voice. You obviously love teaching!'"
Leslie Dunner's indirect route to teaching and conducting informs his work as the music director of the South Shore Opera Company and will guide his approach at Interlochen.
South Shore Opera seeks to train and further the careers of young singers and instrumentalists. "We are an inner-city opera company," Dunner says, "We focus on works of marginalized composers and marginalized performers. Most of our performers are people of color." In addition to promoting lesser-known repertoire from composers of color, South Shore Opera aims to support artists by giving them a path into organizations like the Lyric Opera of Chicago and Chicago Opera Theater.
As the conductor of the Interlochen Arts Academy Orchestra, Dunner wants to expand the musical base of its students and encourage more collaboration across artistic disciplines. The Interlochen Academy is an arts boarding high school that is also the site of the Interlochen Arts Camp, which hosts the World Youth Symphony Orchestra and has a prestigious reputation for attracting young musicians from around the world.
Dunner shares that he wants to increase the caliber of music performance while broadening the academy's musical repertoire. Their most recent concert boasted a varied program with works by Duke Ellington, Leonard Bernstein, and Alberto Ginastera. Dunner notes, "Faculty members have told me that the students are excited in a way that they haven't seen in a long time."
Dunner is also intent on building interdisciplinary bridges within the Academy. He hopes that this effort will help to encourage a drive for holistic, multifaceted learning among students. "The school is also trying to unite all of our different disciplines including music, drama, comparative arts, literature, and film studies. I want to make sure that my work at the Academy helps to incorporate all of these different facets, so we do work collaboratively. We want people who want to move in a new direction. And we want our students to have a well-rounded background in arts or science. If they want to go on in dance or in film or in literature, they can."
Leslie Dunner's multidisciplinary background, which has guided him through his career, informs his advice to young artists.
"Make sure you don't overload yourself so that you're not trying to bring in everything simultaneously. Focus on one or two things at a time. Develop a strong proficiency there, and then add something new. Don't limit yourself by saying, 'I'm going to be a dancer, so I'm not going to study chemistry.' You need to be a well-rounded human being. You don't have to be locked in at 20, or 30, or 40. As long as you're living, you have choices. Take advantage of them."