Violinist Rachel Barton Pine has always had an interest in looking beyond the classical canon. In addition to the acclaim she has won for her interpretations of music by well-known composers like Bach, Handel, and Paganini, Pine has also sought to include underrepresented composers in her repertoire.
A native Chicagoan, Pine grew up looking for new and exciting pieces to play at her favorite sheet music shop, Performers Music. She gravitated to pieces inspired by the blues and jazz, and her passion for this music eventually led to an important undertaking: the founding of the Music by Black Composers Project. With its social media hashtag "#expandthecanon," the project aims to show young Black artists and audience members that "they are part of classical music's past, and that this is not somebody else's music."
Pine's interest in expanding the canon was first highlighted in her 1997 album, Violin Concertos by Black Composers of the 18th and 19th Centuries. After the release, Pine describes that she would "field questions from students, parents, teachers, and colleagues about where to find more works by Black composers."
Barton notes that over the course of 15 years, the Music by Black Composers Project has gathered over 900 pieces by more than 350 black composers, both men and women, from around the world. Pine says, "It's just a real treasure trove of music from the 1700s to the present day."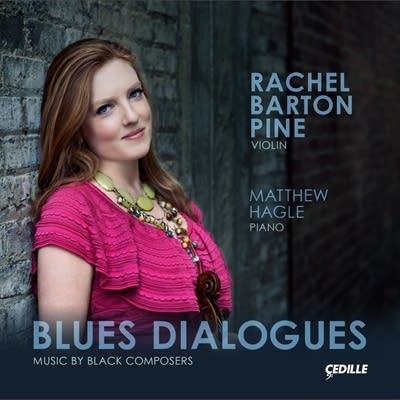 Pine's new album, Blues Dialogues: Music by Black Composers, features some of these musical treasures. One of her favorite pieces on the album is A Set of Dance Tunes for Solo Violin by Noel DaCosta. Born in Nigeria to parents of Jamaican descent, DaCosta was a composer, jazz violinist, and choral conductor who spent his career in the US.
Pine says she is starting to see a shift in how orchestras and arts organizations across the country engage with these underperformed works. "Instead of being resistive and only wanting to play things that are familiar… now orchestras are really realizing that our audiences do want to hear more women composers, they do want to hear composers of color," she states. "I think there will be more opportunities for my colleagues and me to play a greater diversity of repertoire going forward, which I'm so excited by."
As part of the Music by Black Composers Project, Pine has developed a directory of living composers that is sortable by gender, geographic region, and year of birth. She has even published a coloring book for children that features 40 diverse composers.
Pine hopes her work will help young artists develop and maintain a more accessible and inclusive classical repertoire that will ultimately #expandthecanon.
"If students grow up with this [music], they're not going to accept having a narrow concept of repertoire when they become the next generation of presenters, performers, and audience members," Pine states. "I always look at the long-term, the big picture, and hopefully I am doing my part to help change the world."