Tonight, baritone Lucia Lucas will sing the title role in Tulsa Opera's production of Don Giovanni, making history as the first trans opera artist to star in a professional American opera production of a standard repertory opera. In this previously unpublished interview from 2018, WFMT spoke with Lucia about her background, her connection to Chicago, and her hopes for her American mainstage debut.
---
Background — in opera and in life
When I was 5 or 6 years old, I knew. I knew that people said that I belonged to this category, to these boys, to these aggressive types, to this personality archetype almost. I was repelled by that and felt much a part of this other group — the girls around me. And I was told I was not a part of that. There was this kind of hyper masculine – toxic masculinity growing up. Gender and sexuality are enforced at a very young age. If I walked a certain way, that wasn't ok. I had to talk this other way because boys don't talk so much. It was all these little corrections here and there.
In one way, it's corrections towards what the society is set up to be, but it's also a thousand paper cuts on your identity. Little by little by little, your individual personality starts to get chipped away. You lose your sense of self.
I was born and grew up in Sacramento, and I went to California State University Sacramento. I was torn between pursuing computer science and music. And the people in music, they were my tribe. Although I wasn't out at that time, I was still an artsy person, and it just felt right. I needed that community at that point in time. I started out playing horn and a little bit of singing. I eventually joined the vocal department and ended up doing my French horn degree and my voice degree simultaneously.
When I completed my Bachelor's in 2005, I decided to go to Chicago. I went to Chicago College of Performing Arts at Roosevelt University, which is in conjunction with Chicago Opera Theater. I had smaller roles in COT's operas, including Don Giovanni, La clemenza di Tito, and Owen Wingrave.
I hope I can come back to Chicago and work there sometime. I had a blast. I really enjoyed that city. And it's been my favorite in the US that I've ever lived in. It's a big beautiful city — the architecture is gorgeous. If I could live anywhere and still be able to do my job, Chicago might be that city. It would definitely be in the top three. So hopefully, I'll be back at Chicago Opera Theater or the Lyric.
On opera as a queer space
Going through the history of opera, "genderbending" has always been present. There's always been a sort of queering of opera. We have this group called pants roles that are men's roles or boys' roles for women, and there are people who specialize in that. And that's not a problem — that's accepted in the artform.
But when I said, "I'm just a pants baritone," then people would go, "Oh no, that doesn't count." There's been this weird reaction to me coming out. I've had friends assume, "So you're not gonna sing anymore?" I respond, "Why would you think that?"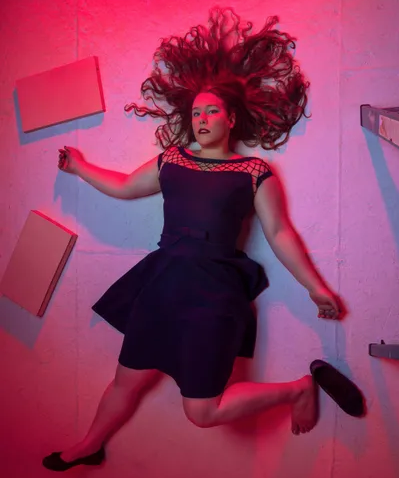 Going back for years, nobody had really come out as trans at a professional level. There were various trans people who were studying and in school, but nobody in the established field had come out. So my coming out was me saying, "The only thing that's different is that I am now privately living my life as a woman. There's no difference aside from that. Do you have a problem with that?" I came out after I was already singing professionally. There's plenty of recordings over the last 10 years of me singing, and my voice has stayed the same. It's been almost 4 years since I came out, and only now are people starting to make a big deal about it.
I didn't take any time off when I first began transitioning. I came out as trans to my theater on a Monday, and that week, I had three or four performances. It was all kind of a whirlwind. I wasn't sure how much resistance there would be. Of course, there was plenty of resistance because people have a hard time with trans people sometimes. But I was able to set that aside and say "this is work, and my private life is my private life."
It was easier to think about it as a job. It was important for me to go perform masculine roles and do it in a masculine way on stage, as I'd been doing throughout my career. Because I have studied basically my entire life how to play a boy or a man in real life, I have this repertoire of learned mannerisms and speech patterns and it wasn't so difficult to do those because I had been acting my entire life.
Deconstructing Don Giovanni
I think that much of Mozart's library is just timeless, if not all of it. In the character of Don Giovanni, you have somebody who really enjoys conquests. So much so that their sidekick has an aria about how many women they've slept with. That's a very masculine thing, numbering conquests. But I almost think that the inner workings of the other characters are more interesting. Giovanni is sort of a straightforward character. I think it's how all of the other characters react to Giovanni that is more telling about their character. I think that Giovanni is in some way more straightforward than the other characters. From the beginning he just says, "I want this," and then he goes after that.
But even if you do a traditional interpretation of a show where I am featured, there's going to be another layer there. In this masculine character, there are things I can tease out. When I do it, it's not just this slamfest against women. I think I can really show the hypocrisy of toxic masculinity. That's something I love to bring out.
Tulsa Opera's Don Giovanni
When I do my Don Giovanni in Tulsa, I already know that queer people who have never seen an opera are going to buy tickets. I think that the opera model underestimates the loyalty that the LGBTQ community has. When their chosen family gets supported in any artform, they want to show support. It's been a conservative art form for a very long time, and the audiences have been dwindling.
I hope that singing in Tulsa serves as some sort of proof — if people need that — of how I sing, of how everything works. Hopefully the tickets sell well, and hopefully it's just a proof of concept for other American houses, that it shouldn't be a worry to have me sing at their house.
---
Editor's note: This interview was conducted by Stephen Raskauskas in April 2018. It has been edited for clarity.