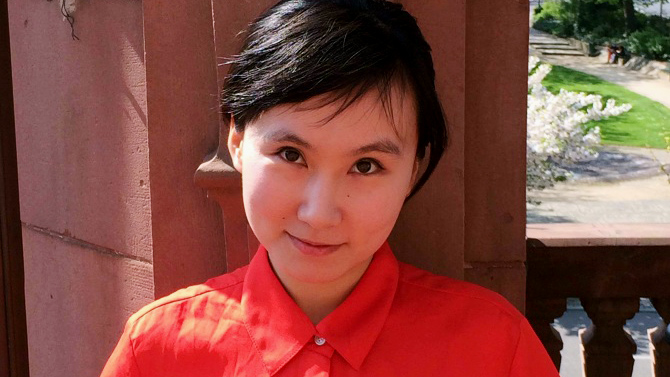 "Maybe we're getting used to being misunderstood… Hopefully, [through] music, we can be more open," reflects Wang Lu, a composer and a professor of music at Brown University.
Her work, Code Switch, will have its world premiere to open the first MusicNOW concert of the Chicago Symphony Orchestra season. The performance, which was programmed by CSO Mead-composer-in-residence Missy Mazzoli, also features works by LJ White and Francesca Verunelli. One of four MusicNOW commissions across the season, Wang's piece takes the form of a fanfare and considers the specificity and universality of music.
The piece's name fits its manifold musical inspirations — code-switching describes the act of changing between languages or dialects, often as a means to match to a certain social setting. Wang, who was born in Xi'an, China and spends time in Chicago during the academic offseason, describes her piece and its range of inspirations as a study of code-switching and sees its performance setting as a sort of code switch exercise for audiences, who might be accustomed to more standard classical repertoire.
WFMT spoke with Wang about code-switching, her background in music, and how it inspired this work.
WFMT: The title and concept of Code Switch are really fascinating. What does that term mean to you?
Wang Lu: The title Code Switch is a term from linguistics. I was born in China and I'm also American — I've lived here since 2005. The term really fascinates me. I have a one-year-old baby and I'm married to a native English speaker, so we are constantly switching between Chinese and English, often in the middle of the sentence. It's kind of subconscious code-switching. Everyone is code-switching all the time, we just don't admit it. You have different roles and understandings and circumstances.
WFMT: What was your inspiration for the piece?
Wang: The initial idea for the piece came from being bilingual but realizing I could never be a native speaker, thinking about how music can serve as a translator. When I got the commission from Missy Mazzoli, she asked me to write something for brass and percussion. That gave me the idea of a fanfare.
If you think about people who have no experience with concert music, they don't associate fanfare with the orchestral setting. Of course, there's military fanfare and other kinds of fanfare in different cultures: it sounds different in Tibet or in the Alpine.
I also thought about my hometown in Northwest China, where they play brass and percussion instruments, often out of tune. Not only at the beginning of weddings and rituals, but they play through the whole proceedings. It's much less polished and urbanized.
I was born in the early 1980s. The Cultural Revolution ended in 1976, and China opened up economically. I started playing the piano when I was 5 or 6, but out in the streets and in society, it was an era of pop music coming from America, from Japan, from Hong Kong, from Taiwan. I embraced pop music, I loved doing karaoke with my friends, that was part of my very early upbringing. But also, my father used to be a Beijing Opera professional, so I had this exposure to Chinese music and Western pop music and Western classical music going on simultaneously.
I thought that through the techniques of composition, I could create a hybrid of influences and references.
WFMT: With all these influences, it seems like this piece could serve as a codeswitching experience for its audience. How do you think this idea fits into the scope of the MusicNOW series?
Wang: My husband and I go to a lot of MusicNOW concerts. We love the series: it's a very unique vibe — it attracts people who we don't usually expect to go to new music concerts.
When audiences hear something they know, they have the satisfaction of recognizing the work. But with new commissions, you don't know what you're going to hear. Regardless of their own musical styles, the composers-in-residence all seem to be able to program a quite diverse range of composers and music. With Missy Mazzoli, I saw some of her programs from last season, and I'm very impressed with how open she is. For her own music, it's always transforming in an unexpected way. I don't think a composer has to find a voice, so I appreciate the unpredictability. You think about composers: we are very privileged to do what we do. We just sit there and write music — it's crazy! With such freedom, why not do something you think is crazy?
---
Community Acoustics opens the 22nd season of  MusicNOW, and is held Monday, October 7 at 7:00 pm at the Harris Theater. For ticketing and information, visit cso.org.
This interview has been lightly edited for length and clarity.