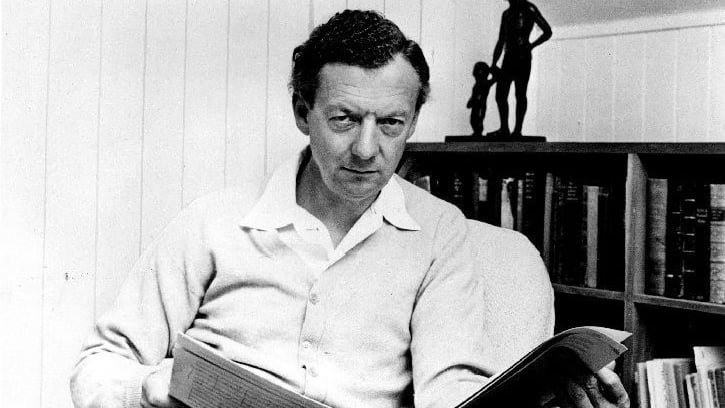 As one of the most important classical composers of the last century, Benjamin Britten played a huge part in shaping the trajectory of classical music. And as an artist of the 1900s, Britten was also shaped by the many devastating wars of the 20th century. A lifelong pacifist, Britten was granted conscientious objector status in 1943. Over his career, Britten used his music to explore themes of pacifism, most overtly in his War Requiem and in his opera Owen Wingrave.
Cornish baritone Benjamin Luxon, CBE, created the title role of Owen Wingrave, a young man who rebels against his family's military pedigree. The opera, which was adapted from a short story by Henry James, was commissioned by the BBC for TV.
Over Luxon's uniquely varied career as an opera, concert, and folk singer, he enjoyed a close association with Benjamin Britten, for whom he worked as a member of the English Opera Group. WFMT spoke with Benjamin Luxon about the themes of pacifism in the works of Britten.
---
WFMT: When you started working with Benjamin Britten, was his pacifism evident to you as a colleague?
Benjamin Luxon: No, not at the time. I first started to work with him in 1963. I was a country boy. I can honestly say I didn't know very much about anything. I had done a sort of hodge‐podge course at the Guildhall School of Music, and then I was in the profession. My first real break was with the English Opera Group. They lost a name baritone for a tour to Russia and had to resort to the new generation of singers for a replacement, so I got the contract.
Working with Britten, I wasn't aware of this pacifist side of him, which he never emphasized working with this group. The main thing about Britten is, one was totally in awe of his musicianship. It was like being the insect under the magnifying glass. He knew everybody's ability very well, and he was displeased if things did not go the way he wanted them.
As I got to know him over the years, and his pacifism did come through, but it did not come through personally. I never sat down with Ben and discussed his views on the world, violence, and pacifism, or whatever.
WFMT: Even if he was quiet about it in his private discourse, Britten created two of the most overt musical statements against war that have ever been written in the War Requiem and Owen Wingrave.
Luxon: The two pieces for me are very different. What I loved about Wingrave was the way the character developed. Here's this young man born in Edwardian England. He is coming from a military family with a huge tradition coming down through 100 years or so. He is studying to move into a military career. Then he begins to query it, and I think the really interesting thing in the opera was his slow development and the reaction of his family, which was pretty violent. Of course, ultimately he was accused of cowardice. He gradually works out that he doesn't want a life in this world of killing and violence, and what he really wants is a world of peace. And this comes out in the big "Peace Soliloquy."
---
---
WFMT: Is there any parallel between the journey of Owen Wingrave and your journey from country boy to international singer?
Luxon: The interesting thing was I had a huge musical instinct, and just as much a literary instinct. And so my musical career opened up literature for me, because we sing words. And that was as interesting to me as the music. The real pacifist statement from Britten was the War Requiem, and I think it is a truly, truly great piece.
Strangely enough as a boy, we had not many books in the house, but we had a picture book of WWI. I remember looking at these books and seeing these pictures of trench warfare, and I was always fascinated by that war. There was a kind of horror to it. The actual legacy of poetry from that war is tremendous, and these poets were not well known until the War Requiem. [That piece] suddenly brought an awareness of that war and those poets.
The feeling when you look at that war was, how could there have been another war after that war? How could the human race do it? It was so appalling, the waste, expressed by these poets, particularly Wilfrid Owen, whose texts are in the War Requiem. And the fact that Britten could take these poems and implant them into the Latin Mass was, I think, incredible.
---
This interview has been lightly edited for clarity
WFMT premieres Whole Notes: Music of Healing and Peace Friday, December 13 at 8:00 pm. Click here learn more.