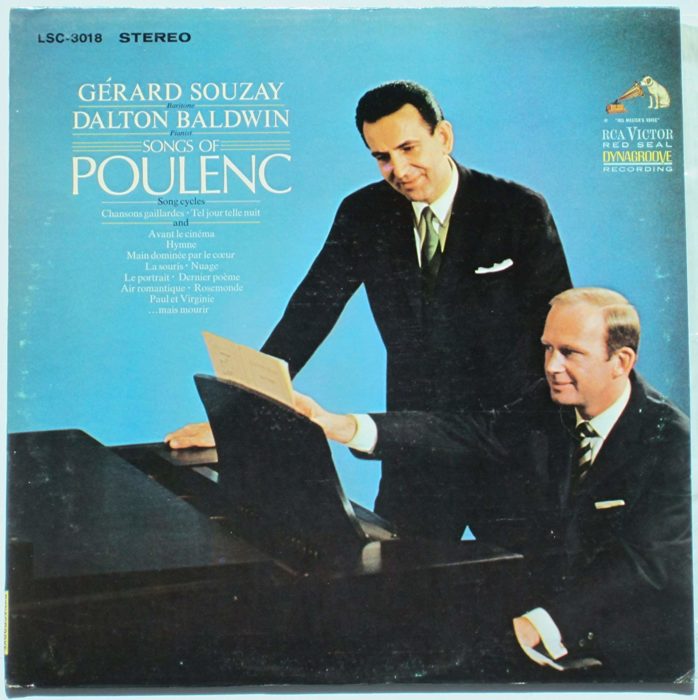 American pianist Dalton Baldwin died Thursday, December 12, at the age of 87, just 5 days shy of what would have been his 88th birthday. His association with singers Elly Ameling, Jessye Norman, José van Dam, Teresa Berganza, Mady Mesplé, and above all, baritone Gérard Souzay, with whom he concertized for over three decades, literally defines the history of European art song performance in the second half of the twentieth century. His recordings, numbering more than one hundred, are essential references for music lovers.
Pianist Samuel Sanders first coined the term "collaborative pianist" in the mid-1980s, and if any pianist exemplified and embodied the term, it was Dalton Baldwin. For most of his career, he was known as an accompanist, outdated nomenclature that cannot begin to describe his musical sensitivity to the needs of a singer. Dalton Baldwin was truly a collaborative pianist, approaching a work for voice and piano as would a chamber musician approach a reading of a string quartet, reacting to and supporting the singer with whom he shared the concert hall stage and the recording studio. It should be no surprise, then, that he was equally at home working with cellist Pierre Fournier and violinist Henryk Szeryng, and, although he will be remembered best for his many performances and recordings as a collaborative pianist in the world of 19th and early 20th-century art song, Baldwin showed a sincere interest in contemporary works as well.
Dalton Baldwin was born in New Jersey on December 19, 1931. Following studies at the Juilliard School and Oberlin Conservatory, he moved to Europe, where he continued his studies with Walter Gieseking, Alfred Cortot, Madeleine Lipatti, and Nadia Boulanger. Among his awards were a Doctorate of Music honoris causa from Oberlin College and the title Chevalier de L'Ordre des Arts et des Lettres from the French government.
Later, Dalton Baldwin dedicated himself to teaching master classes throughout the world, and at Westminster Choir College of Rider University, where he made an indelible mark as teacher, mentor, and exemplar to young musicians.