2020 is the 250th anniversary of Beethoven's birth, and a very significant part of WFMT's ongoing celebration is about to get underway. Beginning January 28, the station will broadcast the nine symphonies on consecutive weekday afternoons as the 2:00 pm "Afternoon Masterwork."
The performances are by the Orchestre Révolutionnaire et Romantique, a period-instrument ensemble founded in 1989 by Sir John Eliot Gardiner, a leading Beethoven interpreter. Maestro Gardiner will soon bring his orchestra to the states to perform the entire set of Beethoven's symphonies in two venues only: Chicago's Harris Theater (February 27 through March 3rd) and New York's Carnegie Hall.
Before you dive into the indelible symphonic contributions of Beethoven, we've prepared a quick refresher. On WFMT, just before each symphony, you'll hear Sir John's take on the piece as he was recorded at his home in Dorset. Or scroll down for a brief sampling of some of Sir John's thoughts on each work.
---
Symphony No. 1 in C Major (1795-1800)
Airs on WFMT: Tuesday, January 28 at 2:00 pm
"Beethoven held off writing his first symphony for several years. He was much more at home writing piano sonatas and even instrumental music, ensemble music, than he was to confront the whole notion of a symphony… Of course, there are footprints – or at least fingerprints – of Haydn and Mozart in the first symphony. But there's also a very strongly idiosyncratic feeling of Beethoven as a personality."
Symphony No. 2 in D Major (1801-1802)
Airs on WFMT: Wednesday, January 29 at 2:00 pm
"…He's got a bit more confidence [than Symphony No. 1]. And he's writing in D Major… And he is writing on a bigger scale. It's a longer symphony, it's got more chutzpah than the first symphony and it's not just a superficial festive piece – which again, some distinguished commentators have claimed it to be – but it is already a piece that's got a radical and revolutionary strand running through it."
Symphony No. 3 in E-Flat Major, "Eroica" (1802-1804)
Airs on WFMT: Thursday, January 30 at 2:00 pm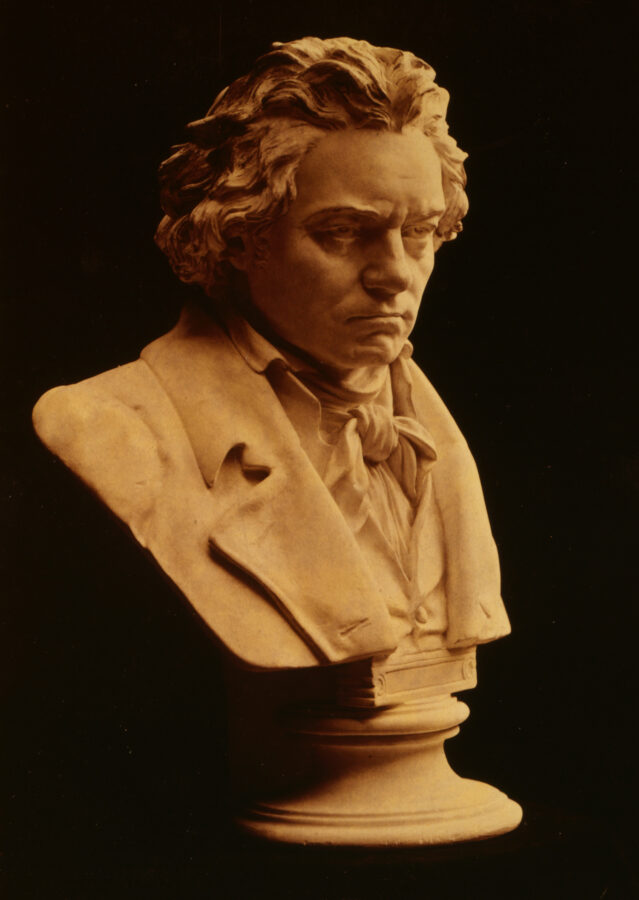 "The Eroica is probably the most worked-over and written about symphony of Beethoven. One sees why. I think that what's really interesting about the Eroica is the incredible expansive scale – the canvas – that he wrote on in the first symphony. It's immense. It's not just the exposition, it's the development section – which is immense — and the coda."
Symphony No. 4 in B-Flat Major (1806)
Airs on WFMT: Friday, January 31 at 2:00 pm
"Well, the fourth symphony I think is my favorite overall. It's the least dramatized, it's the least dramatic in some ways and it's much less technicolored than the third or the fifth. But it's got a lovely lyricism and a wonderful sense of mastery that he's now cracked the symphonic form. That he's right on top of his material; he knows exactly what he's doing, and he understands how an orchestra functions even though he's going, if not profoundly deaf, then very close to profoundly deaf at this moment."
Symphony No. 5 in C Minor (1804-1808)
Airs on WFMT: Monday, February 3 at 2:00 pm
"It is about propulsion. It's incredibly concise – there's not a spare note in this… But in contrast to the Eroica, and I feel in a way that the fifth symphony is correcting or commenting on the structure of the Eroica and even its main thrust – philosophical thrust. It's so concise…"
Symphony No. 6 in F Major, "Pastoral" (1802-1808)
Airs on WFMT: Tuesday, February 4 at 2:00 pm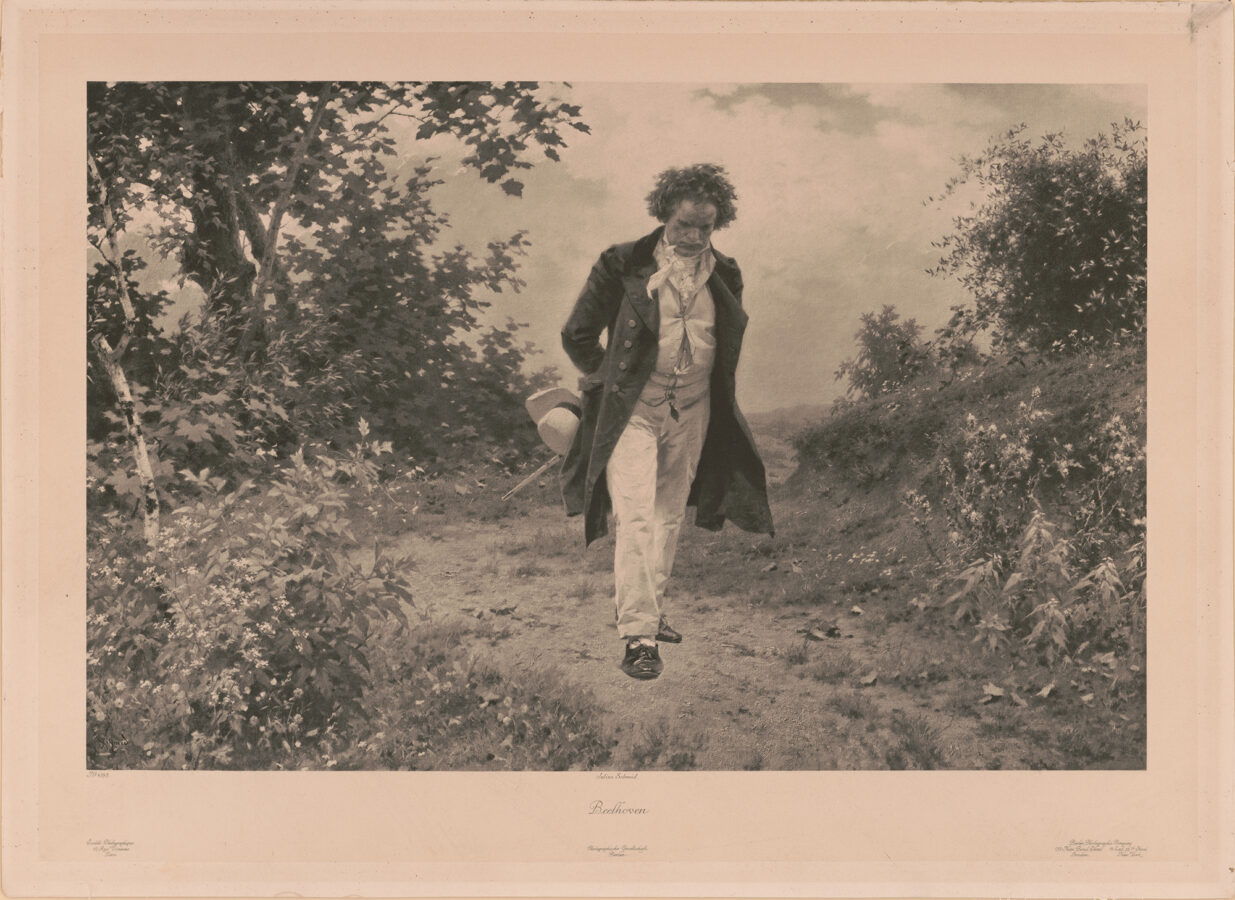 "I think it's quite useful to remember that Beethoven was writing the sixth symphony while he was writing the fifth symphony. Now you can think, ask yourself, 'how can that be? How can somebody who is politically so active and so aroused and so violently involved in making a political statement, how can he at the same time be writing something that is so personal and so pastoral and so reflective and nostalgic?' Well, that is the whole Beethoven paradox in one instance."
Symphony No. 7 in A Major (1811-1812)
Airs on WFMT: Wednesday, February 5 at 2:00 pm
"It is to me a continuation of the sixth symphony but less in a contemplative way and more in a celebratory way. So that the essence of it is the life spirit that comes through dance rhythm. Even if Beethoven was a poor dancer himself, he was probably a brilliant dancer inside his head and he knew how to write dance music that gets us tapping our feet and wanting to get up and dance."
Symphony No. 8 in F Major (1812)
Airs on WFMT: Thursday, February 6 at 2:00 pm
"I see the eighth symphony as, in a way, a kind of satirical comment of Beethoven on the symphony of the past. Particularly two or three movements I think he's saying, 'ok, you've heard my first 7 symphonies, you know what I can do with the symphony form. You know I can turn it on its head. You know that I can bring in philosophical ideas, religious ideas, spiritual ideas, political ideas. Well here's a piece of pure music. There's no agenda, there's no program here. This is what I can do.'"
Symphony No. 9 in D Minor (1822-1824)
Airs on WFMT: Friday, February 7 at 2:00 pm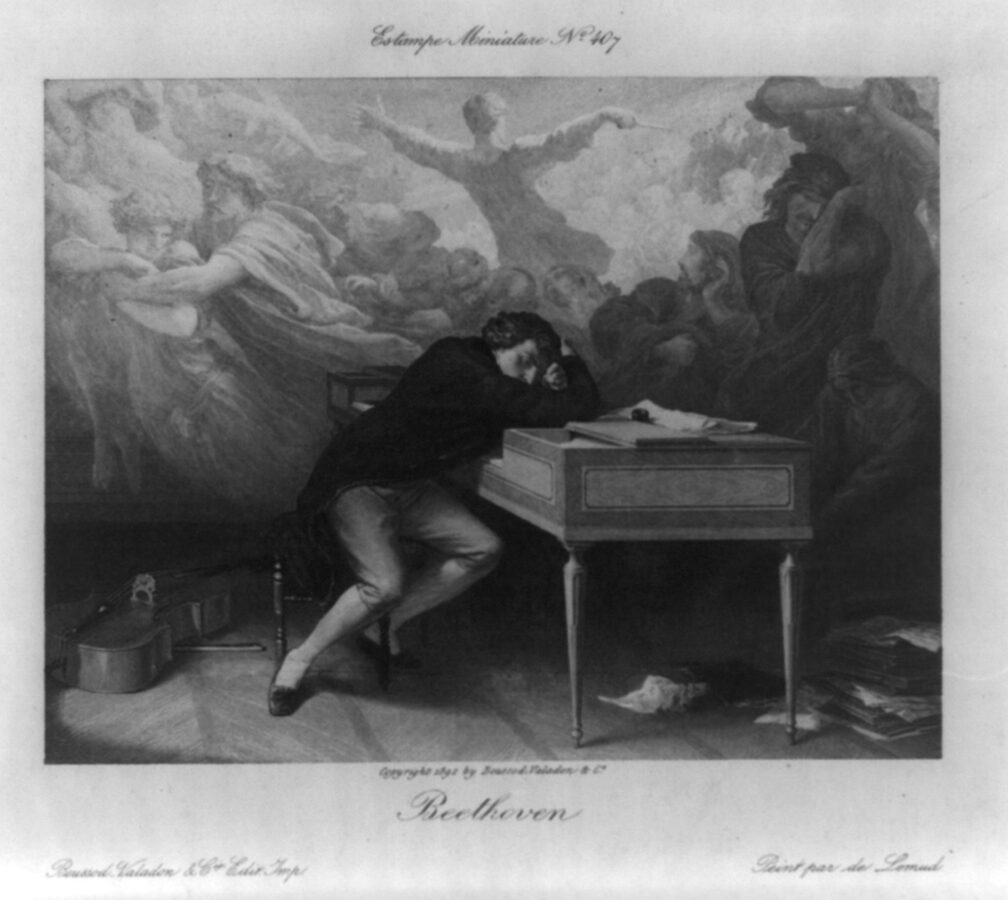 "Well, to me it's a twin. [Symphony No. 9] a twin with the Missa solemnis. These are the two last symphonic essays of Beethoven and they have a lot of differences between them, but they have a lot in common. They are his last will and testament in many, many ways.
"He's writing from his huge heart to the heart of humanity — with whom he has such poor contact at a level of human intercourse, but colossal contact in terms of the outreach that we revere in his music. And the fact that here we are 250 years after his birth celebrating a man of such immense universal genius who was not writing just for his time, even though it reflects his time and the concerns of his time, but reflects ours as well."