It's been weeks staking out in our shelter-in-place and we continue to adapt to a new kind of normal. As we've turned couches and kitchen tables into our new offices, it's safe to say that our furry, feathered, scaly, plant-y and all other non-human friends have been pleased to become our new office assistants, all the while holding our constant attention throughout the course of our workdays. After all, what is a Zoom call without at least one enthusiastic cat strutting across the computer keyboard?
Meet some of WFMT's new work-from-home teammates:
André (and Elora)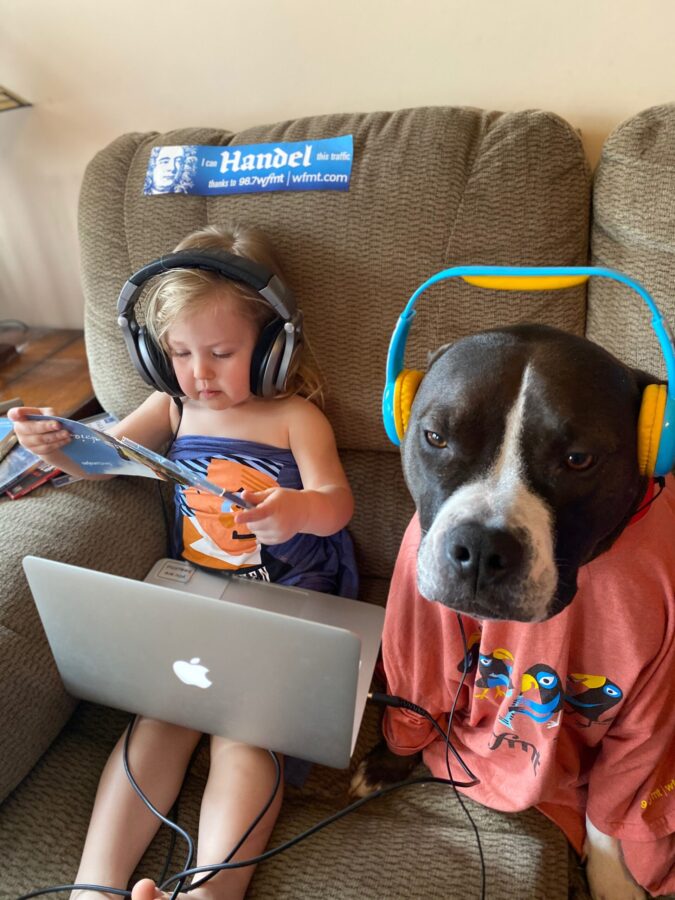 André is a 6-year-old rescue pup. He likes napping to the sounds J.S. Bark but when he is in the mood to play he listens to Rimsky-Puppykov. Seen here working with his human companion Elora. She is already an audiophile thanks to her daddy and thinks vinyl is the only real way to listen to classical music. –André, Elora, and Dan Goldberg, Producer
Frank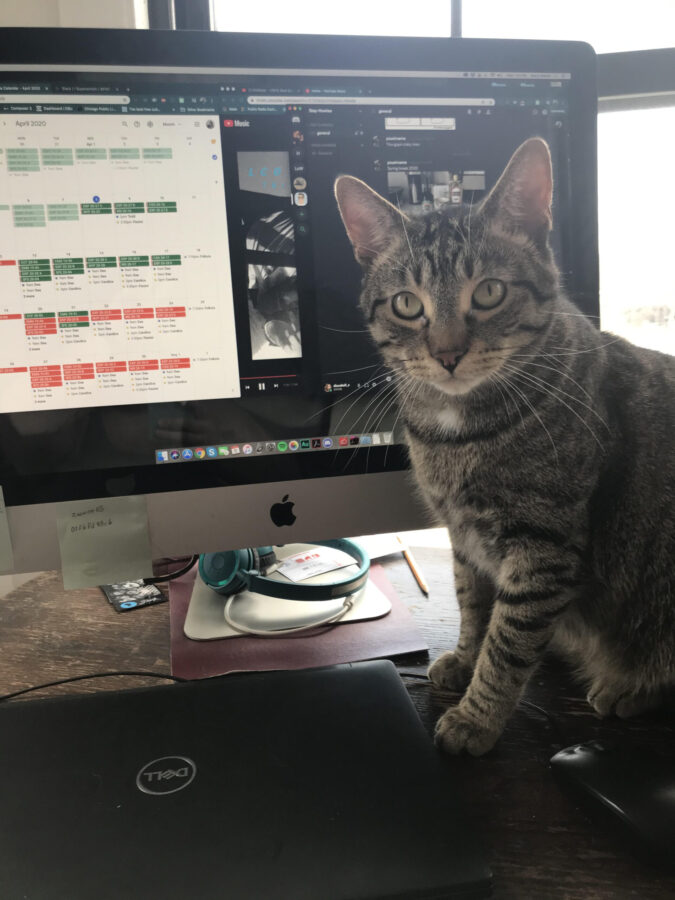 Frank is a lovely personal assistant, but not the best at social distancing. Whether it comes to making sure broadcasts are releasing on schedule or prepping to sew a couple of quick masks, he is sure to be there every step of the way. –Frank and Stacy Gerard, Production & Syndication Manager
Otto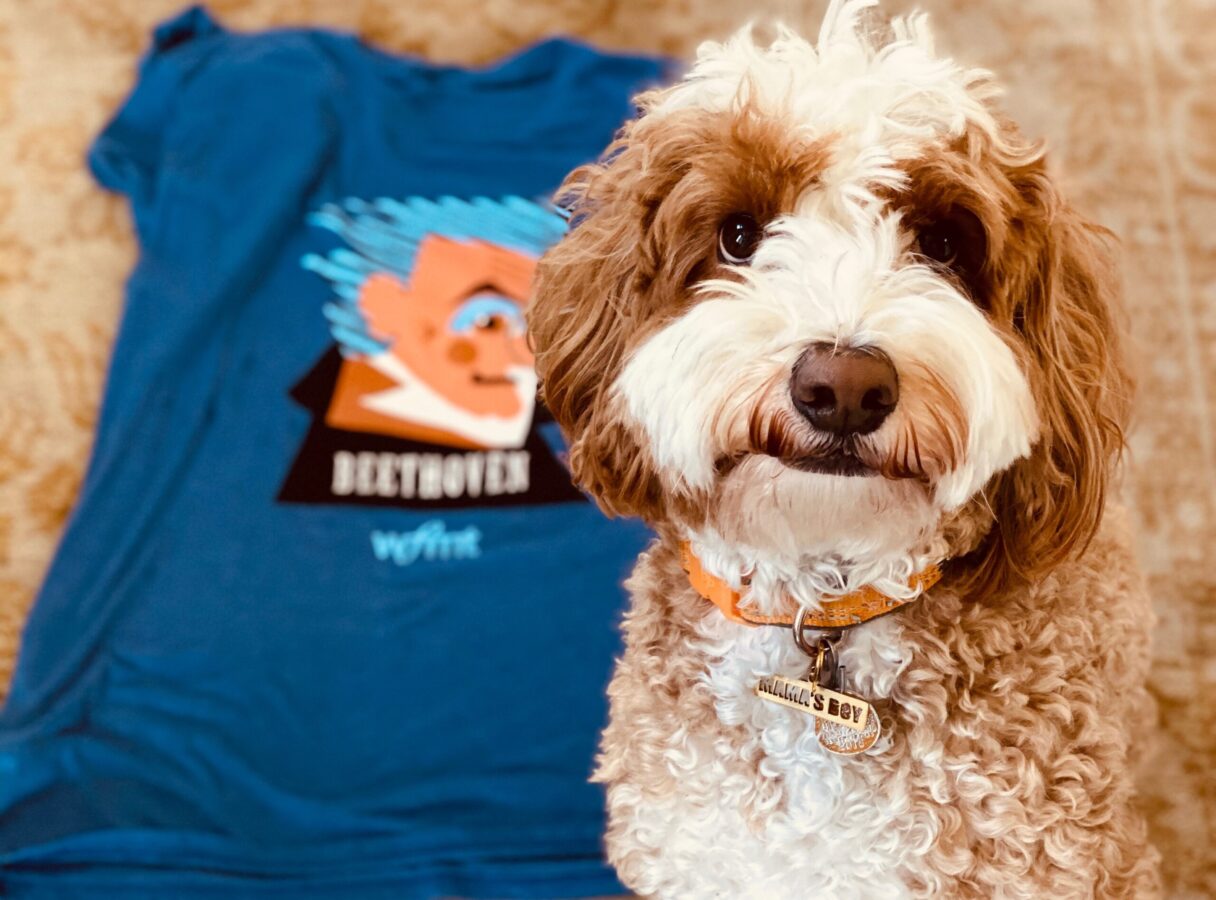 Otto the orange dog likes to steal our favorite t-shirts and bring them into his crate. Maybe he is just a fan of Beethoven on WFMT.
–Otto and Sandra Cordova Micek, President & CEO
Fuzby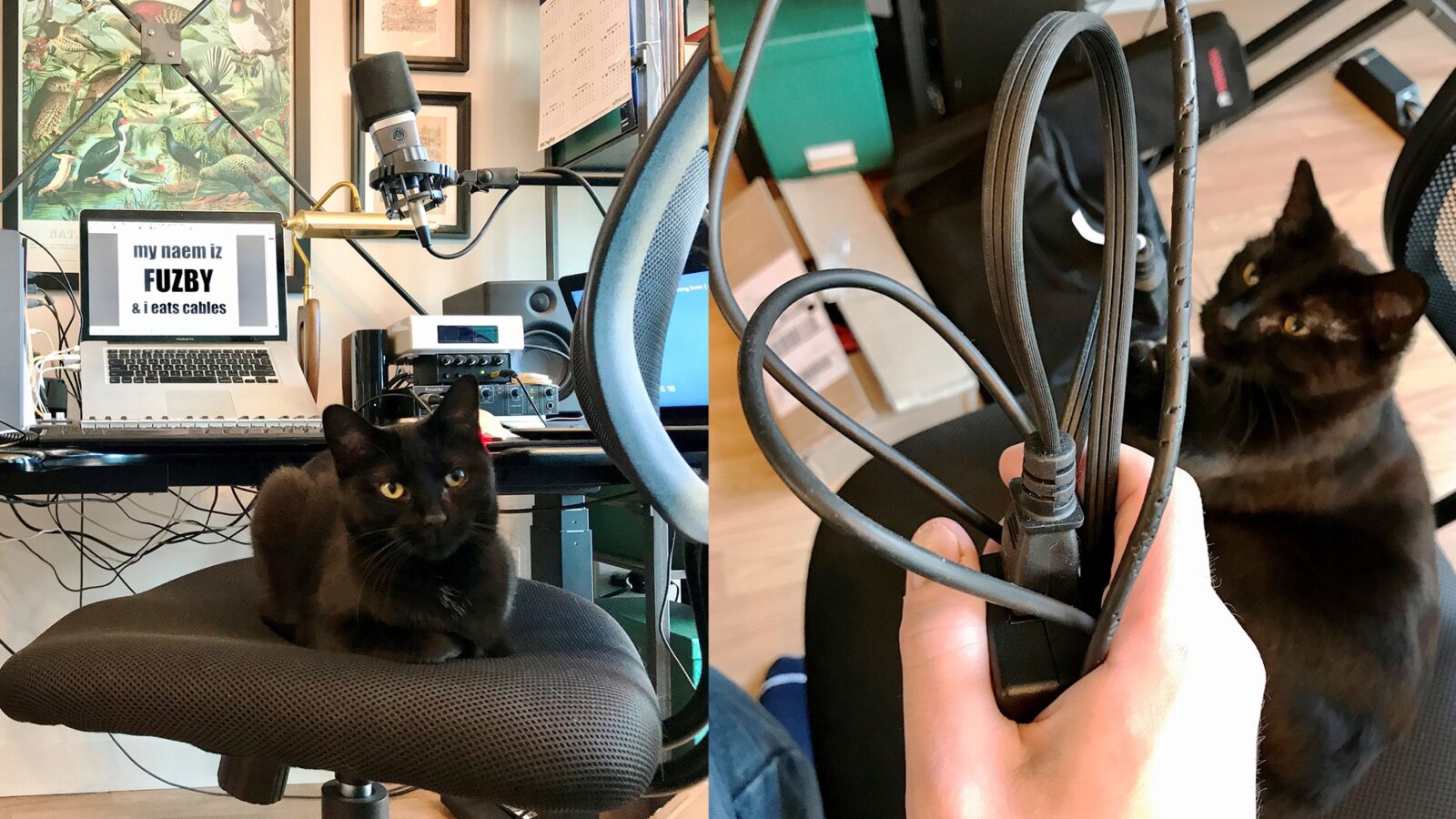 Fuzby is an 11-month-old domestic shorthair adopted from PAWS Chicago. She enjoys scratching upholstered bed frames between 1:00 am and 6:00 am, and chewing on electrical cables (see photo). Her proudest achievement is cracking and destroying the screen of a MacBook Air with a single love nip. (Author's note: It's worth it to pay for AppleCare.) –Fuzby and Robbie Ellis, Presenter & Producer
Walther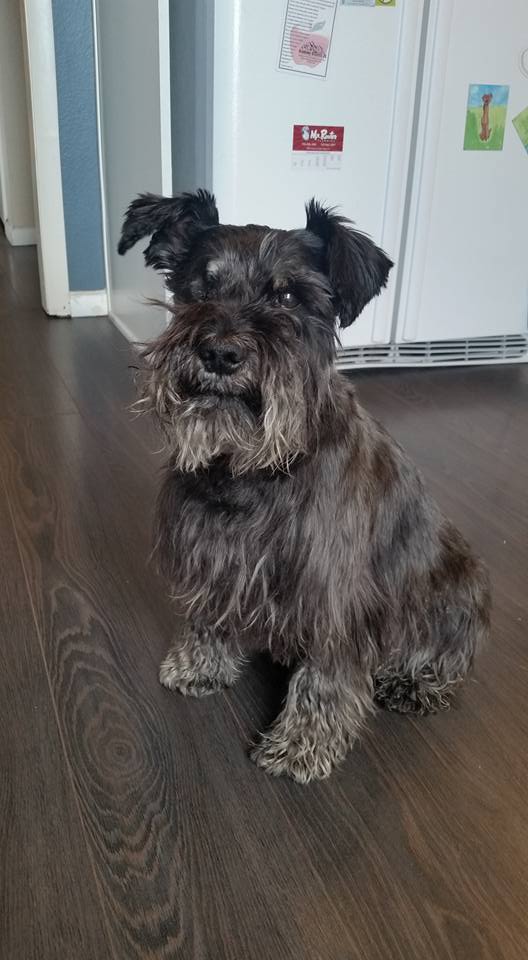 Walther is a 15-year-old miniature Schnauzer. His full name is Walther von Stolzing, after the leading tenor character in Wagner's Die Meistersinger. We figured a German dog should have a Wagnerian name. Had we known he would lose an eye to glaucoma, we would have named him Wotan. Walther is just fine with COVID-19. It means his family is always at home with him. He can barely see or hear anymore, and in addition to the missing eye he has only a few remaining teeth, but he still loves his family intensely, and the fact that we're able to spend abundant time with him in the sunset of his days is a treasured gift. –Walther and George Preston, Vice President and WFMT General Manager
Newby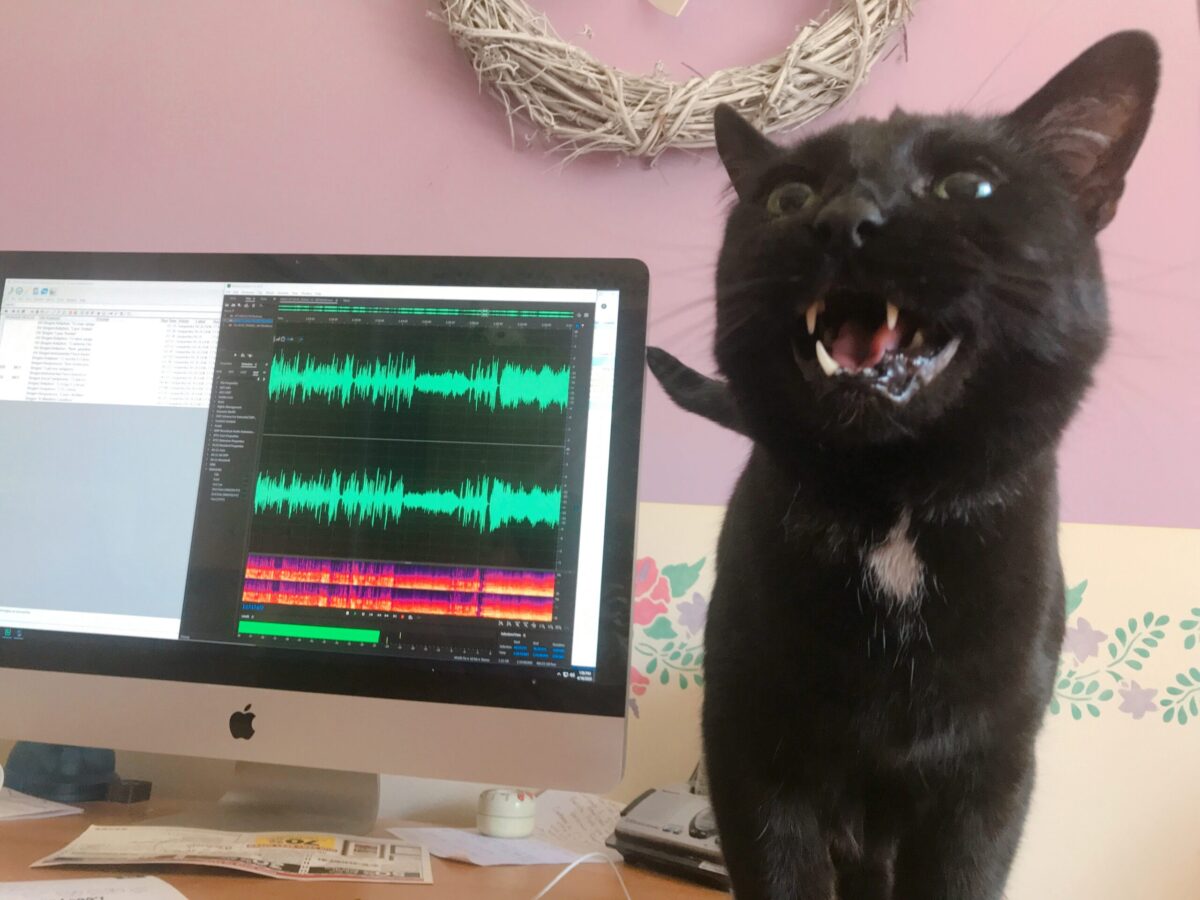 During the stay-at-home order, we've been fostering two cats from the local library. This is Newby (short for Newberry) telling me to "Get back to work!" –Newby and Kristina Elstner, Production Assistant
Tigger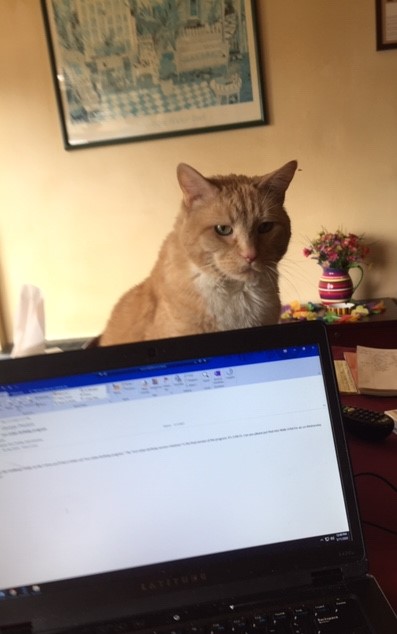 My helper during work-at-home is Tigger, an orange tabby I adopted almost 10 years ago. Very inquisitive and  people-friendly, Tigger is also a little camera-shy, so it's been hard to keep him still to take a picture, but he's seldom very far away from me when I've got the laptop going. -Tigger and Andi Lamoreaux, Music Director
Lucy
When Lucy and I work together, we get to use our Sammy's music room. Here I'm editing Exploring Music, and Lucy is dreaming about rolling around in the awesome mud puddles of Evanston. –Lucy and Cydne Gillard, Producer
Magnus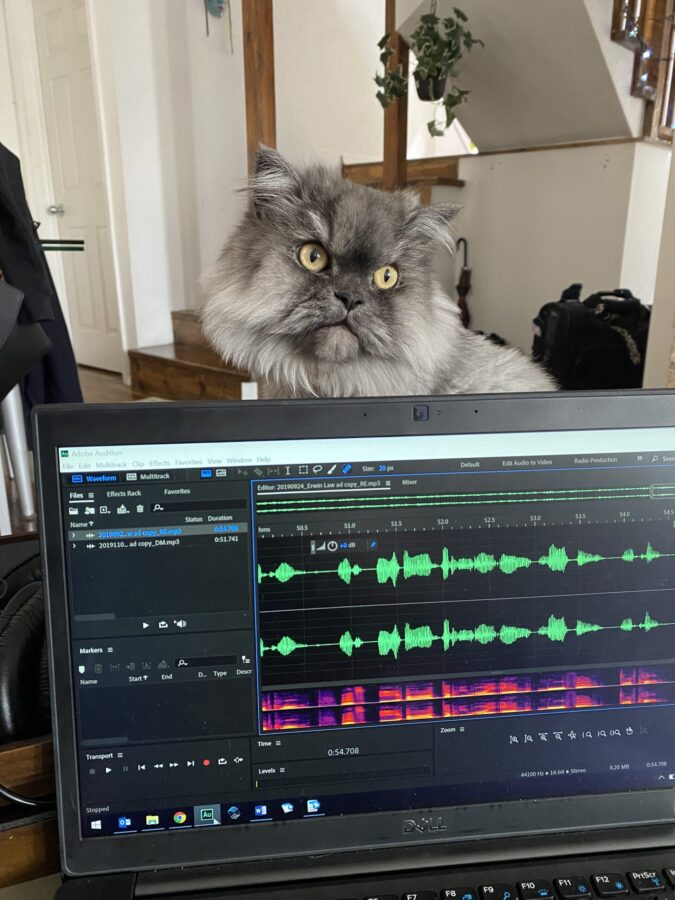 Micetro! This is Magnus, a sweet grumpy faced 6-year-old Persian mix that loves listening to Henry Purrcell, W.A. Meowzart, and Erik Catie. He's mostly helpful (just kidding, he's an adorable distraction) when he's not attacking my keyboard mouse or staring at me over the top of the laptop screen. –Magnus and Becky Nystedt, Assistant Producer & Operations Coordinator
Gilderoy, Puck, and Lemmi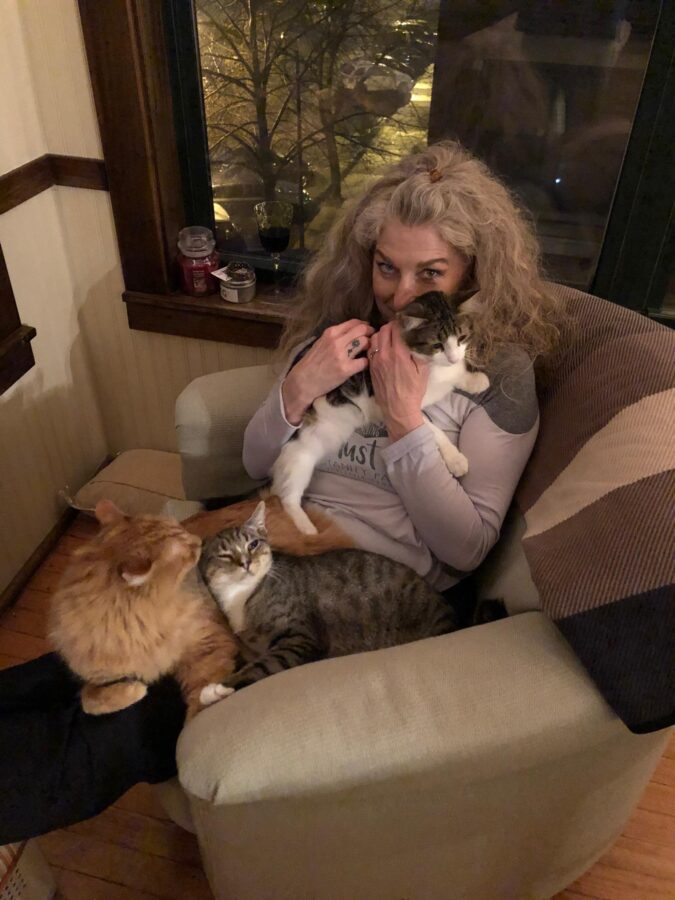 Gilderoy is the big orange guy, Puck is the black and white fluffy tail, and Lemmi (short for Lemminkainen) is the short hair with the stripe on his nose. They could not be more unhelpful if they set the house on fire. Lemmi and Puck are still babies and have decided it is their job to chew through everything they can find, and Gilly feels that home recording is much better served by applying his full weight on my chest. Ah, Fur Babies…. –Gilderoy, Puck, Lemmi, and Maggie Clennon Reberg, Program Host and Producer
Pandora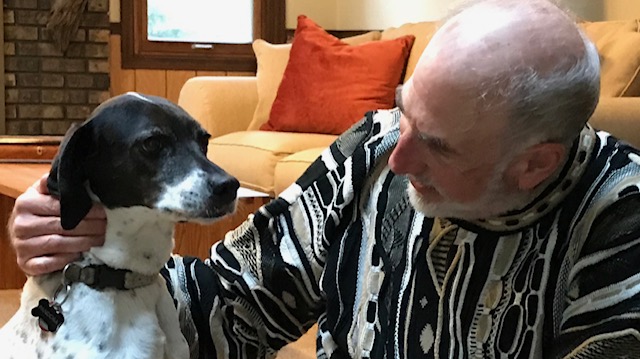 This is Pandora, who is actually the executive producer of "The Midnight Special." -Pandora and Rich Warren, The Midnight Special & Folkstage Host and Producer
Juno and Misaki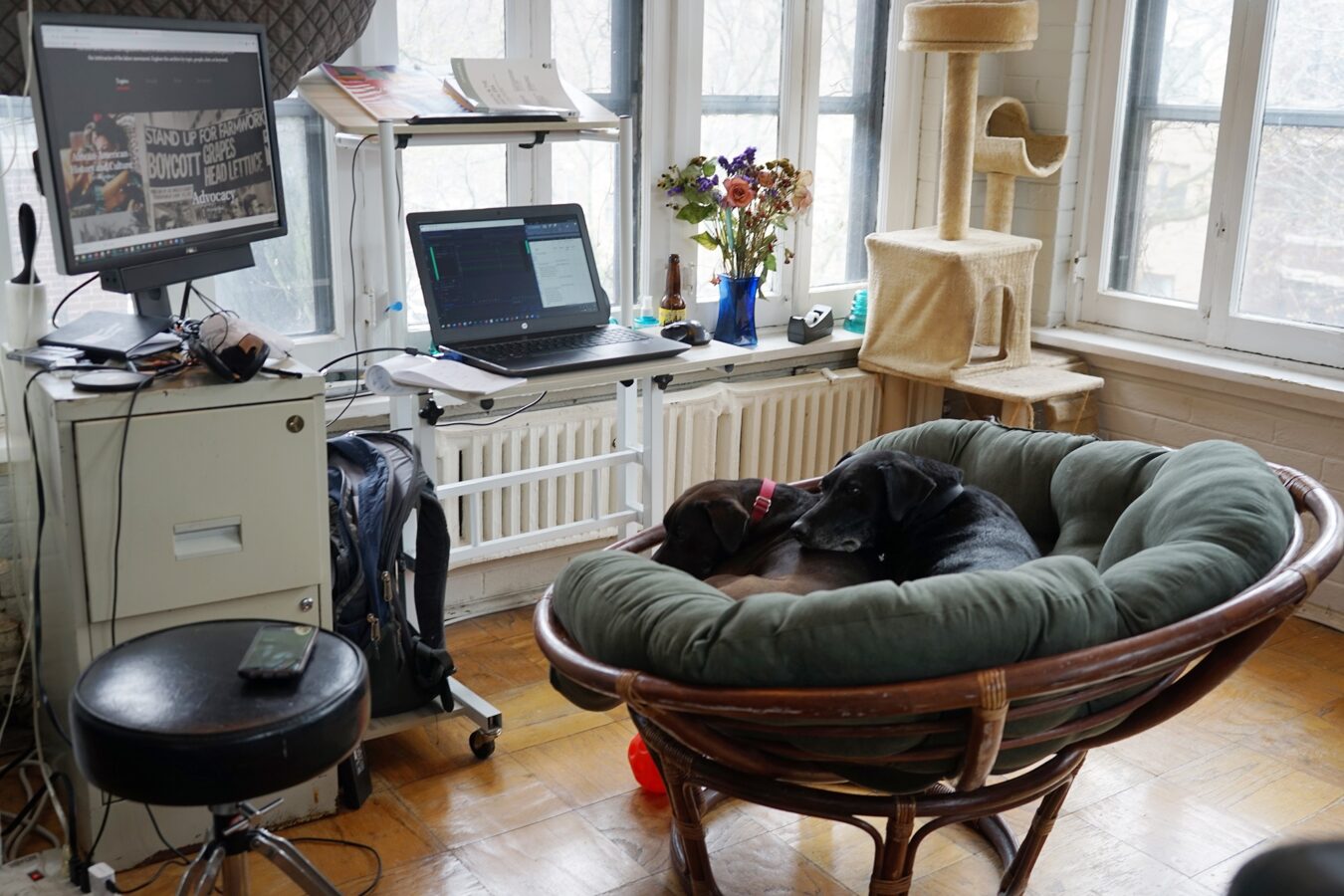 Juno and Misaki are assisting in making more Studs Terkel Radio Archive content available! Check out studsterkel.org to explore over 40 years of conversations. –Juno, Misaki, and Allison Schein Holmes, Assisting Director of Media Archives
Toby and Giselle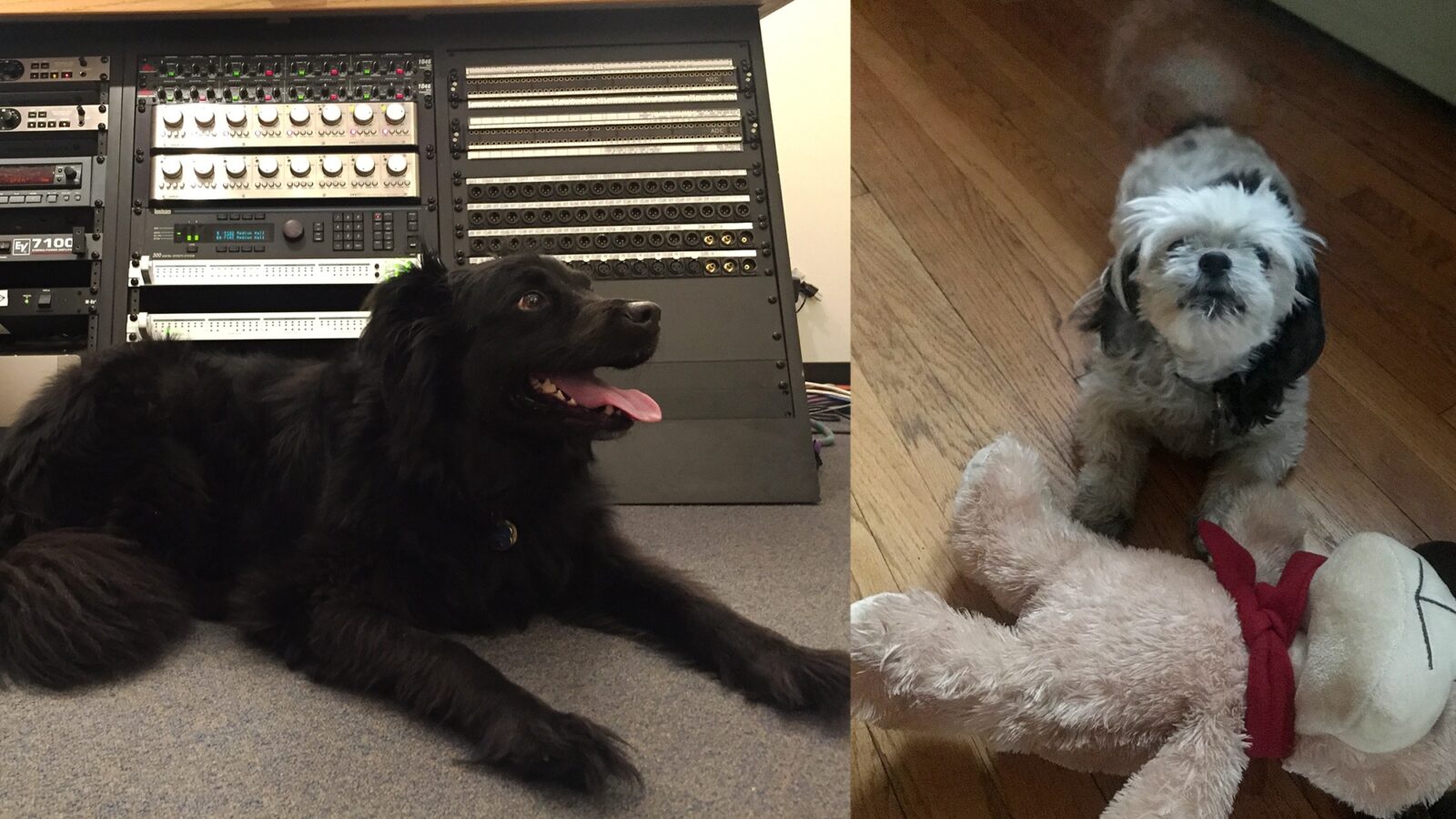 In memoriam: sweet Toby. He would help engineer live events. And Giselle is my boyfriend's dog, but she's my dog too! She's wagging her tail to WFMT. –Toby, Giselle, and Mary Mazurek, Recording Engineer & Producer
Dolly and Ava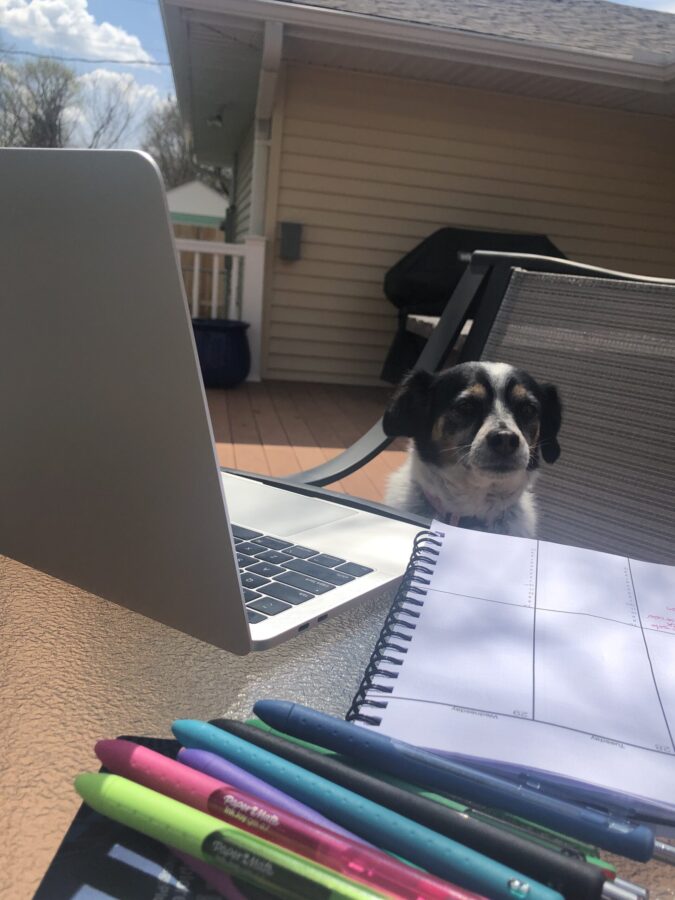 Dolly helping with markers to color coordinate tasks! Not pictured: Ava the corgi. Ava is scared of the computer. –Maggie Jensen, Production Assistant
Geraldine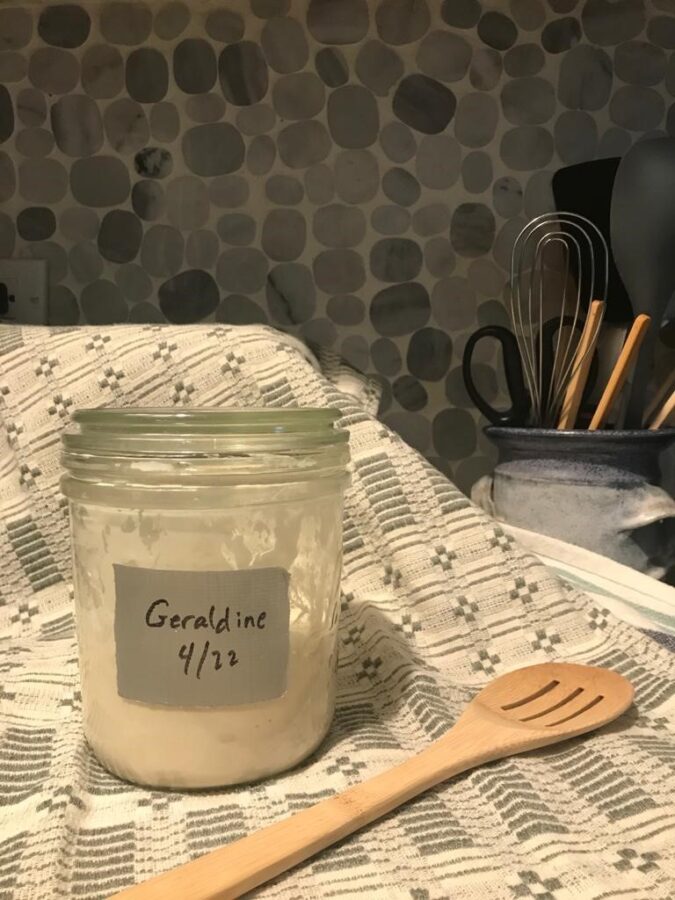 I recently welcomed Geraldine, a healthy sourdough starter, into my home. We've settled into a routine of regular feedings with plenty of time to rest and grow. Hopefully in the next few days, Geraldine will help to yield a delicious loaf of bread, but until that time, I'm content to raise her starter and watch her flourish. –Geraldine and Anna Goldbeck, WFMT Copywriter and Continuity Coordinator
---