This weekend on Introductions, we feature four long-time members of Chicago Youth Symphony Orchestras, all high school seniors, recorded in CYSO's Curtiss Hall in the Fine Arts Building. We feature music by Johannes Brahms, Max Bruch, Henri Rabaud, Heinrich Sutermeister and Emmanuel Séjourné for clarinet, marimba, viola, and cello. Additionally, the four seniors look back at their favorite moments of their time in CYSO. Thank you to collaborative pianist Beilin Han.
Kimberly LaFranzo, 18, viola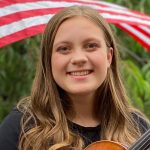 Violist Kimberly LaFranzo of Elburn, Illinois began her musical journey at the age of 5. She currently studies with Michael Lieberman, and has also studied with Helen Callus and Susan Dubois.
An avid ensemble player, Kimberly has participated in Chicago Youth Symphony Orchestras programs for the last six years, including in principal positions in the flagship Symphony Orchestra and in various quartets in the chamber music program. She appeared on Introductions to talk about CYSO's album Gershwin's Magic Key in February 2020. She is also a member of the Carmen Quartet through the Music Institute of Chicago Academy, and appeared with that group on Introductions in May 2021.
Kimberly has recently attended Green Mountain Chamber Music Festival, as well as been a member of the Illinois Music Educators Association District and All-State orchestras throughout her high school years. Kimberly enjoys mentoring young musicians, giving private lessons, and serving as a teaching assistant with the Fox Valley Youth Orchestra.
Kimberly has just finished her senior year at Carmel Montessori Academy in Warrenville, and will be attending the University of Michigan in the fall to study with Detroit Symphony Orchestra violist Caroline Coade. During her free time, Kimberly enjoys crocheting, swimming, and spending time with family and friends.
Ethan Montgomery, 18, clarinet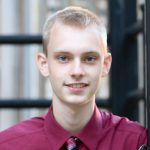 Ethan Montgomery of Elgin recently graduated Larkin High School and was a part of their Fine Arts music program. He played Principal Clarinet in their band, and won the band's concerto competition as a sophomore. He participated in ILMEA from 7th grade, and even made it to ILMEA All-State as a sophomore in high school. More recently, he was first chair clarinet in District 9 as a junior, and proceeded to win first chair clarinet in the ILMEA All-State Honors Band.
Ethan joined Chicago Youth Symphony Orchestras in 10th grade and was placed in the premier group, the Symphony Orchestra. He went on to hold the Symphony Orchestra's Richard J. Kemper Endowed Principal Clarinet Chair. He was also in CYSO's chamber orchestra as well as several other chamber groups, and appeared on Introductions in June 2020 as a member of the CYSO Lakeshore Winds.
He has also been a substitute player in the Wheaton Municipal Band, and a regular player in the DeKalb Municipal Band. Ethan currently studies clarinet with Trevor O'Riordan. When not playing clarinet, Ethan likes to learn about technology and new developments in the computer world. In June 2021, Ethan will begin US Marine Corps recruit training with the goal of becoming a military musician.
Meher Sethi, 18, marimba
Percussionist Meher Sethi hails from Naperville, and recently graduated from Waubonsie Valley High School. is a current high school senior, percussionist, and will be attending Yale University in the fall to study Politics, Economics, and Ethics. He's been a part of the Chicago Youth Symphony Orchestra for the past six years, through which he has performed on two international tours in over 7 countries, recorded a Grammy-nominated CD, and played with world-renowned soloists in prestigious venues.
He has played as the Principal Percussionist of the ILMEA Honors All-State Orchestra, been named to the NAfME All-Nation Honors Band, and was a semi-finalist in the Great Plains International Marimba Competition. Outside of percussion, Meher is deeply involved in political and community organizing, reading philosophy, and winning ping pong games.
Xavier Perry, 18, cello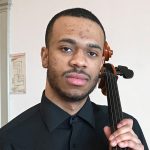 Xavier Perry of Chicago's Hyde Park neighborhood just graduated from Kenwood Academy, and he has been playing the cello for 10 years. A cello student of Paul Kosower, he is a Principal Cello of the CYSO Philharmonic Orchestra. He has also played in the Hyde Park Youth Symphony, and the District 1 Senior Festival and All-State Orchestras of the Illinois Music Education Association. He is a Fellow of the Chicago Musical Pathways Initiative and will begin cello study at Drake University in the fall.
Playlist
George Gershwin arr. Paul Pement/Will Martin/John Blaine: Gershwin's Magic Key (excerpt)
CYSO Symphony Orchestra; Allen Tinkham, conductor
Recorded in the Studebaker Theater, February 2020
(First broadcast on Introductions February 27, 2021)
Felix Mendelssohn: String Quartet in D, Op. 44, No. 1:
Finale, Presto con brio (excerpt)
Carmen String Quartet: Katharine Nelson, 18, violin; Veronica Rokicki, 18, violin; Kimberly LaFranzo, 18, viola; Eytan Raviv, 17, cello
Recorded in Nichols Concert Hall, February 23, 2021
Camille Saint-Saëns: Symphony No. 3 in C minor, Organ:
Finale, Maestoso (excerpt)
David Schrader, organ; CYSO Symphony Orchestra; Allen Tinkham, conductor
Performed at Orchestra Hall, November 17, 2019
(First broadcast on Introductions January 18, 2020)
Max Bruch: Romance in F, Op. 85
Kimberly LaFranzo, viola; Beilin Han, piano
Recorded in Curtiss Hall, May 17, 2021
Wolfgang Amadeus Mozart: Symphony No. 40 in G minor, K. 550:
Finale, Allegro assai (excerpt)
CYSO Classical Orchestral Repertory Ensemble; Allen Tinkham, conductor
Performed at Pick Staiger Hall, December 14, 2019
Henri Rabaud: Solo de concours
Ethan Montgomery, clarinet; Beilin Han, piano
Recorded in Curtiss Hall, May 17, 2021
Heinrich Sutermeister: Capriccio
Ethan Montgomery, clarinet
Recorded in Curtiss Hall, May 17, 2021
Edgar Varèse: Amériques (excerpt)
CYSO Symphony Orchestra; Allen Tinkham, conductor
Performed at Orchestra Hall, May 20, 2018
Emmanuel Séjourné: Marimba Concerto:
II. Tempo souple
Meher Sethi, marimba; Beilin Han, piano
Recorded in Curtiss Hall, May 17, 2021
Sergei Prokofiev: Lieutenant Kijé:
The Burial of Kijé (excerpt)
CYSO Philharmonic Orchestra
Recorded socially distanced, Fall 2020
Johannes Brahms: Cello Sonata No. 1 in E minor, Op. 38:
I. Allegro non troppo
Xavier Perry, cello; Beilin Han, piano
Recorded in Curtiss Hall, May 17, 2021
Some music is excluded from the podcast for copyright reasons.